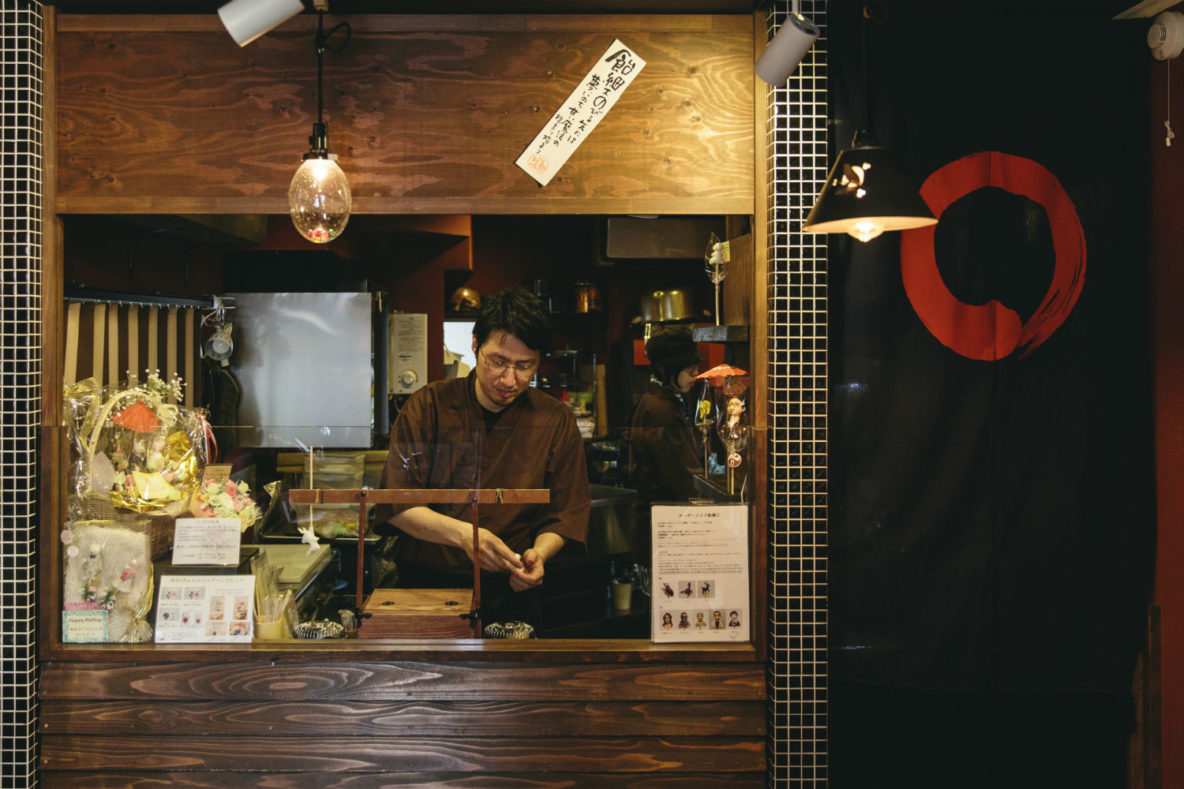 "The best kind of amezaiku is that which is made for children but coveted by adults."
---
Takahiro Yoshihara

Chief Candy Artist
Amezaiku Yoshihara
As a child, Takahiro Yoshihara was enthralled by the candy artists he saw at summer festivals, deftly turning thick liquid sugar into hardened, elaborate shapes of animals and creatures of fantasy. At the time he dreamt of one day joining their ranks. And while he did eventually become a candy artist, it was not his first career.
Yoshihara trained as a chef, and travelled to Italy to learn more about food and cooking. While there, he found himself feeling embarrassed that he was unable to answer questions put to him about Japanese culture. This sparked in him a renewed interest in doing something that was more closely related to his roots.
"When I started thinking that I wanted to have a career doing something that celebrated Japanese culture, of course I could have taken the path of cooking Japanese food, but I remembered my childhood self wanting to do amezaiku and chose to follow that path instead," he says.
The word "amezaiku" loosely translates as "candy craft," an art that has its origins in China, but which took a different form upon gaining popularity in Japan during the Edo period. It is mainly and traditionally a mobile craft, peddled by artisans who travel from city to city, creating candies from a cart at outdoor festivals and other events. But after learning from an experienced amezaiku artist in this way for four years, Yoshihara had a different idea.
When Amezaiku Yoshihara opened in 2008, it was the first permanent store in Japan dedicated to the traditional candy craft. Creating a place where customers could come to buy the whimsical candies anytime was Yoshihara's way of helping to keep the craft alive. While he has trained other young artists in amezaiku and his business has expanded to include a second store where workshops are held, he says there are still only some 30 to 40 amezaiku artisans remaining in Japan.
What makes amezaiku unique, according to Yoshihara, is the performance element to it.
"You don't have to twist and pull candy into different shapes in order for it to taste good, but that's what's wonderful about amezaiku," he says. "It's not only something you can eat—it also has some fun and beauty to it. The fact that you can watch it being made just for you and then take it home—this is something that doesn't exist in other businesses, and it makes amezaiku really special."
Yoshihara and his team make a variety of shapes of candy every day, ranging from the simple to the elaborate. Each piece must be created in under three minutes, before the candy hardens and can no longer be worked. The only way to get to this level, Yoshihara says, is through lots of practice. While there are many shapes that are staples of amezaiku, there are slight variations depending on the artisan's personal style.
"I want to make the kinds of things that I enjoyed seeing made as a child, so I tend to make brightly coloured, cute things," Yoshihara says. "And if you make things that children will enjoy, adults will also enjoy them. I think the best kind of amezaiku is that which is made for children but coveted by adults. So I try to strike that balance."
TIPS & RESERVATION INFO
Yoshihara Amezaiku is located in the northeastern Tokyo neighbourhood of Sendagi, a historic area with a local feel. It is about a 10-minute walk to Nezu Shrine, known for its rows of red torii gates and its spring azalea festival, and a 15-minute walk to the art gallery SCAI The Bathhouse, also featured in this app. The lamp workshop of Miyako Andon, another of this app's entries, is a short taxi ride away.
ACCESS DETAILS
https://www.google.com/maps/place/35°43'30.0%22N+139°45'30.8%22E/@35.725006,139.7563773,17z/data=!3m1!4b1!4m5!3m4!1s0x0:0x0!8m2!3d35.725006!4d139.758566
---
DIRECTIONS
---