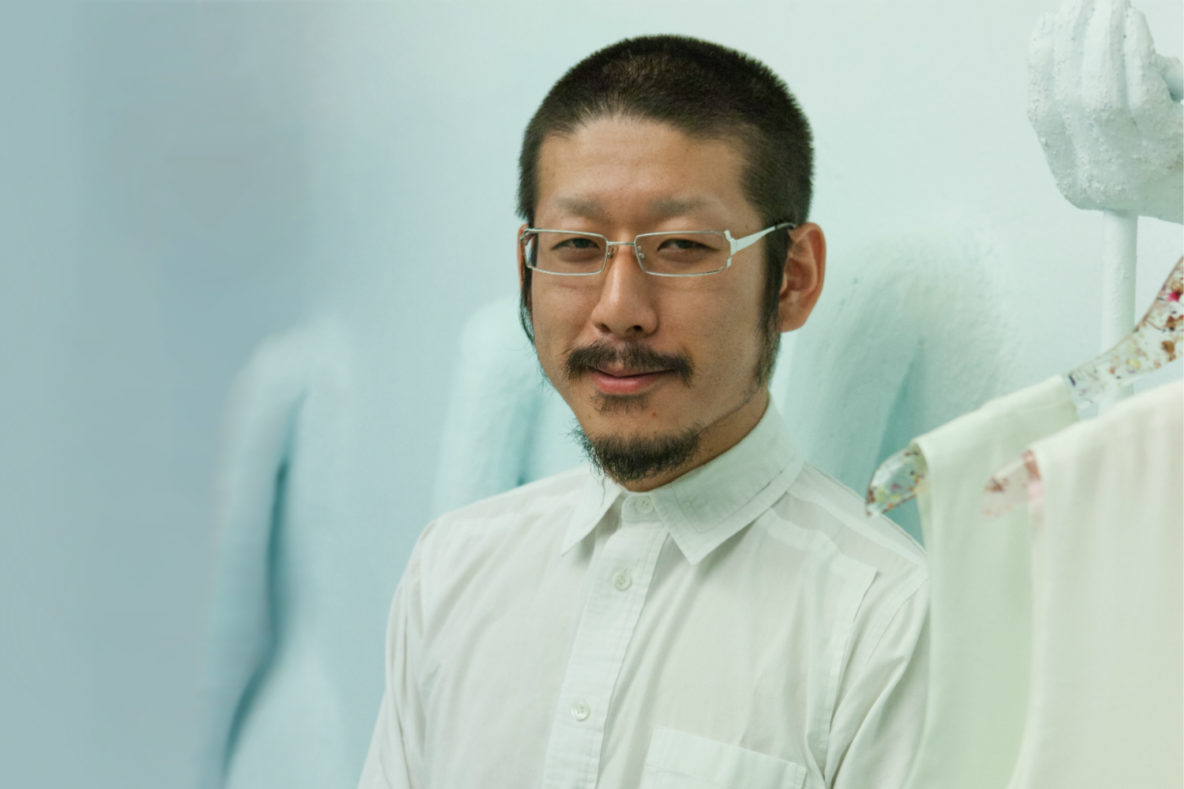 "When people look at my work, I want them to think: 'I didn't know clothes could do that.'"
---
Kunihiko Morinaga

Designer
Anrealage
When first encountered, the collection on display at bleeding edge fashion brand Anrealage appears misnamed. It's called 'Colour', but the room is white: the table, the chair, the flowers, the rug and, most importantly, the clothes. Everything is white.
The shop assistant moves. He fades the lights, and switches on a high-intensity, full-spectrum white light in the centre of the room. Slowly, out of the white fabric, swathes and stripes in pink, yellow and turquoise develop on the clothes and furnishings.
Minutes later, when normal conditions return, the colours slowly fade away.
But this is not just a party trick. "When people look at my work, I want them to think: 'I didn't know clothes could do that,'" says designer Kunihiko Morinaga. "I want them to be blown away."
Morinaga is inspired, as were the Impressionist painters, by changing light. And with the Colour collection, he wants to emphasise how colour can be a subjective experience.
"Look at the silver case of this laptop in fluorescent light. It looks different from how it does in daylight, and different still from how it does in near darkness." The Colour collection's photochromic fabric, which uses the same dye technology as self-adjusting sunglasses, is an extreme representation of this.
Anrealage (think 'a real' + 'unreal' + 'age') started in Tokyo in 2003, but burst on to the international fashion scene when Morinaga's meticulous hand-stitched patchwork won the 2005 grand prize in the avant-garde division of the high-profile Gen Art contest in New York.
His standalone shop opened on the outskirts of Harajuku in 2011. Getting there is a journey out of the area's consumerist madness, to place far less commercial, down a residential backstreet. Just don't go expecting any particular experience – and certainly not the Colour collection, which will be long gone. Morinaga sees his store as an extension of his clothes, so it gets almost completely redesigned twice a year to match each collection. The design always incorporates a single table and a single chair, but even these change with the season.
Re-examining everyday surroundings is one of the main themes running through Morinaga's work. What invisible structures underpin the things around us? What are we really looking at when we stare into digital screens all day? Morinaga takes these thoughts to extremes to make people take a fresh look at the ordinary.
Past collections have focused on rethinking shapes and proportions – with even the mannequins squashed and stretched. The 'Bone' collection used laser-cut strips of fabric to expose the clothing's inner structures. The 'Low' collection featured pixelated patterns resembling low-resolution computer images blown up so raw that the floral patterns and scalloped edges looked smooth only from a distance.
While some young designers fret over having enough ideas to fill a lifetime of runway shows, Morinaga looks ahead at his future career – 20 years if he's lucky – and feels quite different. "I think so far I've only executed ideas that can be described in words," he says, rubbing the complex collar of a (temporarily) white overcoat between his fingers. "Only 40 more collections? It isn't nearly enough."
TIPS & RESERVATION INFO
Anrealage is about a 6-minute walk from Gaienmae station, or about 10 minutes on foot from Omotesando station. The area is replete with small, quirky shops and cafes, and is a wonderful place to spend half a day exploring. Within walking distance you will find Cafe Casa, renowned for its hotcakes and comfort food lunches; the rice ball shop Maru-Sankaku, and the beautifully serene Nezu Museum and its peaceful surrounding garden. All of these places plus others can be found on PMP.
ACCESS DETAILS
---
DIRECTIONS
---