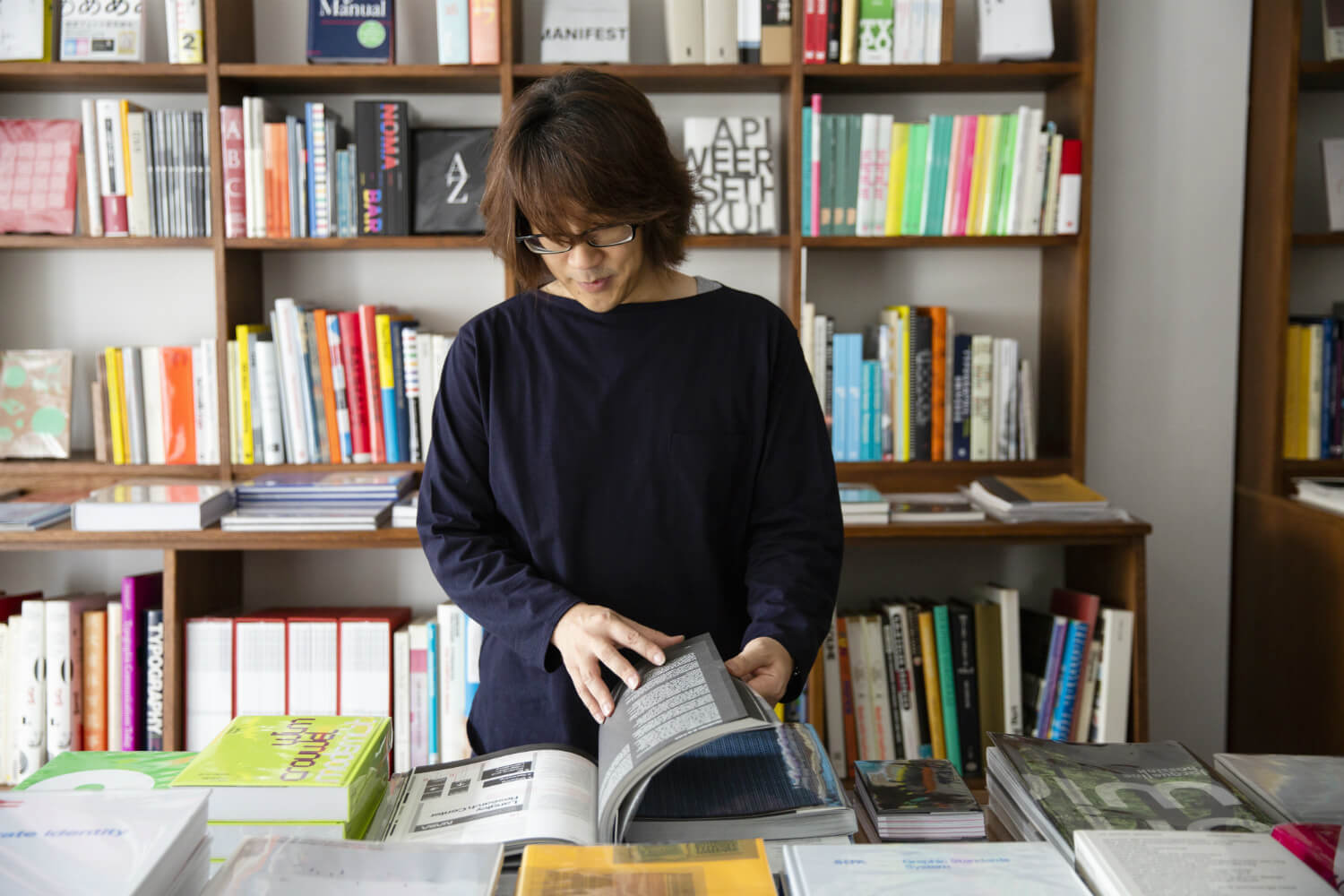 "My work is all about the digital, so in my spare time I like to seek out more classic, tactical things."
---
Osamu Kawata

Owner
Book and Sons
With its clean white facade, large cut-out windows, and welcoming little coffee stand facing outward to the street, Book and Sons is the kind of place that would easily draw in the curious passerby for a look around. But the thing is, it's not a place most people are likely to simply pass by.
Located on an obscure residential street in the neighbourhood of Gakugei Daigaku, this modern, minimalist bookshop relies almost entirely on word of mouth to attract customers.
"This place isn't easy to find, so most people who come here do so because they have a reason to," says the shop's owner, Osamu Kawata. "They're usually looking for something specific or hard to find."
Friendly, easygoing and quick to flash a smile, Kawata immediately makes customers feel at home in the serene, peaceful space. He can answer questions about all of the roughly 1,000 titles he carries, but he won't be found in the shop most days (not to worry, his staff are equally welcoming and knowledgeable). In addition to Book and Sons, he also runs a prominent graphic and web design office.
It was, in fact, Kawata's design career that served as the impetus for the store's opening.
"I didn't go to an art or design school, but after graduating from university I got a job working for a design firm. Since I didn't have any experience with graphic design, I had to start from zero," he says. "I didn't have time to go to school while I was working, so I taught myself the basics from books."
Some years later when his first child was on the way, Kawata's wife said he needed to clear out some of his books to make room for the baby. Book and Sons was his solution.
When it first opened in April 2015, the store was stocked with Kawata's own private collection, which was comprised almost exclusively of books on typography. Slowly, as the books sold, he had to find a way to replace them, and so began contacting publishers directly about carrying their titles.
"I've always loved typography. For me, it's the most important element of design," Kawata says. "Ten years ago, there were a lot of technical restraints as a web designer and only two or three fonts we could use. Now, there are probably more than 1,000 to choose from. But there aren't many bookstores that focus on typography, so this is something I wanted people to see."
The store has now morphed to include books on graphic design and photography, but there are still plenty of typography tomes as well. Some of the more unique volumes include design guides from organisations such as NASA and British Rail.
In the back of the store, a small gallery space hosts rotating exhibits. There is also a small selection of products such as t-shirts, bags, mugs and stationery items made in collaboration with brands run by Kawata's friends and sold exclusively at Book and Sons. Everything is so precisely chosen that it's easy to see why the designer refers to Book and Sons as "play".
"My work is all about the digital," Kawata says as he turns over in his fingers a small round paper pin bearing a single letterpress printed A. "So in my spare time I like to seek out more classic, tactical things."
TIPS & RESERVATION INFO
Gakugei Daigaku is just a quick eight-minute train hop from Shibuya on the Tokyu Toyoko line. It's largely a residential area, showing a more local side of Tokyo. The same station is just two stops from Nakameguro, where you will find several places featured on PMP, including barbecue specialist Hatos Bar, Onibus Coffee, Tokyo Dosanjin soba shop, and Traveler's Factory, a stationery shop focused on travel notebooks and more.
ACCESS DETAILS
---
DIRECTIONS
---