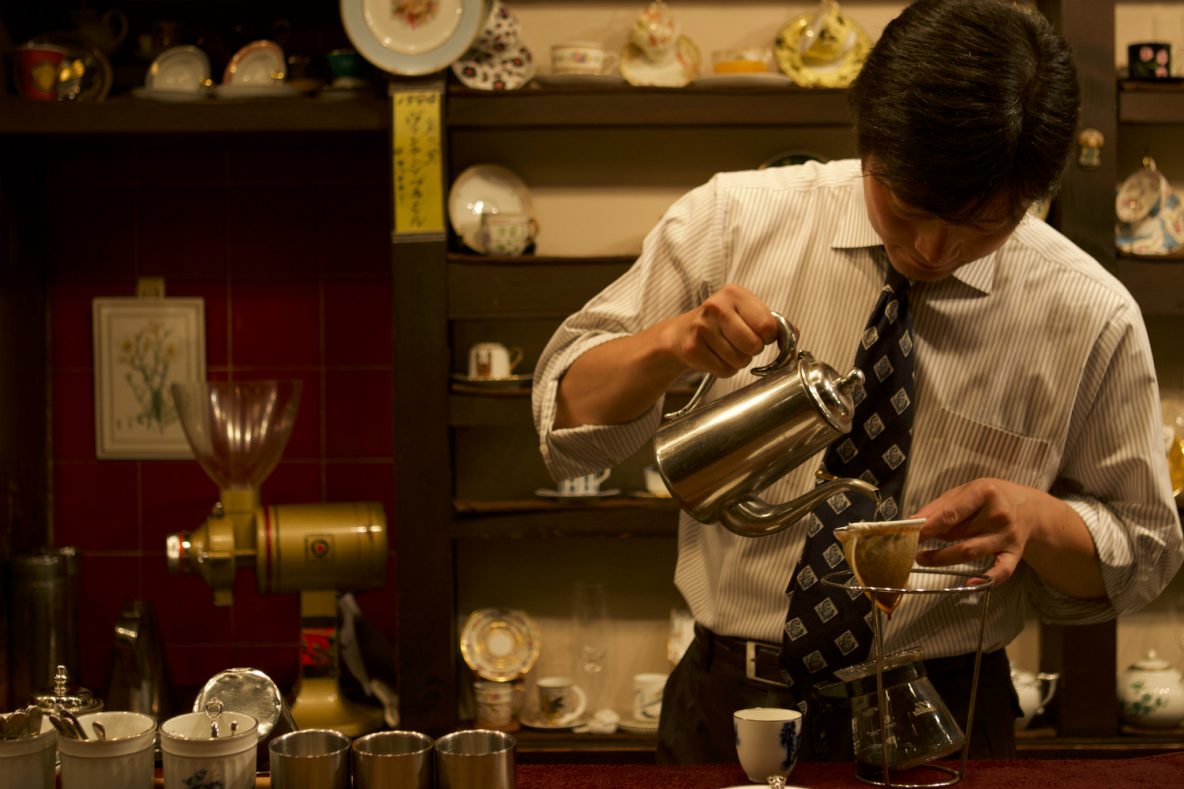 "We intentionally made this a calm place – a world within a world."
---
Kazuya Terashima

Barista
Chatei Hatou
In hypermodern Tokyo, it might seem there is little time or space for the quiet rituals of the Japanese tea ceremony; its ethos of ichigo ichie – or 'one encounter, one moment' – sounds like a quaint echo from the past.
Thankfully, at Chatei Hatou, the spirit of ichigo ichie lives on, albeit updated for our contemporary world. Today, coffee is our common fuel, and a rich cup of Hatou slow-drip is that fuel at its best.
The coffee shop is located near the heart of Shibuya, Tokyo's most chaotic and cacophonous neighbourhood. A walk through its teeming streets can leave you feeling sensually assaulted and physically exhausted. For this, a coffee at Hatou is the perfect antidote – and pick-me-up.
"Hustle and bustle is what this area is known for," says barista-manager Kazuya Terashima. "We intentionally made this a calm place – a world within a world."
The sensory experience inside Hatou is the antithesis of its external surroundings: natural wood textures, soothing classical music, beautiful ikebana flower arrangements, and the deep, wafting aroma of coffee.
Many regular customers prefer to come to Hatou not with friends, but alone. They sit at the counter and watch the barista at work. Each drink is made by hand with great care – the focus is on perfection, not speed.
"It takes 10 minutes, often longer, to make one cup," Terashima explains. "But people are willing to wait."
The ritual unfolds, step by step: he picks a worn metal container containing coffee beans that have been aged for up to three years. After passing them through a grinder, he measures out precisely 25 milligrams of fine coffee powder in a cloth filter. He heats water in a copper pot, keeping the temperature a consistent 87 degrees centigrade. Then, with unerring concentration and accuracy, he drizzles the water into the filter, saturating the dry coffee until it hits critical mass and begins to trickle into a small glass pot beneath. After that he patiently adds more water – one drop at a time – until the thick black brew is ready.
"This method produces a coffee that is stronger than normal, but it also brings out the sweetness of the beans," Terashima explains. "Many people have not experienced coffee like this before."
Once ready, the drink is transferred into one of hundreds of unique porcelain cups the shop has collected over its 24 years in business, ranging from Japanese Arita to British Wedgewood to German Meissen. Terashima says he makes a mental note of which cup each customer uses, so he can give them an alternative next time, explaining: "Even if they order the same thing, I like to think each Hatou experience should be a little bit different."
TIPS & RESERVATION INFO
Reservations aren't necessary at Chatei Hatou, but the shop can get busy at weekends. There's no English menu here, and English isn't spoken, so visit with a Japanese speaker. The most labour-intensive brew is the demitasse, which costs about 950 yen. Here, unusually, smoking is pretty much unrestricted.
ACCESS DETAILS
1-15-19 Shibuya, Shibuya-ku
---
DIRECTIONS
---