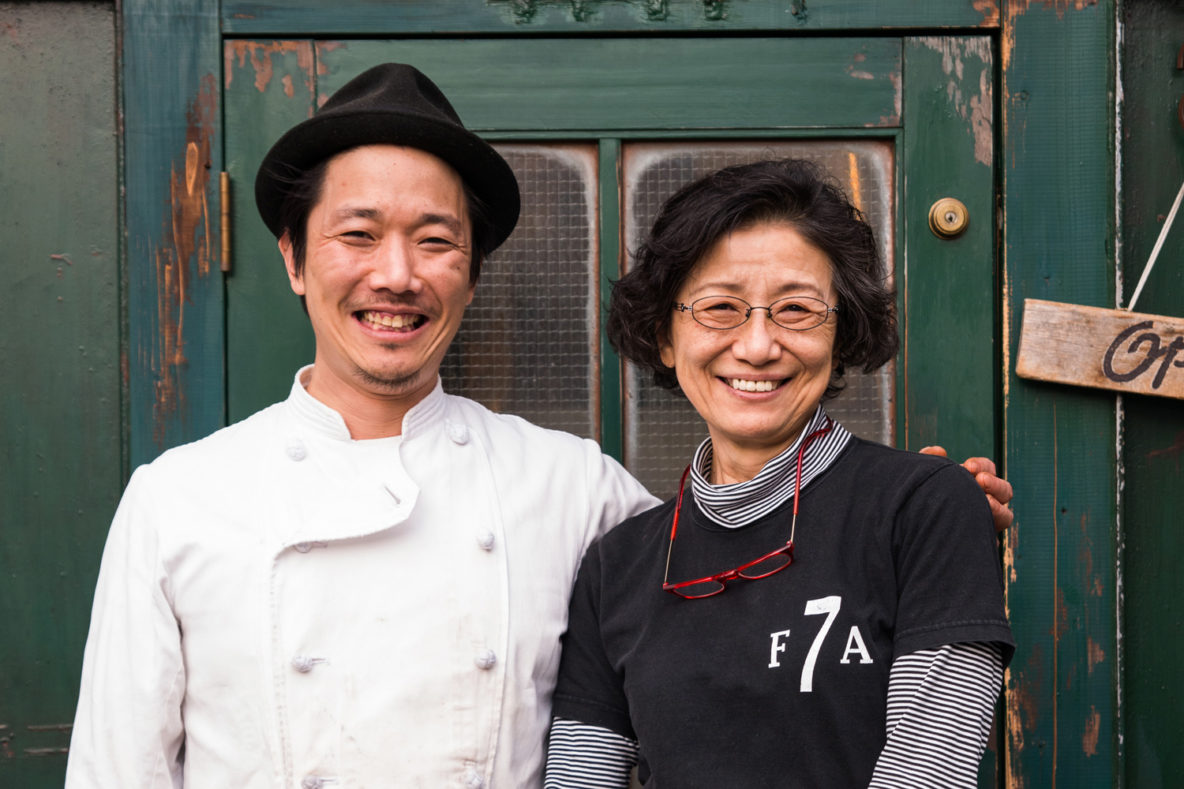 "My friends tell me I'm a terrible businessman. But I'm the sort of person who needs to do everything myself."
---
Takashi Kurokawa

Chef
Fellows
Walk into Takashi Kurokawa's hamburger shop and the first person you meet will probably be his mother. She jumped in to help when her son first opened Fellows and has been there ever since.
"It's a nightmare," says Kurokawa, shaking his head. "I ask her to do something and she just says: 'Do it yourself!'"
He's joking of course. The familial atmosphere at Fellows is one of its greatest draws – almost as important as the burgers themselves, which are frequently hailed as the best in Tokyo.
Kurokawa's secret is simple: high quality ingredients, patties made fresh, and no gimmicks. He prepares about 200 burgers a day, and when they're gone, he closes. "My friends tell me I'm a terrible businessman," he says. "But I'm the sort of person who needs to do everything myself."
His work cycle begins in the evening, when he grinds the next day's beef for chilling overnight. Arriving at the shop about 9am, he spends two hours shaping patties until his hands are so cold he can no longer feel them.
Every burger exits the kitchen charcoal-grilled to order. The big hitter is the bacon cheeseburger, topped with a chunky slab of slow-marinated smoky bacon. But the chef is most proud of his chilli beans cheeseburger. "Chilli isn't something most Japanese people know how to make," he says. But after years of practice, he's confident his recipe rivals any served in the United States, especially when it's slapped into a burger and covered in a web of melted cheese.
Kurokawa was a chubby child with a taste for fast food. As a graduate, he tried working for his family's construction company, but he never felt comfortable in a suit. He did, it seems, have a head for business. "Gourmet hamburgers had just arrived in Japan and I could see they were about to take off in a big way," Kurokawa says. "So I had to be quick to stay ahead of the game."
To refine his recipe, he ate hamburgers every day for six months – all in the name of research. "I wouldn't recommend it. I began to smell nasty," he says.
Fellows' cult following exploded after it opened in 2005. Burger fans would make regular pilgrimages to its initial location in a west Tokyo suburb. When the building was demolished, Kurokawa moved to the new site in Omotesando – bringing his mother along, too. "Well I had to," he says with a wink. "The customers seem to like her."
And how does she feel about having her son for a boss? "It's a nightmare," she says, rolling her eyes and sighing.
TIPS & RESERVATION INFO
This is a casual place, so no reservations are taken, but for the very same reason, a short wait may be necessary on weekends. There's no English spoken here, but the menu is in English. From Omotesando station, walk towards Shibuya and take the third side street on the right – Fellows is about 100m down on the right hand side.
ACCESS DETAILS
---
DIRECTIONS
---