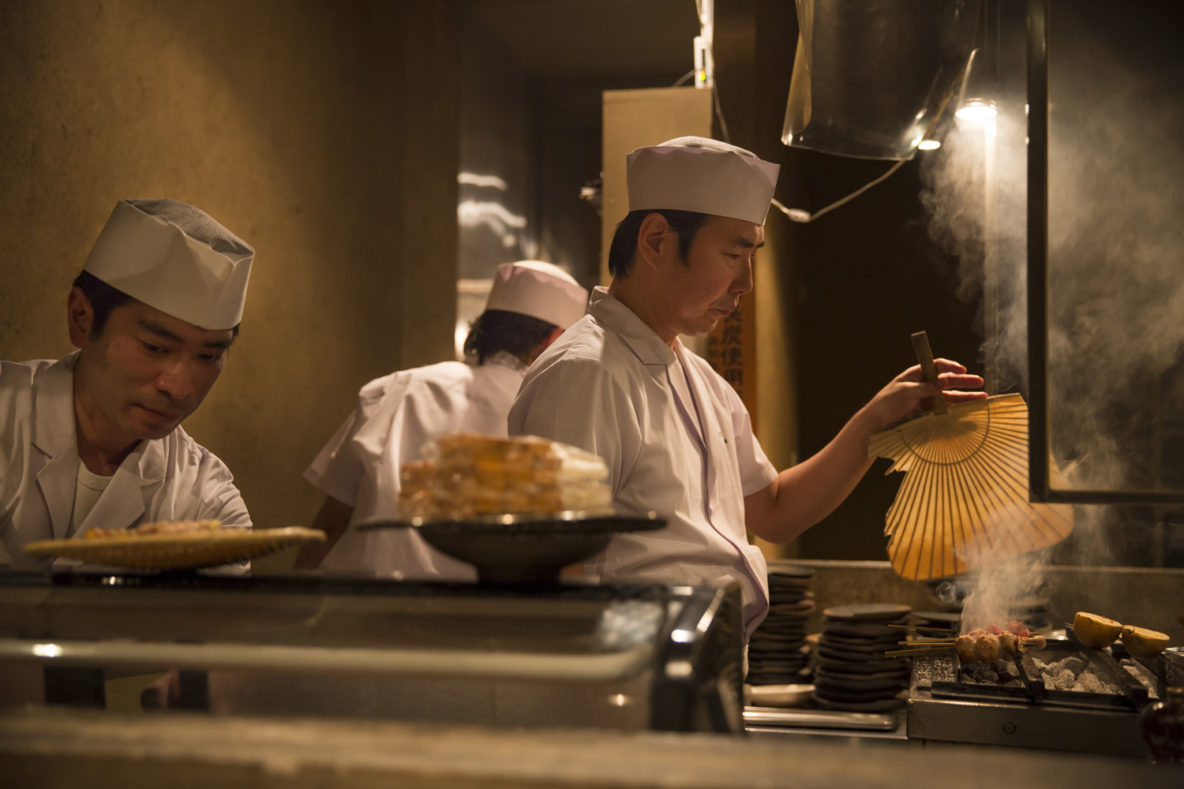 "I can hear when the grill needs new charcoal, or when a chicken skewer is fizzling and ready to be served."
---
Hajime Suzuki

Owner
Fuku
Hajime Suzuki knows the difference between a good Japanese restaurant and a great one.
"You must engage the senses," explains the owner of Fuku, a beloved west-Tokyo yakitori place, "the view of the chefs at work, the aroma of the chicken fizzling on the grill, and of course the taste of the food."
Yakitori, meaning literally grilled ('yaki') chicken ('tori'), are skewers of chicken cooked over white-hot charcoal. From neck to tail, Fuku's menu lists various parts of the bird, including the familiar (breast, wings, mincemeat) and the ambitious (heart, giblets, cartilage).
Around the turn of the millennium, Suzuki, who was then working in the fashion business, began dreaming of opening a restaurant. "The image in my mind was of a warm place with a diverse, international clientele all enjoying themselves, as relaxed as if they were at home," he says.
In Yoyogi Uehara, a rapidly gentrifying neighbourhood still lacking good dining options, he found a promising location – "just far enough away from the station" – and the ideal landlord, who offered to knock down his existing building and build a new one to Suzuki's specifications.
He designed a space with high ceilings – rare for Tokyo – a counter with 16 seats, and several tables around the edge. The simple white uniforms of the chefs, the plain teahouse-colour walls, and the earthy ceramics were also part of his plan.
"Everything we do should be understated so as not to disturb the customers," he says. "Their enjoyment creates the atmosphere."
At the heart of the restaurant is the charcoal grill, manned by a chef who – battling through waves of heat and smoke – staggers the various orders and ingredients with the tempo of an orchestra conductor.
The cleanliness and cut of the meat are critical to achieving an even cook. The charcoal – always from Wakayama, a prefecture in western Japan famous for it – is just as important.
Regulars know to order plenty of the vegetable skewers and other non-chicken dishes that make up about half the menu, including succulent shiitake mushrooms, cuts of aubergine, and the 'danshaku' potato topped with a slice of melting butter. The green peppers wrapped in bacon and stuffed with cheese should be requested early, before they sell out.
When he's not at the grill himself, Suzuki can often be seen standing quietly at the back, discreetly paying attention to every detail. "If I listen carefully," he says, "I can hear when the grill needs new charcoal, or when a chicken skewer is fizzling and ready to be served."
TIPS & RESERVATION INFO
Fuku is a rare no-smoking yakitori restaurant. Reservations are only possible weekdays and until 6:30pm on Saturdays, Sundays and public holidays. For later weekend seatings, they'll call you when the table is ready. Closed Wednesday. Menu in Japanese and English.
ACCESS DETAILS
---
DIRECTIONS
---