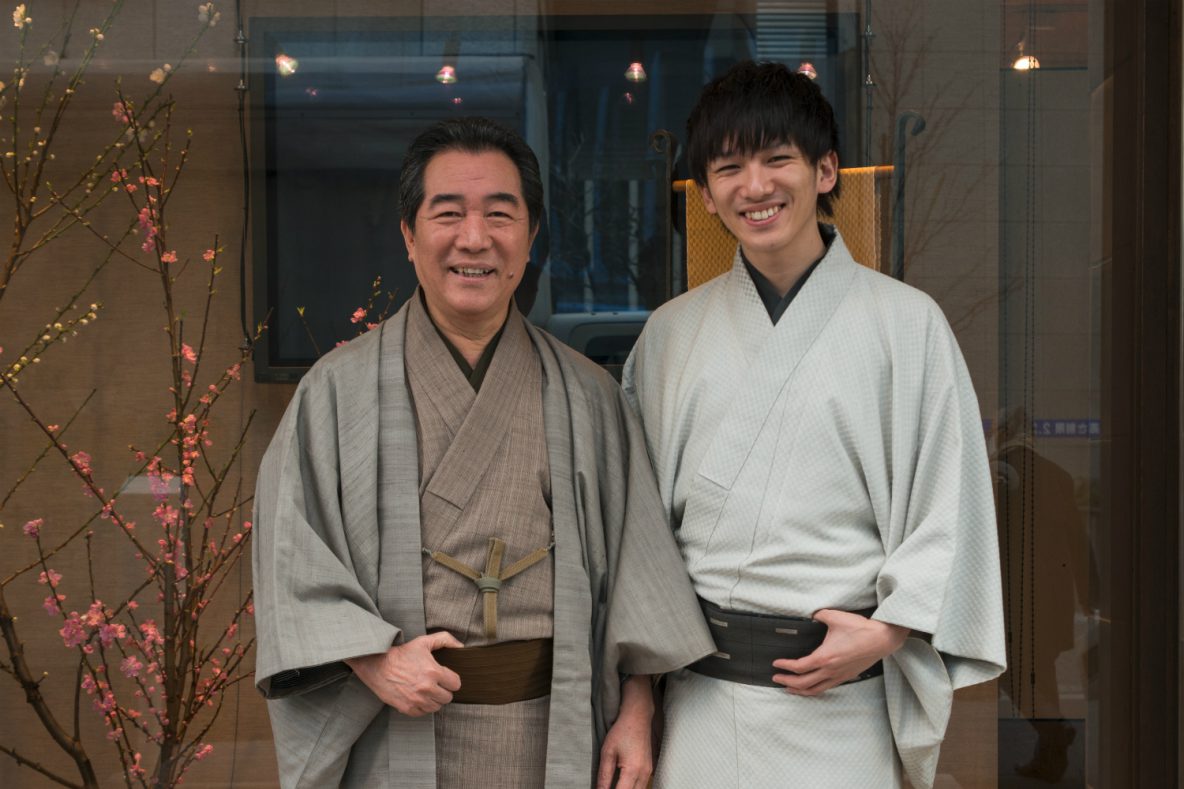 "You stand tall when you wear kimono. You feel people looking at you, so you hold your head high."
---
Koumei Motoji

Kimono ambassador
Ginza Motoji
Koumei Motoji learned the hard way that first impressions count. During a visit to Paris many years ago, he entered a bistro for lunch. He was as fashionably dressed as any typical Parisian. "But I'm Japanese," he says. "So I was ushered to the back like I was an embarrassment." The next day he returned to the same restaurant wearing a kimono, "and they treated me like a rock star."
Motoji grew up on the island of Amami Oshima in southern Japan, a place famous for its high-quality silk. He recalls the day his mother gave him a kimono that had belonged to his late father.
"As soon as I put it on my back, it felt right," he says. "I knew then and there that I wanted to share these treasures – that I would open a shop, and my shop would be in Ginza."
In the early 1960s, this was the most fashionable area of Tokyo, a promenade for Japan's newly affluent consumers. But this was a time before the spread of passenger jets and bullet trains, and Ginza was a world away from the semi-tropical shores of Motoji's island home. "It took me 13 hours on a ferry, followed by 28 hours on a train," he recalls, "But I made it eventually."
Ginza Motoji consists of three shops: one for women, one for men, and another that specialises in oshima tsumugi, or kimono from Amami Oshima. Each feels more like an art gallery than a clothing store, exhibiting carefully curated fabrics awaiting purchase and tailoring. A complete kimono, meanwhile, is splayed dramatically, like a soaring bird.
The proprietor pulls meticulously boxed rolls of fabric out of storage cupboards and unfurls them on a huge table formed from a single slice of wood cut from a 360-year-old tree. They include works by artisans who have achieved the rank of Living National Treasures: Yuko Tamanaha, who makes ryukyu bingata, an Okinawan style of intricate patterns made using dye-resistant rice paste; Kiju Fukuda, celebrated for his embroidery; and Hyouji Kitagawa, the 18th generation of the family heading the storied Tawaraya workshop in Kyoto's Nishijin neighbourhood of textile craftspeople – with no male heir, he is probably the last.
Almost as if to illustrate the tragedy of a workshop's demise, Motoji slips on white gloves before touching his most treasured cloth, a simple design of indigo and ivory. The fabric is only 10 years old, but it is already priceless. "Nobody has the skill to make it anymore," Motoji sighs. "The tradition has been lost."
Every year Motoji invites a selection of his artisans to come to the capital and experience the daily lives of busy, sophisticated Tokyoites. They need to understand their consumers if there is any hope of these endangered skills being preserved for future generations. For this to happen it is imperative that what they make is practical for the modern world.
For Motoji, wearing kimono every day means that he now feels uncomfortable in Western clothing. But his style hasn't always met with the approval of his family.
His son Keita says: "When I was young, it was terribly embarrassing, my father always turning up at school in kimono. But when I noticed the reaction of strangers – especially those from overseas – I started to change my mind."
Keita has since joined the family business, and his father is optimistic that traditional apparel has a future. Young people are becoming dissatisfied with disposable modernity, he believes. They want things that are meaningful – things they can be proud to own. "Besides, you stand tall when you wear kimono," Motoji says. "You feel people looking at you, so you hold your head high."
TIPS & RESERVATION INFO
There are three Motoji stores along the same street, including a dedicated men's shop. A custom kimono takes a week or longer to make, so overseas visitors should head over soon after their arrival to factor in returning for a fitting later. Garments not ready before you leave can be couriered to you. Serious customers should make an appointment so an English-speaking assistant can be present.
ACCESS DETAILS
4-8-12 Ginza, Chuo-ku
---
DIRECTIONS
---