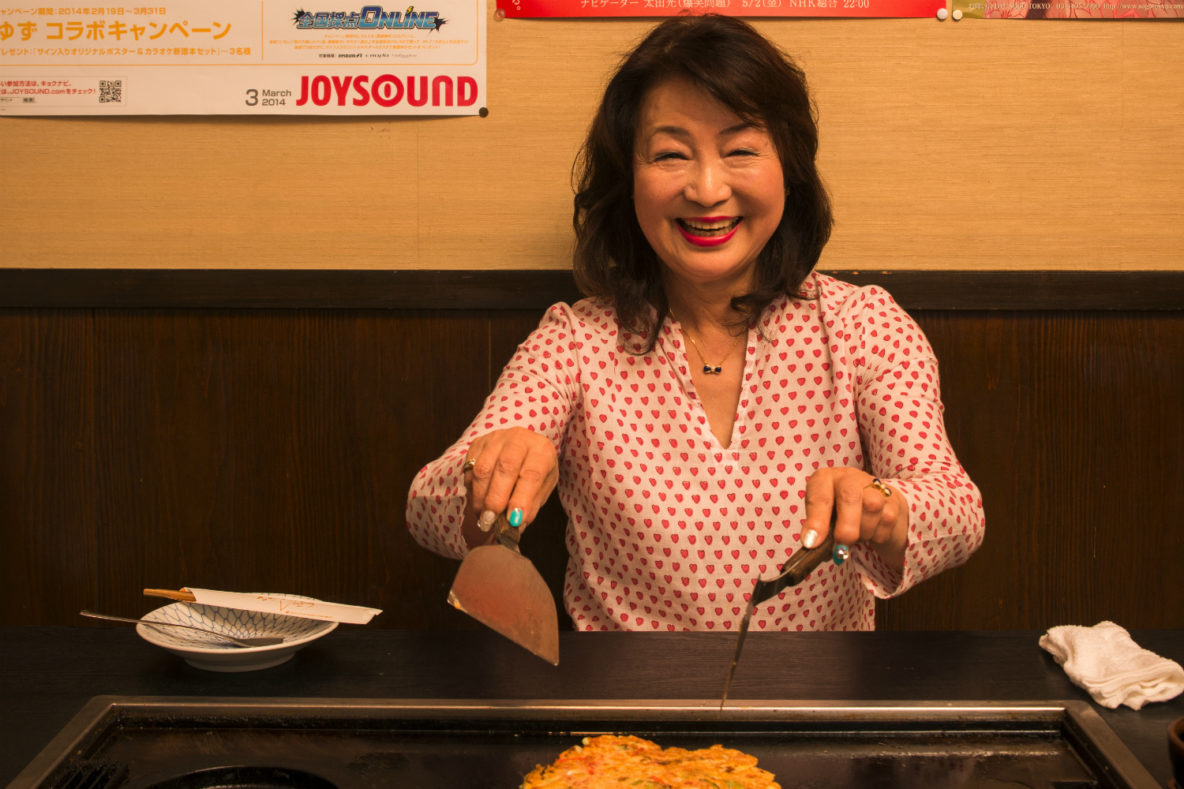 "It's delicious, especially with a mug of cold beer, and it's so much fun to cook with friends."
---
Hisayo Suga

Owner
Gokirakutei
It's 6pm, and Hisayo Suga has just hung the 'Open' sign outside her okonomiyaki restaurant, Gokirakutei. The sliding door rattles open, and three jovial young women arrive. Ducking under the noren curtain, one carries a bottle of expensive champagne. "Mama," she says to Suga, "could I put this in the fridge?"
"Of course," Suga replies. "But first come and look at my new nails." As she splays her fingers, a fake pea-sized gem twinkles in the centre of each brightly coloured nail. "What do you think?" she asks. "Beautiful, right?"
Suga's many regular customers at Gokirakutei, which appropriately translates as 'The Easy-going Home,' call her 'Mama' – or 'Mama-san' to be polite. "The girls talk to me about fashion, beauty, their love lives," she says. "So do some of the boys." Those girls and boys include more than a few celebrities, many introduced by her close friend Kiyoshirou Imawano, an Eighties rock star who passed away in 2009. Posters of his eternally youthful face adorn every wall of Gokirakutei's unpretentious interior.
There's a friendly drill to eating here. On arrival, customers – famous or otherwise – remove their shoes, have their jackets and valuables wrapped in plastic bags to protect them from oil, and shuffle over to low horigotatsu tables, the alcoves beneath which will accommodate their legs.
Everyone orders at least one dish of okonomiyaki, a thick savoury pancake filled with chopped cabbage and combinations of shrimp, meat, vegetables and cheese; or Japanese foods such as natto (fermented soy beans) and mochi (white rice pounded into sticky chunks).
Suga supplies the bowlful of ingredients that patrons cook themselves on a teppan hotplate installed in each tabletop, and each pancake is finished with a generous layer of Worcester sauce and sprinklings of bonito and seaweed flakes.
If it feels like Suga was born for hospitality then it's because she was: her father was a sushi chef and the family lived above the shop. Her mother, like her, was a fastidious cook, for whom only the best ingredients would do – and the same is so for Suga and her restaurant.
Using pancake mix instead of flour to make her batter more airy, she adds a rich homemade dashi broth in place of water. To add texture and flavour she throws in fragments of excess tempura batter known as agedama, which she collects from a ritzy downtown restaurant because "they only use the very best oil."
Okonomiyaki is a dish from Western Japan. Tokyo's version is called monjayaki, and is also on Gokirakutei's menu, despite being trickier to cook. Its process involves arranging the solid ingredients in a circle to make a doughnut-shaped dam, pouring the broth slowly into the central hole, and using mini spatulas to quickly patch up any breaks in the wall. When mixed and cooked it forms a gooey pancake-style mush.
"Admittedly it isn't very appealing to look at," Suga says, smiling. "But it's delicious, especially with a mug of cold beer, and it's so much fun to cook with friends."
Some customers – especially the foreign ones – may fret about technique, but Mama doesn't expect you to do it all yourself. She's an ever-present support, kneeling beside your table to patiently guide you in the art of the perfect pancake – giving you the perfect opportunity to comment on her nails.
TIPS & RESERVATION INFO
Gokirakutei is easy to find, being located almost directly opposite the south exit of Yoyogi-Uehara station. It's popular, so reservations are recommended on Fridays and at weekends, and although there's no English menu, Mama-san is happy to help you order. Smoking is unrestricted inside the restaurant.
ACCESS DETAILS
---
DIRECTIONS
---