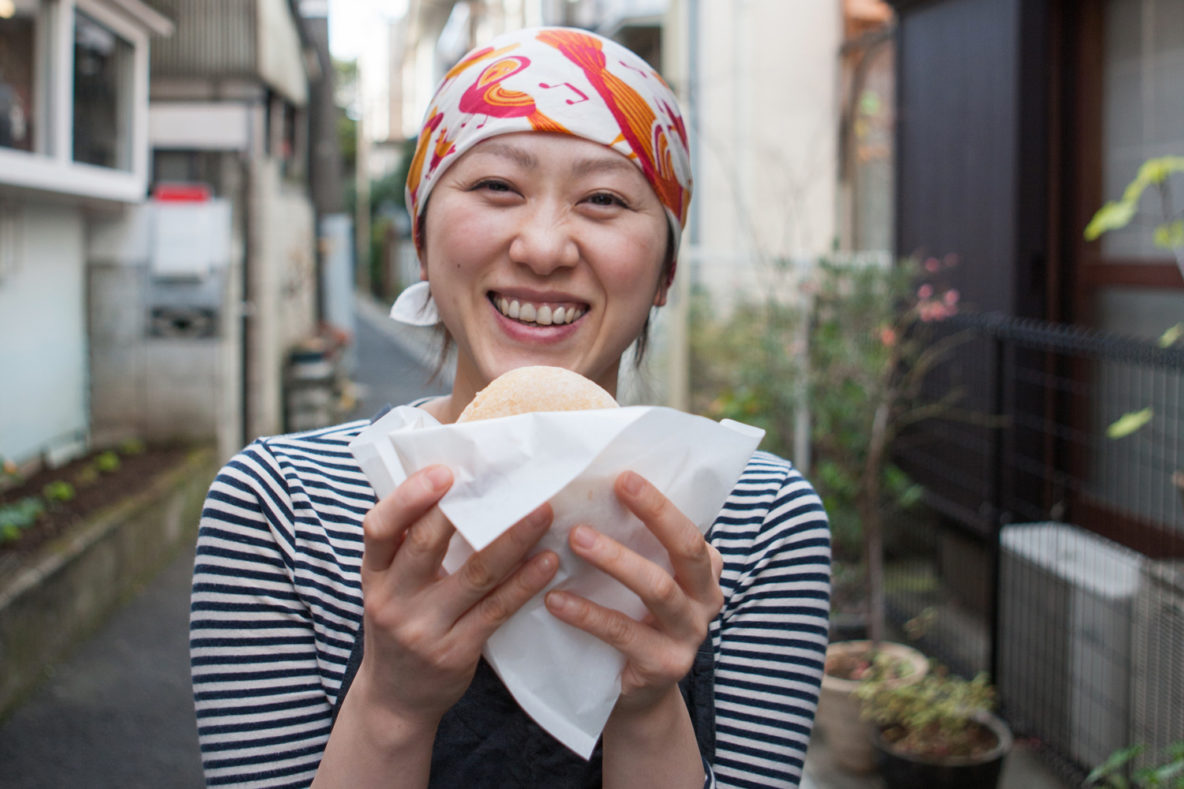 "This is my little corner of Tokyo. I'm always happy to see people who have come a long way and taken the trouble to find us."
---
Haruna Toyoda

Baker
Haritts
Haritts is not a place that's stumbled across. It's not even for a GPS-enabled device. No, this is a place that's about a personal recommendation and a map. But then, even with both, the doughnut shop can seem elusive, hidden as it is inside a converted house on a suburban footpath lined with private homes, potted plants and a barbershop.
Owner-baker Haruna Toyoda opens her shop at 8am – early by Tokyo standards – and it's not uncommon to find a few enthusiastic customers already waiting outside. Yet she never advertises and has no hoarding. The only way to hear about Haritts is by word of mouth.
Several years ago, Tokyo was consumed by a doughnut craze. On-trend customers queued patiently for hours outside American-brand stores, eager to taste the synthetically sweet glazed variety on offer. But eventually people recognised these shops for what they were – profit-powered chains pedalling fast food. The sugar-high fizzled out.
By contrast, doughnuts are still special at – and the specialty of – Haritts. The dough Toyoda bakes is soft, fluffy and bread-like. She makes three or four hundred doughnuts daily, all of them by hand.
One popular variety contains a dollop of cream cheese folded into the dough; another includes cinnamon and currants. Toyoda offers her own unique varieties such as green tea or pumpkin, and occasionally drops new recipes in to match the season. But otherwise she remains impervious to baking trends – no blueberries or sprinkles here.
"It's a family-size kitchen, so we have to make the doughnuts in small batches," she explains, sliding open the door of the shop. It still feels like a private home on entry, and includes a genkan – the space inside where the family who would otherwise live here would remove their shoes. A step up, and the cosy living area has been converted into a miniature café. At one table, students from a nearby high school finish their homework, while at another, local housewives gossip. From the kitchen there emerges the unmistakable smell of freshly raised doughnuts.
Toyoda first learned the technique from her older sister, who at the time worked at a bakery. Together, they developed their own recipes and bought a food truck. They named the business Haritts, a combination of their first names – Haruna and Itsuki.
The Toyoda sisters drove the Haritts truck around Tokyo for two years, stopping outside office buildings and on shopping streets to sell their wares and build a reputation. When ready for a permanent home, they settled on the current space in Yoyogi-Uehara, a residential neighbourhood characterised by affordable rents and a quaint atmosphere.
Despite their plans to keep things small, the business has been growing. Itsuki has moved to Taiwan, where she has opened a new branch of Haritts. Meanwhile Haruna continues to run the shop in Tokyo, rising early each day to start baking at 5am. It's how she's ready for those first customers at eight.
The success of the business means she could move to a more accessible location. But the quaint atmosphere synonymous with the shop prevents it.
"This is my little corner of Tokyo," she says. "I'm always happy to see people who have come a long way and taken the trouble to find us. I would be afraid to lose that."
TIPS & RESERVATION INFO
Haritts is delightfully hard to find, which makes it even more worthwhile when you do. On foot, head to the lower floor of Yoyogi-Uehara station building and take South Exit 2. Taxis should go to the Yoyogi Uehara Post Office, which is at the end of the alley where the doughnut shop is found. Haritts is closed on Mondays.
ACCESS DETAILS
1-34-2 Uehara, Shibuya-ku
---
DIRECTIONS
---