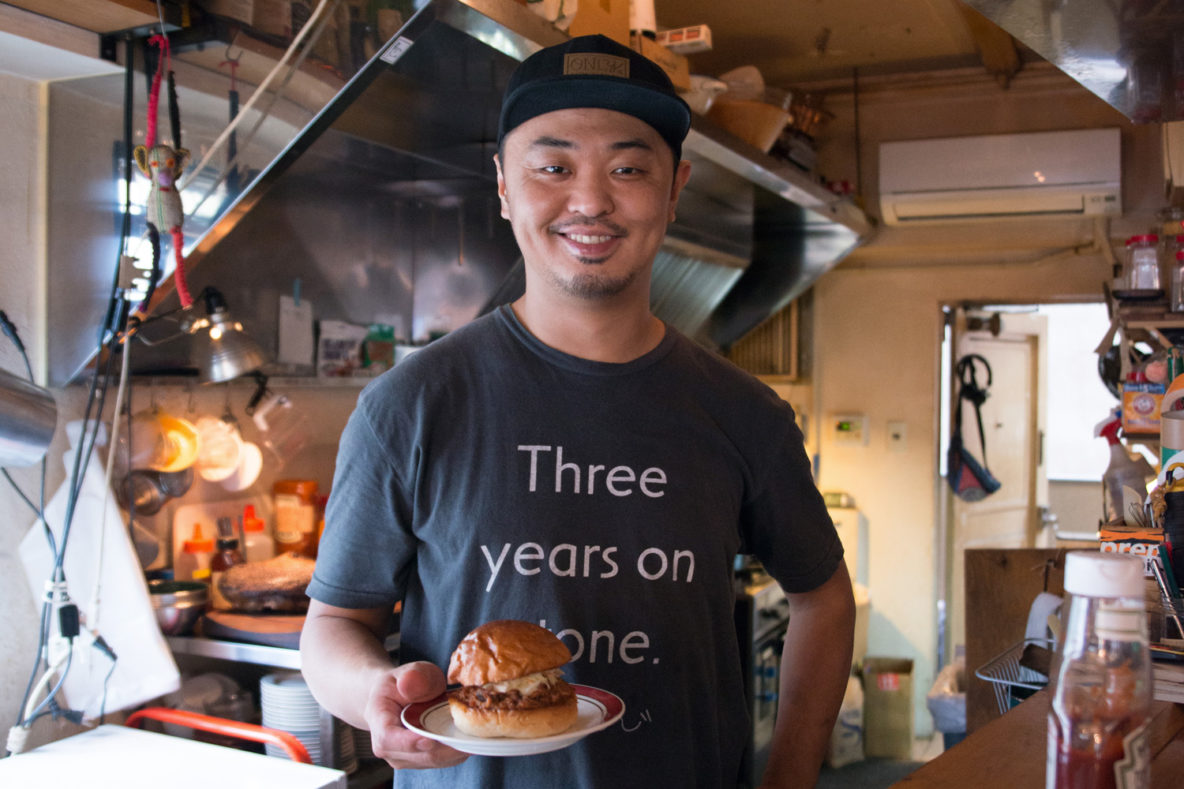 "We'll probably get bored at some point and move on to the next thing. But for now we're busy just keeping it real right here."
---
Sou Ieki

Smoker-in-chief
Hatos Bar
The road to becoming a successful restaurant owner is long and hard. Aspiring chefs spend years working the line in hot, hectic kitchens, earning their chops before finally branching out on their own. But Sou Ieki took a different approach. He went camping.
"Really we just didn't want to have to work for someone, man. We wanted to run our own place, to be our own bosses," he says of the decision he took with his friend Yoji 'Dub' Morita to open a restaurant together.
The buddies had a lot in common: a passion for music ("We're DJs at heart," Ieki says), a free-spirited approach to life and work, and their childhood years spent partly in the United States. Memories of summer barbecues began to sizzle in their imaginations, and the concept for Hatos Bar was cooked. "We asked ourselves: 'What's missing in Tokyo that only we can do?'"Ieki says. Their answer was: barbecue.
For the next two years, Ieki spent almost every weekend at a campsite outside Tokyo trying out different methods and recipes, and slowly developing his technique. He distilled the cooking process down to two basic steps: massaging a spice mixture known as a 'dry rub' into the meat, and a long, slow smoke.
The duo's custom-made smoking machine, once shiny-new but now covered in a thick black patina, was modelled on a famous Texas-style smoker and miniaturised by a local metalworker to fit into a Tokyo-style kitchen.
"This guy could make anything," Ieki enthuses. "He'd never even built an oven before."
The badge of honour for any proud grill master is the smoke ring: the pinkish meat just beneath the surface that indicates a perfect smoke. The smoke rings at Hatos are the real deal, and Ieki achieves them with the nonchalance of a true professional.
He has a similar attitude to his killer barbecue sauce: "I started out with a basic recipe," he says. "You know, something you could find in a cookbook or whatever." But the regime didn't last, subverted by spontaneity and whatever is within arm's reach: tequila, bourbon, rum, or even sake.
Hatos started life as more of a bar (indeed, craft beers and cocktails are an important part of the experience), and then morphed into a restaurant-slash-bar, albeit on a cosy Tokyo scale. The menu expanded from just three items – baby back ribs, mac and cheese, and coleslaw – to include pork belly, a pulled pork sandwich and, occasionally, brisket. There is also a hearty, spicy chili made with the burnt ends and trimmings from the meat smoker.
With a menu and a mindset that are both decidedly international, Ieki and his team at Hatos attract customers from many different countries and backgrounds, squeezing them into the narrow premises, or having them spill out on to the terrace.
Now they're proven entrepreneurs, they also attract new business opportunities – which are duly rejected, of course. Because it's not unfeasible to imagine that the day Ieki becomes a slave to his own success will be the day the essence of Hatos Bar goes up in smoke.
"We'll probably get bored at some point and move on to the next thing," he says. "But for now we're busy just keeping it real right here."
TIPS & RESERVATION INFO
Hatos is a popular spot, so reservations are a good idea, especially on Saturdays – as is pre-ordering your meat when you book. Terrace tables are hot property in spring and summer and get snapped up fast. It's closed on Sundays.
ACCESS DETAILS
---
DIRECTIONS
---