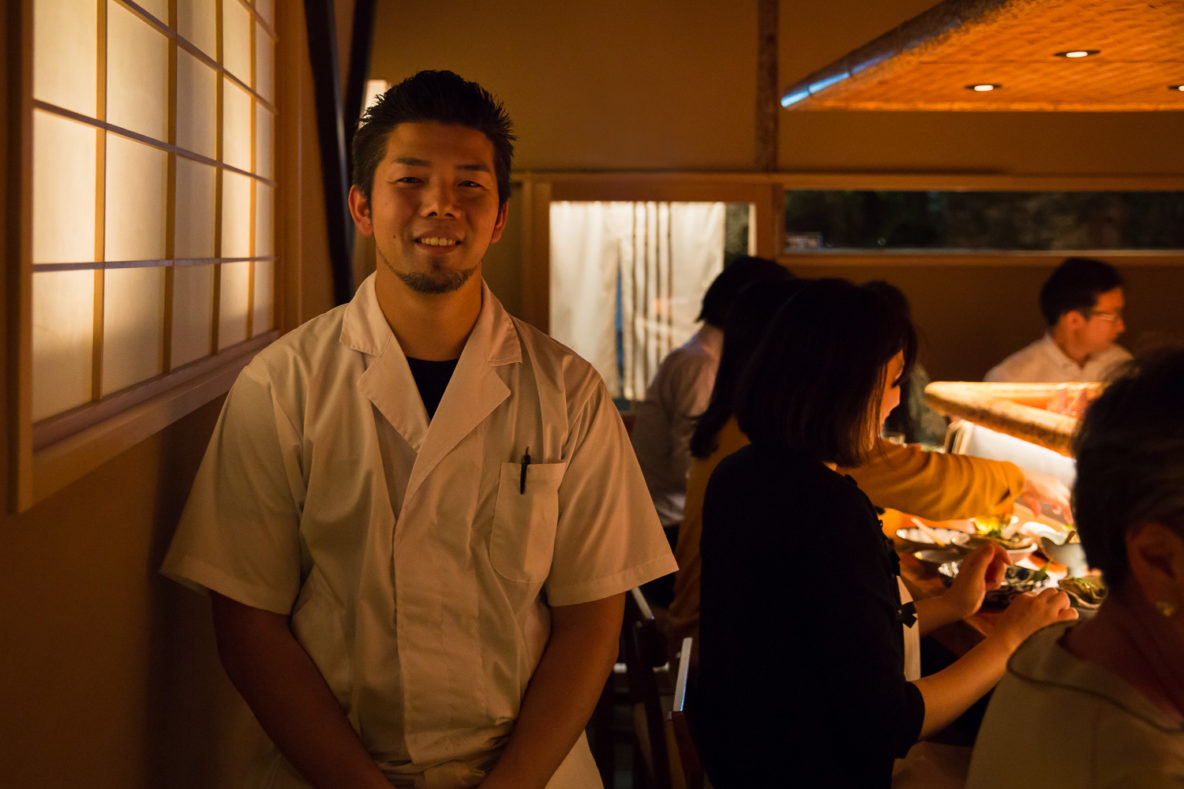 "People around here love food and love talking about food."
---
Hideki Ohnishi

Chef
Kisaiya Hide
Looking for the best rice to serve at his new restaurant, Hideki Ohnishi knew exactly who to talk to: Mr. Okazaki, a farmer in his hometown whose rice is so good he keeps it only for friends and family. Persuaded by the chef's sincere attitude, he agreed to make him his only outside customer.
"Later we found out his son and I were at school together," says Ohnishi. "People around there need to know you to trust you."
Ohnishi's restaurant in Tokyo, Kisaiya Hide, specializes in the cuisine of his hometown, Uwajima, a fishing port on the island of Shikoku in western Japan. The city belongs to a region known for its exacting farmers, and the chef spent years diligently researching from whom to buy his produce.
Moving to Tokyo was Ohnishi's childhood dream – although the boy intended to be a rock star, not a cook. Needing money for the journey, he took a job in the kitchen of the best restaurant in town famous for its 'tai meshi', a dish of snapper sashimi mixed with rice, broth, seaweed and scallions that is Uwajima's signature food.
The business closed many years ago and its chef passed away. But Ohnishi continues to serve a faithful version of the famous 'tai meishi' at his own restaurant. "It's my way of giving back to the man who first believed in me," he says.
Another person who believed in him was his wife. She encouraged him to go solo after 15 years working in other chefs' kitchens. After a long search for the perfect location, they settled on Kagurazaka, a wealthy neighborhood north of the Imperial Palace once famous for its geisha culture.
"People around here love food and love talking about food," says Ohnishi, recalling how his early customers discovered Kisaiya Hide. "The locals would come and eat, and then go to a bar and tell everyone about it."
Onishi recommends the 'shika' (venison), marinated for one day and hung for a second before being grilled and served with wasabi and soy sauce; the seasonal fish tempura – normally 'kasago' (scorpion fish) – every part of which can be eaten, including the bones; and 'mizunasu', a variety of eggplant that can be eaten raw, which comes served in salad-like arrangement with other greens, ginger and garlic, plus a smattering of broth and a dash of hot sesame oil.
Considering Uwajima's reputation for seafood, Ohnishi knew he would be judged on the quality of his sashimi. For that reason he bypasses Tokyo's renowned fish market and instead buys from Mr. Yamada, a local fishmonger in Uwajima who sends him text messages every morning with photos of the different species being iced, boxed, and sent by overnight courier to the capital. A delivery of octopus is always welcome. "Octopus from the ocean there is unlike any other – sweeter, more fragrant," he says.
Every summer, when Ohnishi, his wife and their two young children go back to Ehime, he visits Mr. Yamada in person – and Mr. Mise, who rears the chickens; Mr. Nishimori, who sends the mikan tangerines; Mr. Morishita, who supplies the venison; and, of course, Mr. Okazaki, the rice farmer.
"I couldn't have made this place alone," he says. "Going to see them once a year and thanking them face-to-face is as important as going to see my family."
TIPS & RESERVATION INFO
Reservations are recommended for any visit, but can normally be secured a few days in advance. The menu is in Japanese, but thanks to the accommodating chef language barriers are unimportant here. Closed on Sundays.
ACCESS DETAILS
---
DIRECTIONS
---