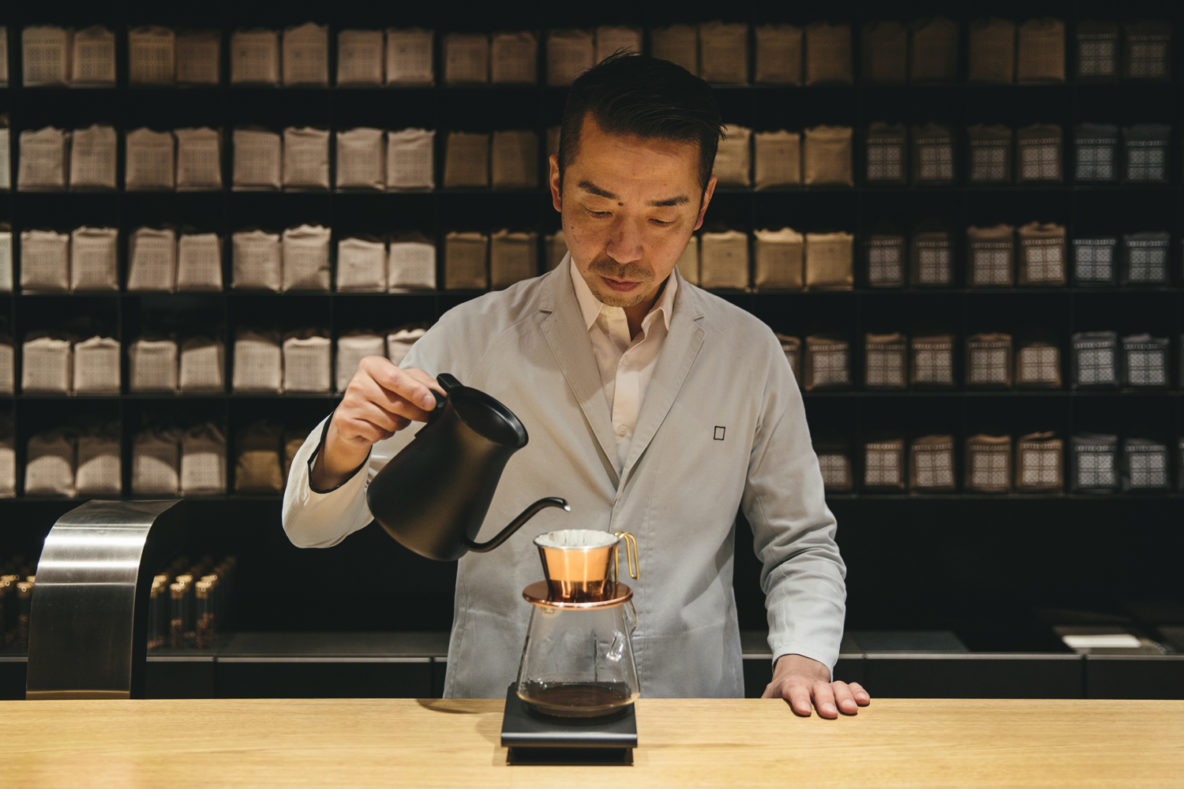 "There are plenty of places you can drink coffee out now, so I wanted to introduce coffee you can drink at home."
---
Eiichi Kunitomo

Barista
Koffee Mameya
In the backstreets of Harajuku there used to be a little wooden house with a coffee kiosk on its ground floor. It was there that Eiichi Kunitomo served what some argued were Tokyo's best cappuccinos. When that house was razed in early 2016, taking Omotesando Koffee with it, even international media outlets wrote articles lamenting its demise.
But as the fans were mourning, Kunitomo was planning. He travelled the world and all over Japan, meeting roasters and fine tuning the concept for his next step. In January 2017 he opened Koffee Mameya where his old shop once stood.
Kunitomo and fellow barista Miki Takamasa still wear their pale blue lab coats, but they take the metaphor much further now. Their minimalist interior is divided into service counter and waiting room. When it's your turn to approach the counter, you discuss your preferences and they'll suggest something suitable from over a dozen roasts. And like the serious medicine in a pharmacy, the drugs are behind the counter.
Kunitomo believes the consultation phase is essential, so he takes the time to explain the flavour camp and finish of the various options, as well as the roasters who provide them. He works with a handful of his favourite roasters and assembles a spectrum of flavours from elegant light roasts to rich dark ones.
There is a menu that lists varietal, roaster and provenance, and plots the beans by roast and mouthfeel, but in a departure from the specialist coffee norm, it offers no tasting notes. "It's not easy to understand 'hint of lemon' and that kind of thing," says Kunitomo.
When you've chosen your bean, you can have it poured over a Kalita Wave dripper or served as espresso from the Synesso machine, but it must be black. There is no place here for anything that would adulterate the work of the grower or roaster. It can be a long process, and for those waiting in line… they can wait, says Kunitomo. He's not playing a volume game.
Kunitomo began his career two decades ago pulling espressos in Osaka. He refined his technique in a Neapolitan coffee shop, and when he returned from Italy, the specialty coffee scene was starting to bubble. Omotesando Koffee opened at the right time, in the perfect place, to play a key role.
It proved such a success that it spawned spinoffs in Tokyo's Toranomon district and Hong Kong, but when Kunitomo was invited to reopen in the new building, he took the space but left the format behind.
"I wanted to have a slower pace," he says. "And there are plenty of places you can drink coffee out now, so I wanted to introduce coffee you can drink at home." To underscore the point, Kunitomo and Takamasa devote the final hour of each weekday to workshops, teaching customers how to get the best out of their beans.
For casual visitors, Mameya is a coffee shop with painstakingly particular baristas. For regulars, it's more of a bean shop where you can try before you buy. And if you buy, your purchases are noted, alongside details of your kitchen brewing apparatus, on grey index cards like those used in the pharmacies of yesteryear.
TIPS & RESERVATION INFO
The backstreets of Jingumae can be a bit of a maze, but there are lots of great cafes and shops to discover if you have a bit of time to wander. Not feeling so adventurous? Head back to the main Omotesando Dori and to Harajuku for people watching. Visvim, featured in this app, is also nearby.
ACCESS DETAILS
---
DIRECTIONS
---