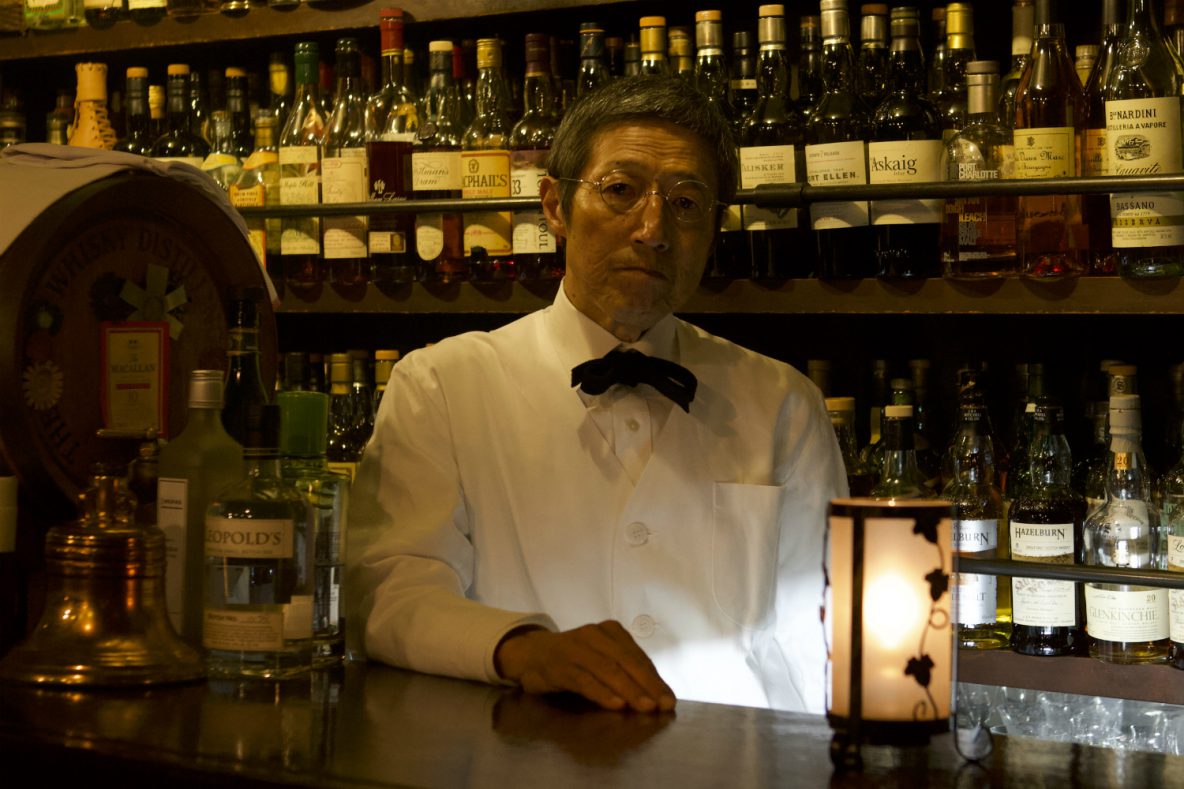 "The gins they make now, Scotch, bourbons, rums too, they just don't have the body they used to."
---
Fumihiko Kimura

Bartender
Kohaku
Fumihiko Kimura was on track to become an engineer. When he graduated from university, he found a job at Mitsubishi Heavy Industries. But he lasted just two years. His mother had other plans for him: she wanted him to become a bartender.
It was the early 1970s and she was running Kohaku, one of the first western-style bars in Yushima, a former geisha district near Ueno. A discerning crowd patronised the place, including author Yukio Mishima, who liked to sit at the only table and drink gin and tonics. Mrs. Kimura had plans for her son to take over. "I hated the idea," he says. "I thought working for a company would be more fun, but I didn't have a choice."
His mother dispatched Kimura to Tokyo's Palace Hotel to train under one of the era's great bartenders, a man nicknamed 'Mr Martini'. Kimura enjoyed the training, the atmosphere, and the camaraderie, but again it ended after two years when he was yanked back to Yushima.
Fast-forward four decades and much has changed. The reluctant son has become an obsessive bartender, lauded for his cocktails and vast liquor selection. He says he has around 1,600 bottles – 3,000 counting duplicates – and he knows only roughly where most of them are. Some predate his career, like the tin-capped Haig whisky from 60 years back, or the bottle with a label so faded, it's near impossible to read that it contains orange bitters.
Kimura has contemporary spirits too, but his heart lies wistfully with the golden olden days. "The gins they make now, Scotch, bourbons, rums too, they just don't have the body they used to," he says. "My older customers know that, but the vintage bottles are rare and expensive, so I try to find other ways to introduce depth into a cocktail."
He might add brandy where the recipe doesn't call for it, or a dash of something from Islay. The bitterness of an orange peel helps some drinks, he says. And then there's his calvados jug, a little brown crock fashioned in France in the 19th century. The intervening century or so has effected some changes. The ornaments have either worn or fallen off. The original cork disintegrated long ago. But inside, something magical is happening.
About 20 years ago Kimura filled the jug with a litre of young apple brandy. "Nothing much changed at first," he says, "and then suddenly it just transformed, both in flavour and in colour."
He hasn't emptied the jug since. When he serves calvados, he replaces it with spirit from a new bottle. It goes in crisp and alcoholic, swirls around with spirits of years and decades past, teases some 19th-century secrets from the clay, and comes out tasting like something squeezed from an apple pie. Kimura has been wondering whether he could magnify the effect by burying the jug in the ground. If pomegranates are in season the calvados contributes to his Jack Rose, a cocktail more commonly made with grenadine syrup. He says he noticed one day that his syrup was entirely artificial, so he worked on a recipe with fresh juice instead. It's of course become a signature.
But for all these innovations, Kohaku is a nostalgic bar – a flashback to when geisha still clopped around the neighbourhood, and when drinks were deep with flavour. A flashback to when Fumihiko Kimura found out he wasn't going to be an engineer.
TIPS & RESERVATION INFO
Kohaku is a small, authentic place, where you're free to smoke and no reservations are needed. Kimura speaks little English, but luckily the language of cocktails is universal.
ACCESS DETAILS
3-44-1 Yushima, Bunkyo-ku
---
DIRECTIONS
---