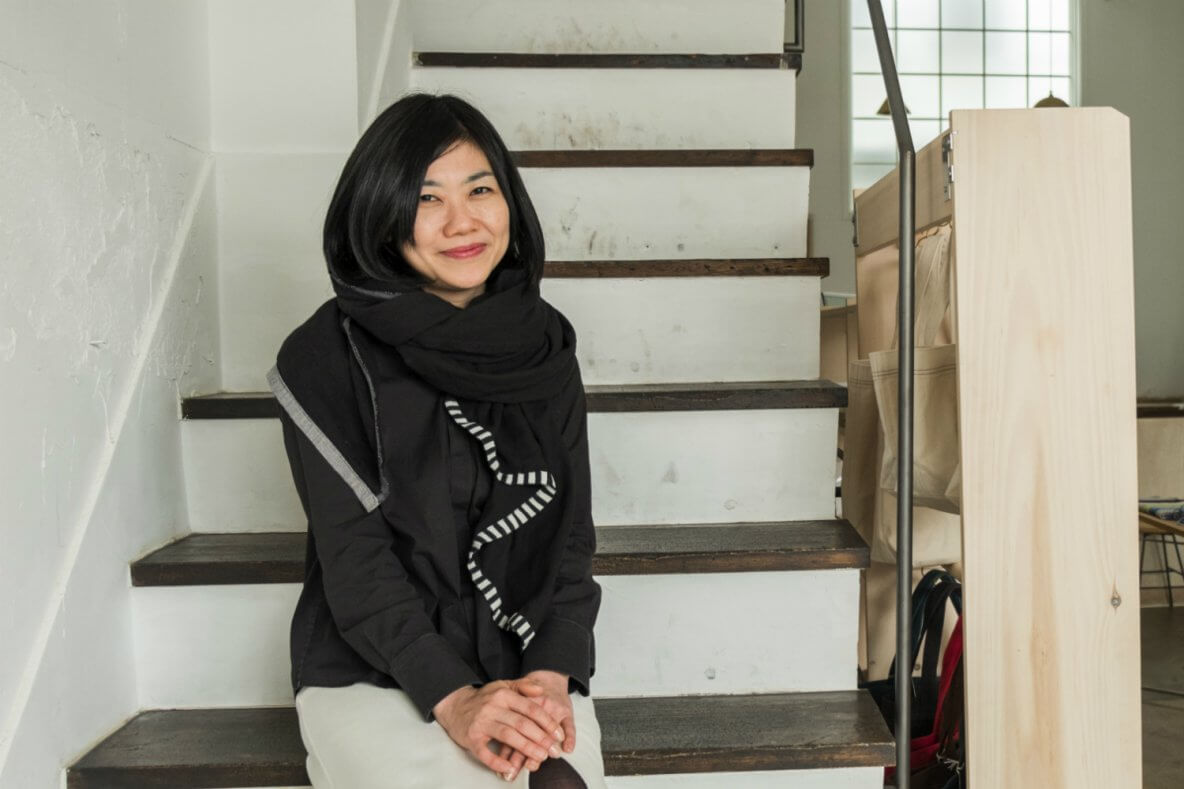 "The essential thing is creating new connections, because together these people form the DNA of a Japanese spirit that links the traditional with the future."
---
Noriko Konuma

Director
Kumu
"Connecting people," says Noriko Konuma, smiling as she sips tea from a white porcelain cup at a naturally-hewn wooden table inside Kumu Tokyo, the intimate design gallery and shop she curates. "It's all about bringing people together and creating special moments in their daily lives."
In the years since Konuma opened her gallery on a quiet lane in the eastern Bakurocho district in 2015, Kumu ("to connect" in Japanese) has showcased the works of dozens of Japanese creatives, from paper artists and contemporary incense makers to potters and floral designers. She calls them "family", which makes Kumu their collective home.
The small, two-storey structure, renovated by Atelier Etsuko Architects, has a minimal industrial feel, with swathes of original concrete, high ceilings, a warehouse-like window façade and green plants. For Konuma, it's a very personal space: her family's businesses previously occupied the building, and she grew up across the street in the same house where her father was born.
"The Bakurocho neighbourhood feels different from the rest of Tokyo," she explains. "There are few big businesses, it's still very local, and people form friendships naturally." That openness is attracting a burgeoning creative community, including art galleries and garment makers, ceramics stores and independent cafés.
Kumu's ground floor is home to a shop with a permanent collection of design products – mostly contemporary takes on traditional craftsmanship – and a gallery space hosting up to 15 exhibitions a year. A clean, white upper floor and plant-populated roof terrace host workshops and events.
Centre stage in the shop are works by designer Masanori Oji (who also created Kumu's circular, interwoven logo), from the angular warmth of his metal household fixtures to the clean petal-like lines of his white ceramics. Thick canvas bags by Kurashiki Hanpu and incense handcrafted by Chikako Perez of Tokyo Kodo come encased in 'washi' paper by Chiaki Morita – one of several collaborations made possible through Kumu.
"It's not so important that we sell things," says Konuma, warm, softly spoken and ever-elegant in minimal monochromes. "Of course, sales keep creative techniques alive. But the essential thing is creating new connections, because together these people form the DNA of a Japanese spirit that links the traditional with the future."
TIPS & RESERVATION INFO
Bakurocho is enjoying something of a renaissance as one of Tokyo's newest design districts. To get the full experience, plan some extra time into your visit to explore the rest of the area and grab coffee or lunch at one of the nearby cafes. Volga Volga, featured on PMP, is nearby, too.
Kumu's workshops are conducted in Japanese, but usually there is someone on hand to provide a simple explanation in English.
ACCESS DETAILS
---
DIRECTIONS
---