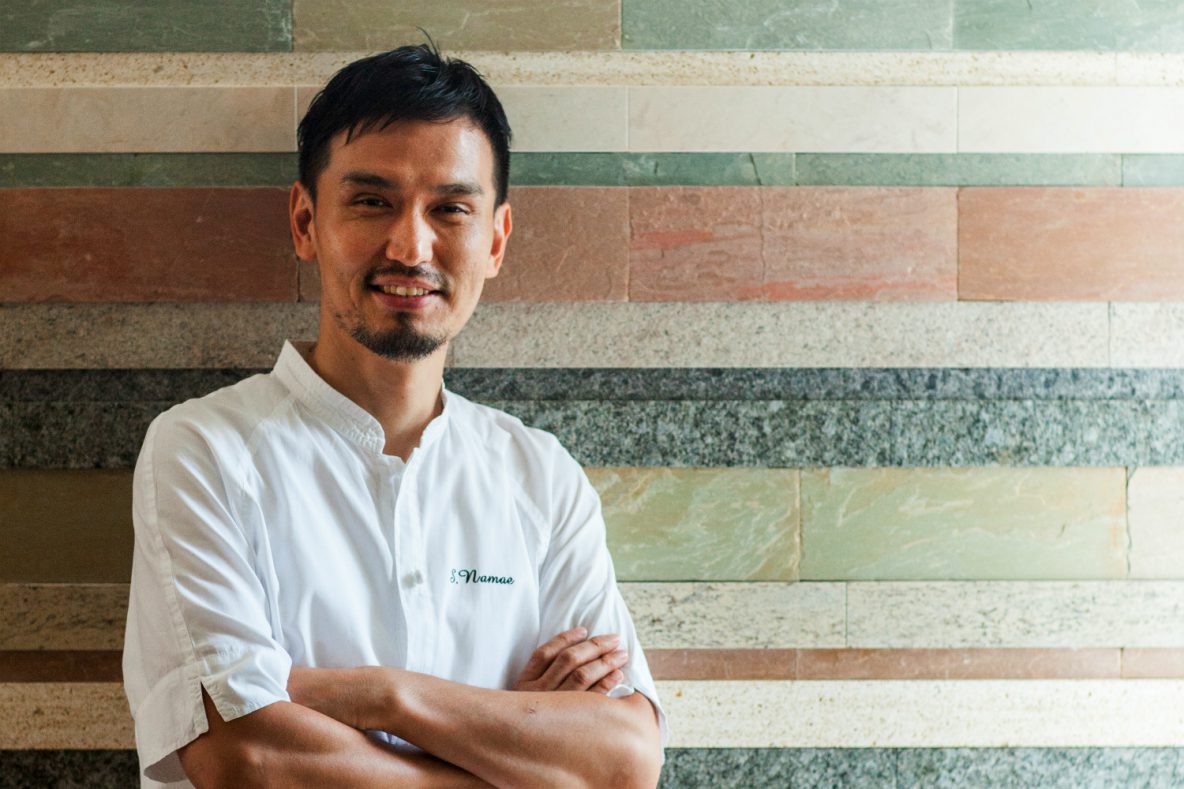 "For me, work is life, and life is work, and I wouldn't have it any other way."
---
Shinobu Namae

Chef
L'Effervescence
As a young man in Japan, Shinobu Namae always knew he was living in a bubble. "It was very convenient here, very efficient," says the youthful executive chef of L'Effervescence with characteristic self-awareness. "I appreciated that. But I also knew Japan was a bit sterile."
Namae was determined to travel, and foraged for a career that would satisfy his inquisitive instincts. He intended to become a journalist. Then he was obsessed with Italy – "I wanted to be Italian." But it was on holiday near San Francisco, while dining at Chez Panisse, that he encountered his true calling.
"A simple arugula salad, garlic soup, beef sirloin with basil paste… Even now, I can remember every flavour," he recalls of the meal at Alice Waters' iconic Californian restaurant. "I never imagined I could get such satisfaction from a salad."
More than a decade later, on the other side of the Pacific, Namae set out to offer every guest at his own restaurant a distinct memory of time and place. For his ebullient project, he chose a tantalising name: L'Effervescence.
The location he secured is refreshingly roomy for Japan's cramped capital, where space itself is a luxury. During each sitting, the chef makes sure to visit every table and personally greet and thank his patrons for coming. "I'm grateful for every moment," he says. "For me, work is life, and life is work, and I wouldn't have it any other way."
On a plate called 'Beautiful Scene of Summer', two small local freshwater fish known as ayu (sweetfish) appear to be jumping along a stream of sunshine – a picture painted with mango, radish and a mountain of sansho pepper, and with a powerful spot of 'guts-flavoured gastric sauce.' On 'Transparency,' airy foie gras, garnished with grapes, celery and walnuts, seems ephemeral enough to almost vanish before the first bite.
Nominally French, Namae's food also reflects his youthful Italian fetish; the influence of his two celebrated tutors, Michel Bras and Heston Blumenthal; and, from his home country, strong seasonal rhythms. His microscopic attention to detail comes from his father, a stern, introverted man who designed microchips sitting behind a blueprint-covered desk.
It was his mother who taught him to take pleasure in food. "Honestly she isn't a great cook," he says. "But she loves to explore new restaurants. She appreciates every mouthful and every moment."
Softly spoken yet candid, Namae confesses to having a rebellious streak. After graduating from university with a degree in politics and social psychology, his decision to cook for a living went against the wishes of his father. Now in his early forties, he is one of several rising-star chefs unafraid to challenge the boundaries of his native culture.
"I grew up just as Japan's bubble economy was bursting. Since then things haven't always gone well for us Japanese," he says. "So we needed to learn to do things differently, and to enjoy ourselves along the way. We needed this culinary revolution."
In late 2013, Chef Namae attended a food event in San Francisco. He tacked two days on to the end, and returned to Chez Panisse to work in the kitchen that first inspired him. "I was the lowest level chef in the kitchen, washing and preparing vegetables, that sort of thing," he says. "But that was all I needed. I watched and learned, and then I came home. With lots of new ideas."
TIPS & RESERVATION INFO
In the summer of 2015, Chef Namae reopened L'Effervescence after a total renovation of the space into something more in line with his personality and unique vision for the food. Now, more than ever, reservations are usually only possible with several weeks' notice – and dinner is harder to book than lunch. Nevertheless, English is spoken and this can be done by phone or email.
ACCESS DETAILS
2-26-4 Nishi Azabu, Minato-ku
---
DIRECTIONS
---