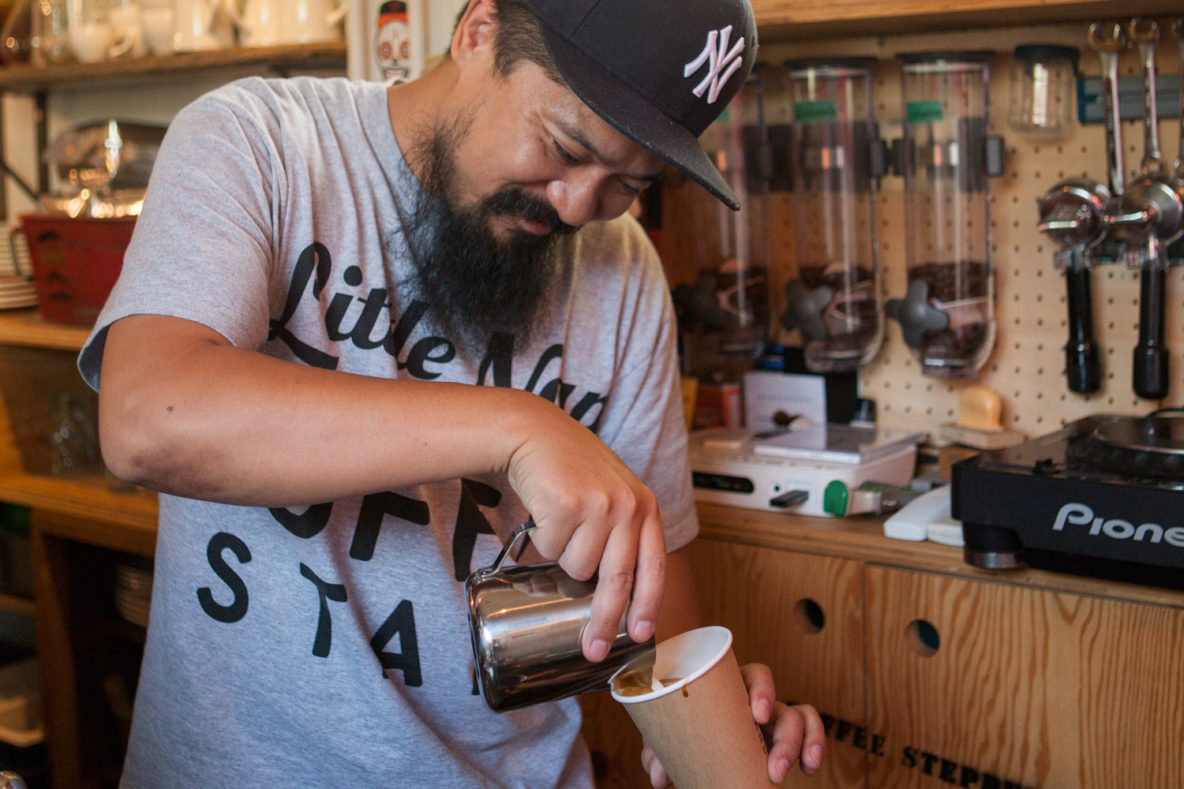 "When people sip, talk and spend time together here, that's when Little Nap is what I hoped it would be: a place for friends."
---
Daisuke Hamada

Barista
Little Nap Coffee Stand
"Wherever you go in the world, there are always coffee shops near parks. Parks and coffee shops – they compliment each other. They're places where people congregate," observes Daisuke Hamada. "But that wasn't so true of Tokyo, which is why I chose this place."
Hamada is referring to Little Nap Coffee Stand, his diminutive shop beside Yoyogi Park. One of the largest open spaces in Tokyo, the park is the city's unofficial playground, used for early morning jogs, dog walks and outdoor yoga. During cherry blossom season, the grass becomes a patchwork of parties celebrating the arrival of spring. In the evening, sounds fill the air – a violin here, a saxophone there – as musicians use it as a place to practice.
Little Nap is housed in a slither of a building squeezed between an offshoot of the park and a railway line. Every time a train passes by, the shop rattles a little. It's a sensation Hamada says he has learned to love because, "it's just the rhythm of the city."
The location is more auspicious than it sounds. Across the tracks is one of Tokyo's most boho suburbs, home to young families with money and taste, and with – one might guess – more dogs per square mile than anywhere else in the city. Little Nap is en route to the park. "The shop is supposed to be a place where you can drop by for a break in your day," says Hamada. "It's like a siesta – but with coffee."
Hamada's love of the bean was planted by his father, but nurtured during a trip to Italy while working for a company that imported espresso machines. His first café was a disused shop in rural Toyama, his home prefecture northeast of Tokyo, and he decorated it simply with the help of some friends.
Years later, and having long-since relocated to Tokyo, Hamada opened Little Nap. The distinctive logo, inspired by his love of vintage typography, is what most will notice first, and yet it's the more no-nonsense type saying 'Coffee Stand' that he deems most important to its look and feel.
"In America, you see signs on the side of the highway that just say 'Restaurant' or 'Coffee'," he says. "You don't even know the name of the place, but that doesn't matter. You're just being told what it does, but the sign somehow has the ability to make you feel something."
With his scruffy beard and Salvador Dalí-esque moustache, Hamada is clearly at home in his self-made surroundings. Consciously fashionable, he has a nonchalant air that masks a keen mind for both the business and the science of coffee. "I customised my espresso machine," he says proudly. "I changed the pumps, water lines, and temperature settings – it was like pimping up a car."
The changes, Hamada maintains, make the machine easier to use when he's busy, and allow him to tweak the flavour of what he serves – finessing this begins when he arrives each morning and makes a judgement call on the roast of the day based on the season and the weather.
Like all businesses, his stand is sometimes busy, sometimes quiet. But Hamada says it's when the sun is shining and the bench outside is filled with patrons sitting and chatting that he feels successful.
"Foreign coffee shops are better at creating atmosphere," he remarks. "In Japan so many people just want to photograph their coffee instead of experiencing it. So when people sip, talk and spend time together here, that's when Little Nap is what I hoped it would be: a place for friends."
TIPS & RESERVATION INFO
Little Nap is found along the western edge of Yoyogi Park. Set back from the road and nestled behind a playground, its location makes it the perfect place to head with kids in tow.
ACCESS DETAILS
5-65-4 Yoyogi, Shibuya-ku
---
DIRECTIONS
---