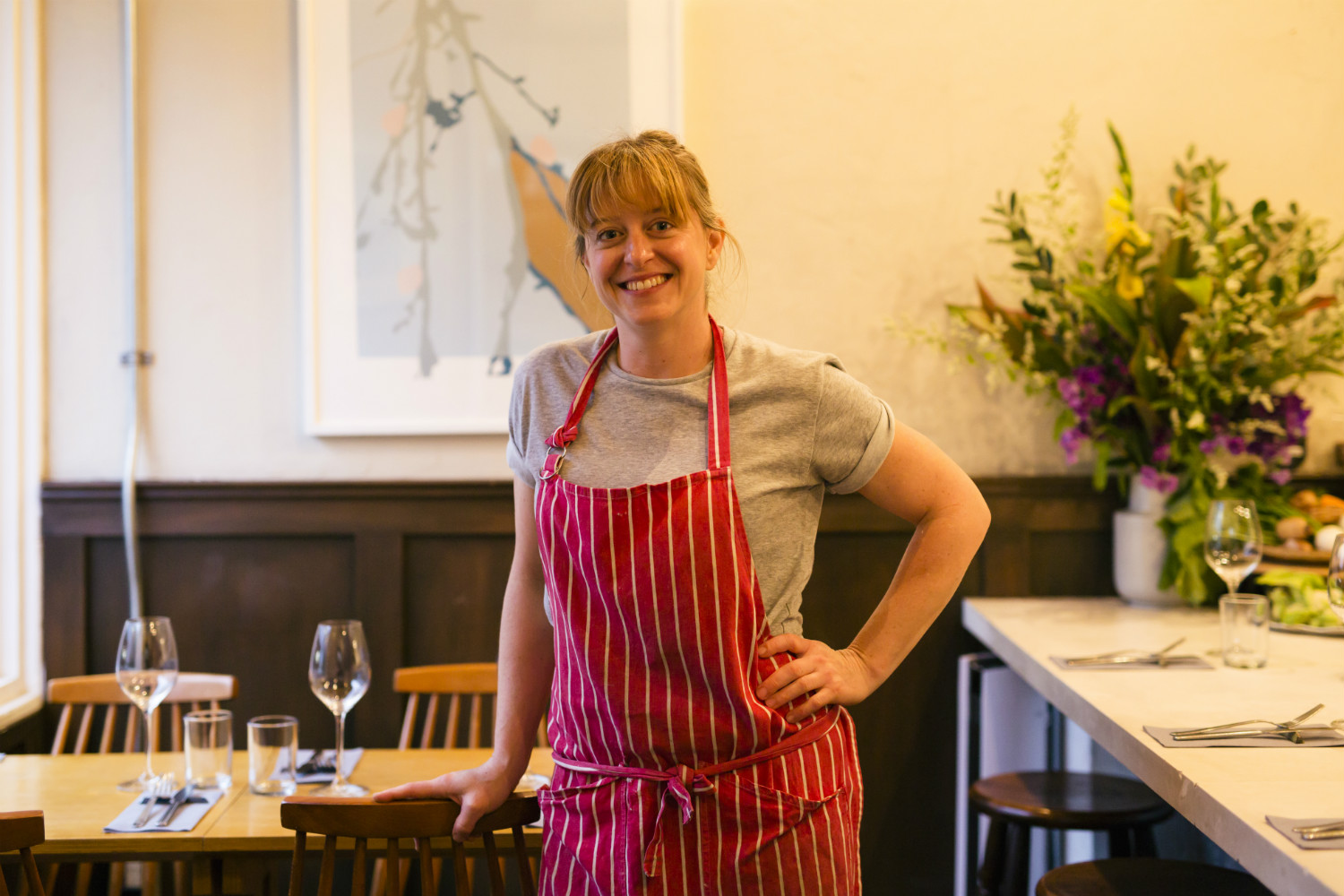 "The quality of the vegetables is so nice, I don't need to do too much to them."
---
Katy Cole

Owner chef
Locale
Walking into Locale, a small restaurant near the river in Meguro, customers feel as though they're entering someone's home. The chef, Katy Cole, welcomes them with a smile from behind the counter, where other guests—who may have been strangers only moments before—share stories and discuss wine preferences.
"It feels like a dinner party every night," Cole says.
The story of how Cole came to open Locale is an unlikely one, full of chance encounters and serendipitous twists of fate.
The Los Angeles native spent the first decade of her career cooking in San Francisco. When she first visited Japan on a whim, it was only for a ten-day holiday. Still, she "felt like there was something more," and six months later she was back again, this time for a longer stay. During that second trip, she began making the connections that would soon lead to her leaving California behind to live in Japan full time.
After spending several months doing pop-up cooking events whenever and wherever she could, Cole was hired as the savoury chef to open what would quickly become a popular bakery and cafe in Daikanyama. It was during this time that she learnt that the restaurant that previously occupied Locale's space would be closing. She immediately put up her hand to take over the lease.
"On the second or third day of my first trip to Japan, I came here and sat at this counter and thought, I would love to have a restaurant like this one day," she says. Over time she became friends with the owner of that restaurant, and even though he questioned whether she would be able to make the space work for her, she knew she was going to try. And not only did she try, she succeeded.
"I opened the restaurant four years to the day from when I came here the first time," Cole says.
At Locale, vegetables take centre stage. Every week, the restaurant gets deliveries from small farms across Japan, the contents of which are unknown until they are opened. It is only at this time that the chef begins planning the menu, which changes slightly each day.
"We use such special ingredients and the farmers put a lot of care and energy into what they're growing, and for me to peel it all away or make it into some other shape seems like a little bit of a waste to me," Cole says. "The quality of the vegetables is so nice, I don't need to do too much to them. So I guess my philosophy is just that simple is best."
A night at Locale might see a menu that includes colourful roasted vegetables with cashew cream, lentils and avocado with a bright pink sauce made of yogurt and shibazuke pickles, Spanish mackerel with quinoa and roasted root vegetables, and pork shoulder with whipped taro root and greens.
"I feel that everything sort of comes together, from the honesty of the people growing the vegetables, to serving food without a lot of unnecessary ego, and then also the kind of feeling that people have when they come in," Cole says. "It all just comes together and people are really open and honest. It still surprises me the way people get along."
TIPS & RESERVATION INFO
Reservations are advised, and can be made online or over the phone. The restaurant is closed Mondays and Tuesdays, and may also close at certain times of year, so call ahead to be sure it's open during your visit. It also opens for brunch on weekends.
Locale is located just a block from the Meguro River, which is a nice place for a stroll, especially during cherry blossom season (head northwest and continue along the river until you see the iconic pink-flowered trees). A ten-minute taxi ride or 20-minute walk to the east is the beautiful Teien Art Museum, an homage to art deco and a former prince's home that is also featured on PMP.
ACCESS DETAILS
1-17-22 Meguro, Meguro-ku
---
DIRECTIONS
---