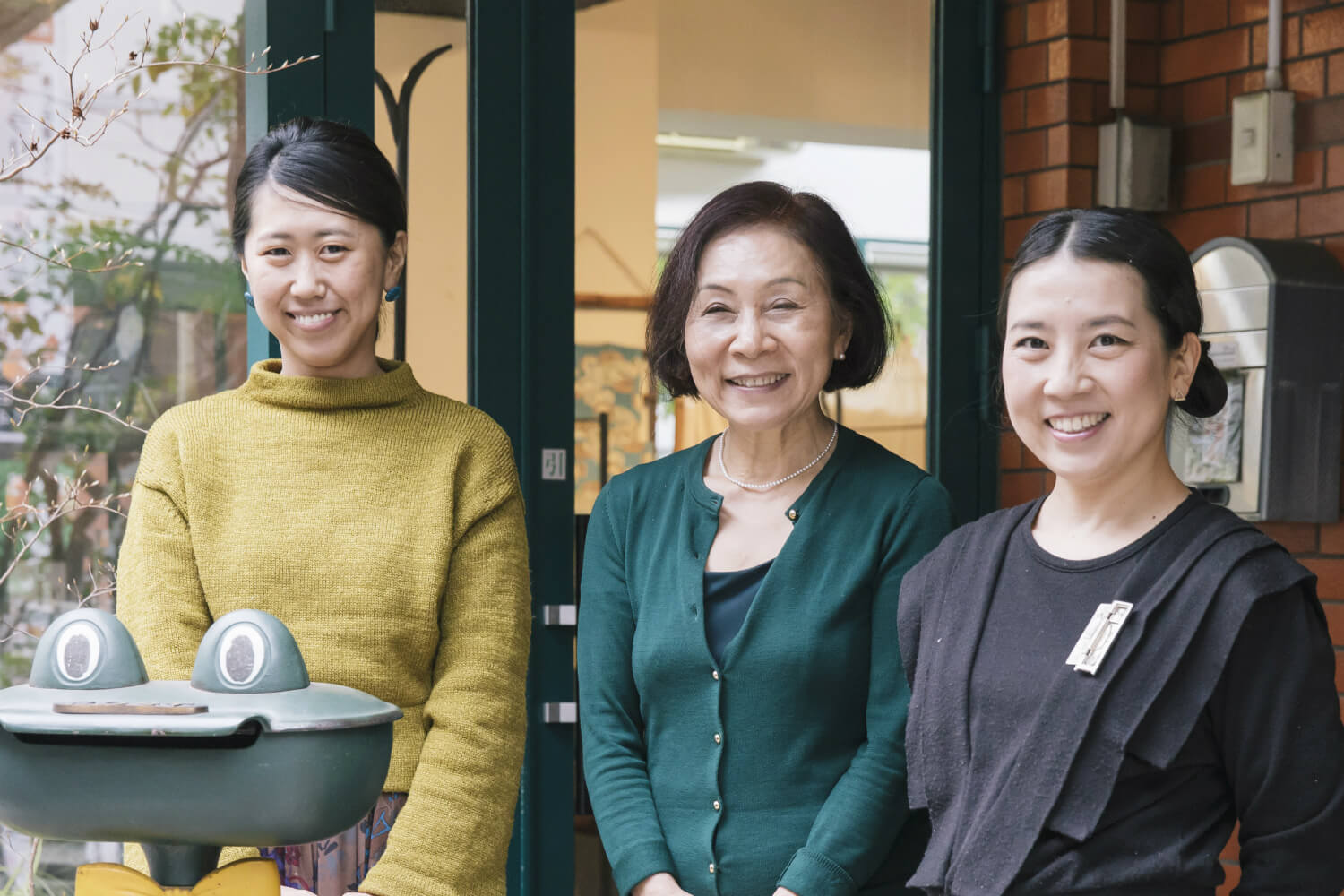 "There are countless lives living in fabrics, and the fact that I can see and touch all these lives makes me very grateful."
---
Ranko Nagata

Vintage kimono aficionado
Lunco
Ranko Nagata always knew she would end up in a creative line of work, but until one fateful first visit to a flea market some four decades ago, she had never imagined her life would be exactly what it is today. At the time working as a glass blower, Nagata visited the market to get inspiration and ideas for her art.
"I found a box full of old fabric, and a very surprising thing happened. It was as if it was talking to me, as if it had life. My mother wore a kimono so I was used to and interested in kimono fabric, but this was a whole new experience," she recalls. "The fabrics at the market were old, dating back to the Edo period, and they were naturally dyed in very basic, neutral colours of indigo and beige. But for me, they were alive and fresh. I immediately bought the entire box and started making things with them."
Ever since that day, vintage fabrics have been Nagata's passion. She continued making glass art for some time, but she was also making frequent visits to markets to satisfy her insatiable thirst for old textiles, which she used to make small crafts and patchwork bed covers. Eventually she was asked to help out at a vintage fabric store, which ended up being the final nail in the coffin of her glass blowing career.
"I gradually became more obsessed with fabrics than I was with glass work," she says. "Fabric became so much more interesting to me."
Nagata opened her own shop about 20 years after that first flea market encounter. Called Lunco—a creative, alternative spelling of her first name—it has been in its present location for about a decade. She sells vintage kimono and vintage fabric cuttings, the majority of which are at least 100 years old. She finds them at auctions and then often hangs onto them for months or years before putting them in the shop.
"When we sell things, we set a theme. Rather than selling them right away when we find them at auctions or markets, we keep them until the collection for the theme is complete, however long it takes. We want customers to feel the theme and the things we have collected," she says.
Nagata likens creating these themes—or "worlds," as she calls them—to making works of art. It's her creative outlet, she says. Past themes at Lunco have included crimson and purple, autumn plants, and distant turquoise. And she still prepares all the kimono and fabrics herself, carefully steaming the wrinkles out, while she murmurs a thank you to the backside of the fabric (expressing her gratitude to past wearers) and a request to take care of future wearers to the front side.
While some might call Nagata a workaholic—she proudly boasts of only taking New Year's Eve and New Year's Day off each year—she is clearly driven by passion and a genuine love for what she does. She has a childlike fascination with vintage fabrics, and her excitement shows when she speaks on the subject.
"I think there are countless lives living in fabrics. From the silkworms, to the people who work so hard to harvest and weave the fibres, to the people who wore the kimono," she says. "And the fact that I can see and touch all these lives makes me very grateful. My heart warms up just thinking about it."
TIPS & RESERVATION INFO
Somewhat off the beaten tourist path, Mejiro can nevertheless be an interesting area to tool around for a bit. It is also just one stop on the JR Yamanote line or about a 15-minute walk to Ikebukuro, a much busier hub.
While Nagata herself is not conversant in English, some of her team members are. But even with a language barrier, the fabrics' beauty speaks for itself.
ACCESS DETAILS
3-14-8 Mejiro, Toshima-ku
---
DIRECTIONS
---