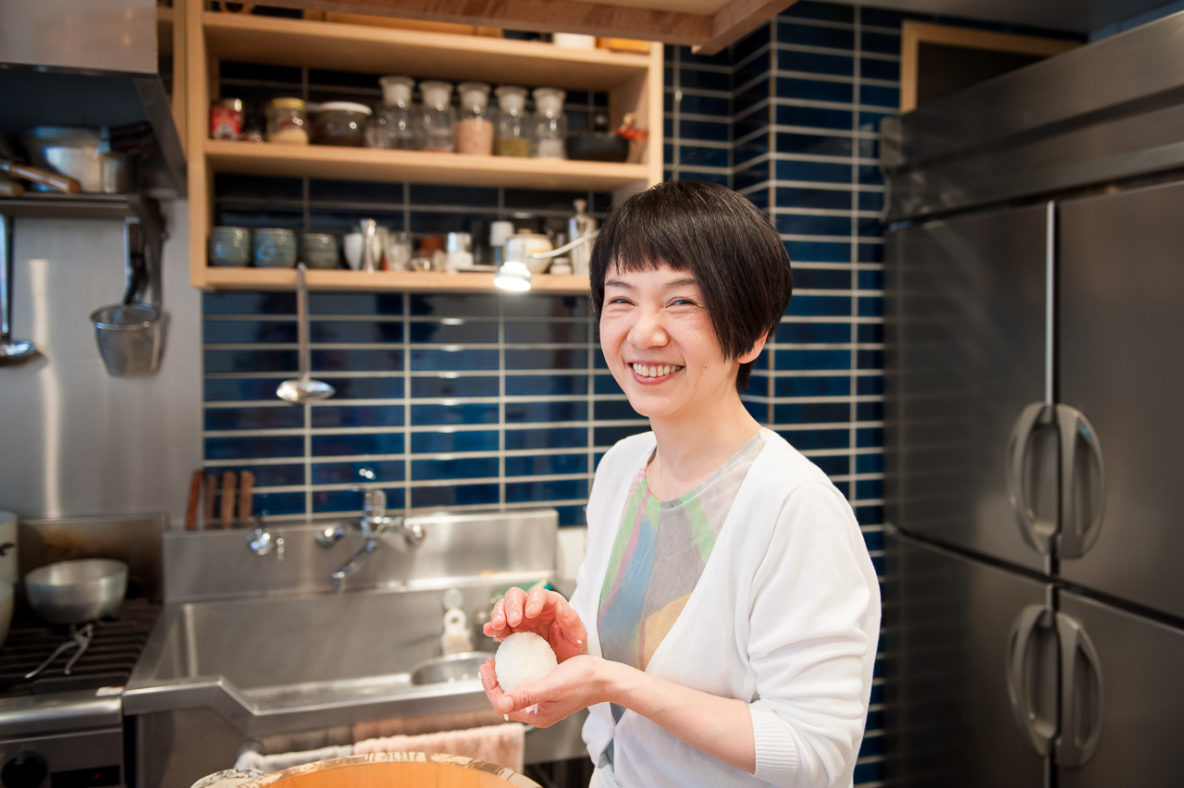 "We need contact with beautiful things in our daily lives. They can be healing."
---
Chieko Okura

Owner and chef
Maru-sankaku
The humble rice ball, for centuries a cornerstone of the everyday Japanese diet, is normally known as an onigiri. Mothers make them for their children before they go to school. Office workers grab them from convenience store shelves to eat at their desks. But Chieko Okura's rice balls are different. And she calls them 'omusubi'.
"The word onigiri sounds so hard," says Okura, owner of a small restaurant specialising in rice balls. "But omusubi is soft and attractive."
Indeed, the rice balls she creates at Omusubi Marusankaku deserve a name of beauty. In one, tiny 'sakuraebi' shrimps appear to be swimming below the surface. Purple chrysanthemum pickles spiral through the rice grains of another, or in springtime edible cherry blossom flowers. Her brown rice and ginger omusubi radiates a soft, golden glow.
A thoughtful woman whose life has benefited from both good planning and good fortune, Okura chose the name of her shop, Marusankaku, with characteristic consideration. Combining the two words 'maru' (circle) and 'sankaku' (triangle), it describes the shapes of the foods she makes.
Okura points one-by-one at the three corners of a triangular omusubi. "Rice. Salt. Water," she says. "They're the three most important ingredients of any rice ball." In the native Shinto religion, rice, salt and water are symbols of harmony and the key ingredients of meals offered to the gods. Even the word 'omusubi', she goes on to explain, is connected to the name of Shinto deities.
Harmony also describes her parallel career as an architect and 'colourist' designing medical facilities and buildings for senior citizens that "balance the needs of humans, nature and the city," she says. She discover healing potential in rice balls while designing colour workshops for school children. "I was looking for something they could make with their hands using many different colours," she recalls. "Rice balls were perfect."
Out walking in the Jingumae neighbourhood, she happened upon the space that would become Marusankaku, renovating it with clean lines, a soothing palette, and plenty of natural wood. In the kitchen a black 'donabe' clay pot sits on the stove, slow-cooking the rice; out front, sliced radishes and mushrooms lie in a circular wicker tray, drying in the sun.
Marusankaku is regularly open for breakfast and lunch, and most customers order their rice balls to take away. Those who don't can sit at stools along the kitchen counter or at two small tables – one a circle, the other a triangle.
Keen to show that 'omusubi' are more than just snacks, Okura hosts evening wine-pairing events, at which she serves bite-size rice balls with ingredients like dried tomatoes or lemon. She keeps a collection of serving vessels for these special occasions – fine ceramics, perfectly weighted teacups, and cocoons of carefully carved wood.
"We need contact with beautiful things in our daily lives," she says. "They can be healing."
TIPS & RESERVATION INFO
Opening at 9:30am on weekdays, Marusankaku serves a simple breakfast of a rice ball with soup and pickles until 11am. Lunch is available until 3pm. Opening hours are 11am-4pm on Sat, and the shop is closed on Sun and Mon.
ACCESS DETAILS
---
DIRECTIONS
---