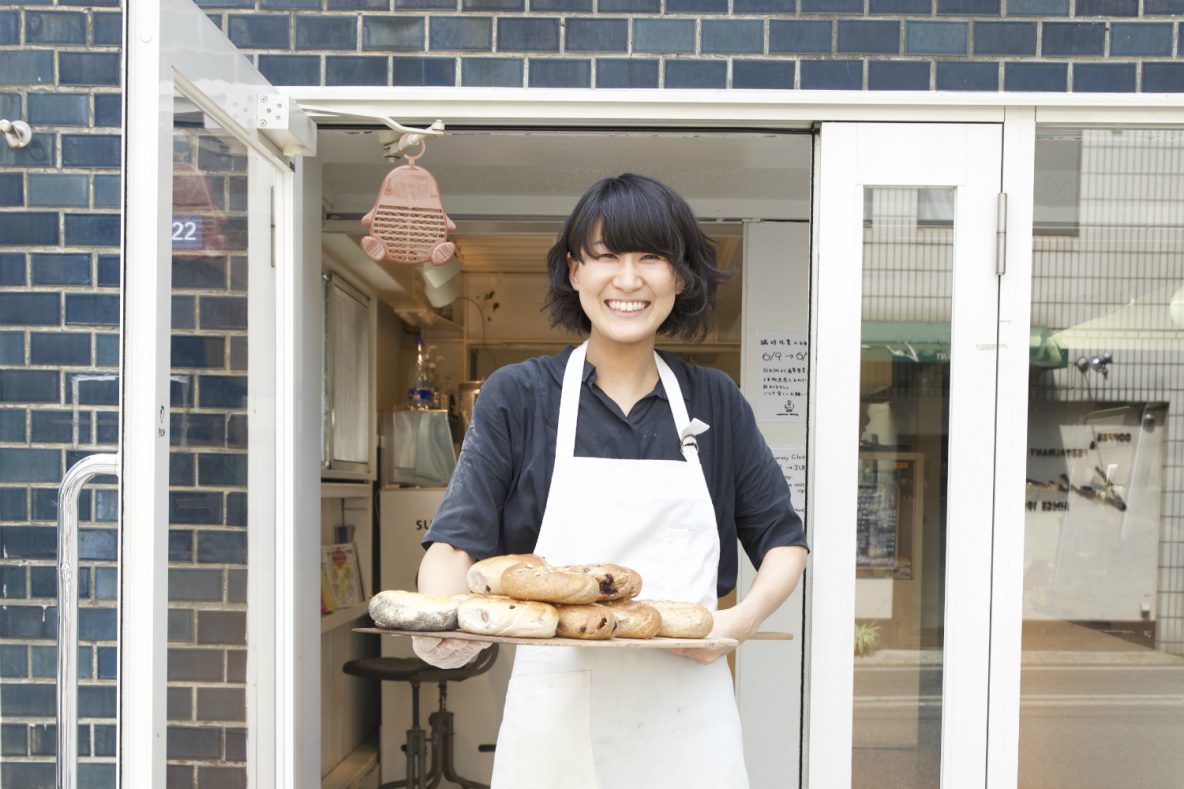 "Making it consistent, day in and day out? That's my job."
---
Miho Inagi

Baker
Maruichi Bagel
The moment Miho Inagi decided she would open an authentic New York-style bagel shop in Tokyo, she burst into tears – tears of excitement. But as she collected herself a few minutes later, she realised there was a major problem with her plan: she had no idea how to bake.
"Ideas were rushing through my head. I just had this very clear vision of what I was going to do," she recalls. "But I knew I had a hard road ahead of me. Because I'd never even baked a loaf of bread."
Inagi's epiphany came in 1999, when she was celebrating her graduation with a holiday in New York. At Manhattan institution Ess-a-Bagel, she ordered a pumpernickel bagel with a filling of Spanish eggplant salad.
"I just thought 'what's that weird brown one?'" Inagi recalls. 'As soon as I tasted it I fell in love. It was so different from what I'd had in Tokyo, I began to wonder whether bagel makers in Japan had ever eaten the real deal."
Inagi befriended Ess-a-Bagel's owners, the late Eugene and Florence Wilpon. They promised that if she came back the following year, they'd put her to work in the store. "I don't think they really believed I would do it," she says.
Twelve months later, having quit her Tokyo desk job, she was back and ready to learn the art of making a bagel. First she manned the takeout counter, where she mastered how to sling a bagel – and speak like a New Yorker. Later she worked in the kitchen, learning how to roll, boil and bake like a pro.
The name Maruichi Bagel loosely translates as 'Number One Bagel', with maru meaning 'circle', after the shape of the shop's main event. The business came to life in 2004 in tiny premises in a smart western suburb, later moving to its current location in a converted garage in Shirokane. At lunchtimes and on weekends, customers wait patiently in a line down the street.
"Eugene and Florence always told me that I shouldn't expect to replicate their bagels exactly, and that I should take advantage of local ingredients and flavours to create my own style," says Inagi. So Maruichi sells both New York-style classics such as 'Sesame' or 'Everything' bagels, and newer recipes like 'Caraway Raisin' or '7-Grain Honey Fig'.
The kitchen also makes 'bagelwiches' to order, loading them with fillings like pumpkin, sweet potato and bean salad, vegetables and olives, all alongside smoked salmon, prosciutto and – of course – varieties of cream cheese.
Hand-rolling the dough creates its signature dense-yet-tender texture, and boiling it gives the crust its distinctive crunch – these things, as well as the baking, are done by a core team of kitchen staff. But to this day it's Inagi who crafts the dough.
"It's the key to every good bagel," she says. "Making it consistent, day in and day out? That's my job."
TIPS & RESERVATION INFO
There's no phone at Maruichi, so it's wise to go armed with the right info. The shop starts selling bagels (and only bagels) from 7am, with sandwiches joining the inventory from 10am. It closes at 6pm, or whenever they sell out. Although closed Mondays and Tuesdays, mercifully the shop's open on national holidays.
ACCESS DETAILS
1-15-22 Shirokane, Minato-ku
---
DIRECTIONS
---