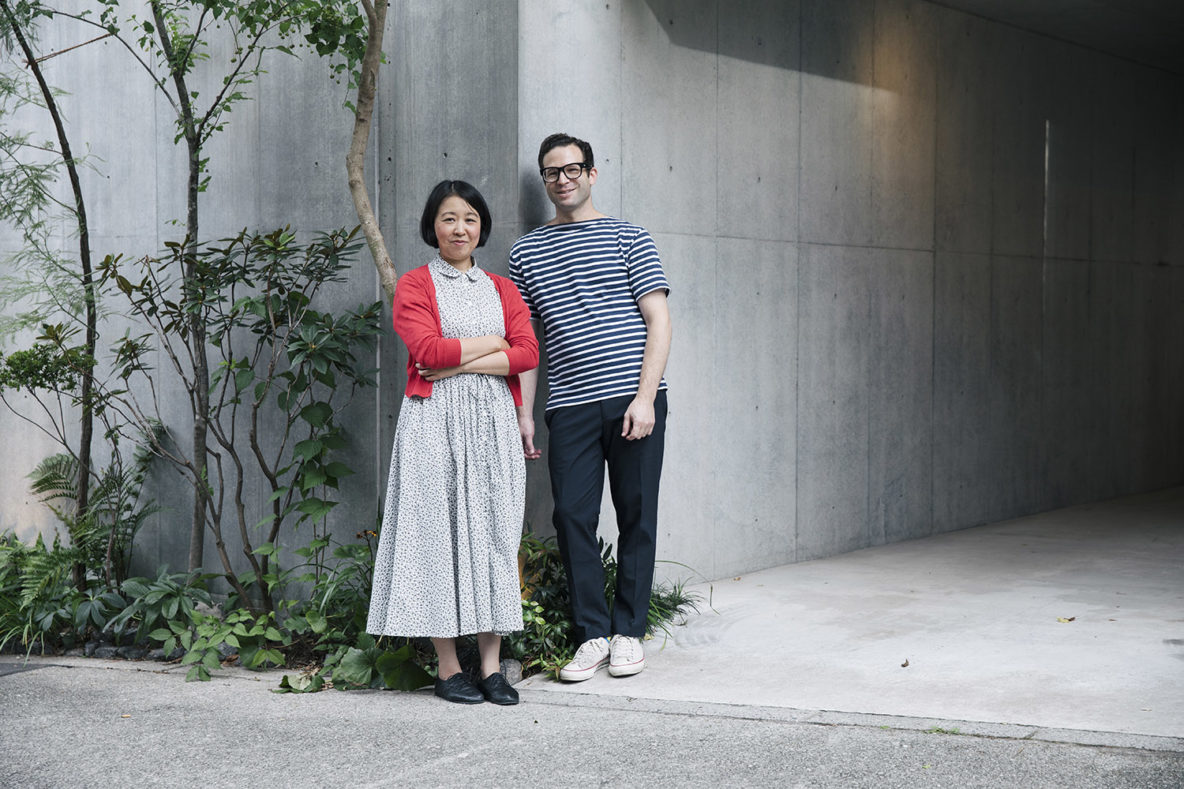 "We make an effort to be part of the wider culture, including the culture we're not intimately related to or personally connected with."
---
Misako and Jeffrey Rosen

Gallerists
Misako & Rosen
In Tokyo's art world, the end of last century and the years that followed have shaped a generation who meet the unpredictability they face with self-assurance. "There is no shame in impulse," wrote Douglas Coupland, a point not lost on Otsuka-based gallerists Misako and Jeffrey Rosen.
"We always talk about the everyday and retraining a sense of humour," says Jeffrey. "Being able to laugh at the seriousness of art keeps things rooted in reality. With that comes a certain casualness. You have to be relaxed to see things."
The exhibit "Tokyo Pop" at Kanagawa's Hiratsuka Museum of Art in 1996 marked the beginning of another new era, with early incarnations of Takashi Murakami and Yoshitomo Nara. The exhibition gave Misako a sense she had seen something new and no sooner had she approached organizer Tomio Koyama than she starting work at his newly opened eponymous gallery.
Meanwhile, Jeffrey had left Texas to study art in California, but his plans took a different turn. Knocking on the door of Taka Ishii Gallery in Santa Monica led to a job the next day, something he admits was "an accident, kind of." Several years later, both Jeffrey and the gallery had moved to Japan.
Ten years on from Tokyo Pop, having both worked for leading galleries in the interim, Misako and Jeffrey married and established Misako & Rosen in the former space of Taka Ishii Gallery, which also doubled as the Daido Moriyama Complete Works at the base of the Ishii family house in Otsuka near Ikebukuro.
Wanting to strike out on their own, they were instantly drawn to younger artists they knew would be just as relevant abroad given the right support. Shimon Minamikawa, Miki Mochizuka, Naotaka Hiro, Maya Hewitt, and Nathan Hylden were among the first they worked with, while painter Takezaki Kazuyuki underscored the point that opening their own space was not only possible, it was inevitable.
"Takezaki had his own gallery, Takefloor, the size of a small tatami room that was both apartment, studio and exhibition space. He was the same generation as us and worked for Ota Fine Arts," explains Jeffrey. "So when he opened his own gallery around 2005 everyone of our generation thought, damn, if he can do it in his apartment and it was working, why couldn't we?"
Their way of brushing aside convention has proven a challenge for others, but Otsuka's strange geography definitely has its benefits. "You don't want criticism to be a closed circuit," Misako says. "We make an effort to be part of the wider culture, including the culture we're not intimately related to or personally connected with. It is more of a challenge though, for sure."
That wider culture is lending them a voice that would otherwise be lost in the sound of Roppongi or Aoyama, where visitors to the capital drop in and drift out. "Going against the grain means not wanting a space that is central or within a warehouse district on the edge of the city, but within a local neighbourhood," explains Misako.
Misako and Jeffrey are honest and forthright, juggling business and family with the sharp end of a volatile art industry. Jeffrey travels for much of his time, with Misako on the ground directing the gallery. But neither dictate. They welcome everyone who walks through their door with open arms, aware that chance can throw up unexpected opportunity at any given moment.
"We do have a slightly confrontational attitude, but since we're able to have a voice at a safe distance and be more playful, Otsuka makes sense," says Jeffrey. Coupland's call to be impulsive kicks in as Misako turns to Jeffrey. "What is it they say in Texas?" she asks. "Keep it weird, Austin? Well, keep it weird, Otsuka."
TIPS & RESERVATION INFO
Over the past 10 years, the area around Ikebukuro has developed into what is arguably a local art corridor and a popular weekend excursion. Other galleries worth investigating include Fig on the floor above Misako & Rosen, XYZ Collective and 4-6-4-9, both in Sugamo, and Kayokoyuki, which is a short walk from Komagome station on the Yamanote line.
Misako & Rosen is closed Mondays, Tuesdays and national holidays. Call ahead before visiting to make sure it's not in between exhibits.
ACCESS DETAILS
3-27-6 Kita Otsuka, Toshima-ku
---
DIRECTIONS
---