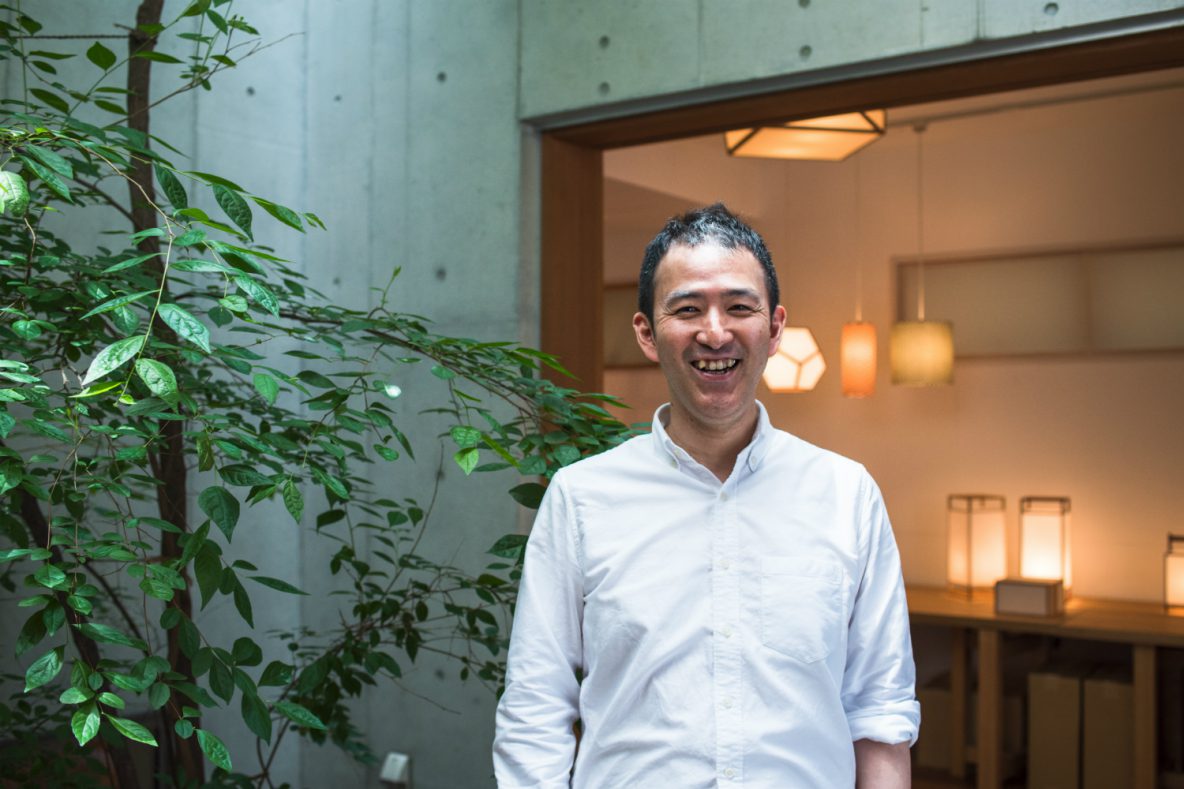 "To be a successful artisan, it's not enough just to make beautiful and enduring things."
---
Masanori Kizaki

Lamp artisan
Miyako Andon
[Please make a reservation before visiting Miyako Andon.]
A wooden model of an old Japanese house – complete with tiny sliding screens – sits in the corner of Masanori Kizaki's office. With the flick of a switch, the house illuminates.
"My ancestors built models like this as souvenirs for the foreigners who came to Japan after the war," says Kizaki, the fourth generation of his family to lead their handcrafted lamp business, Miyako Andon.
These days, Kizaki's contemporary lamps – made using similarly detailed Japanese woodwork and joinery techniques, but updated with the his own modern sensibilities – also find their way into homes around the world.
"These ones are going to New York City," he says, pointing at two minimalist cubes destined to hang in a Manhattan kitchen. "A very particular customer."
The business dates from the late 19th Century when Kizaki's great grandfather was a 'shokunin' (artisan) making delicately latticed, painstakingly assembled wooden screens known as 'kumiko'. His son – Kizaki's grandfather – began manufacturing lamps before World War Two, and continued selling them afterwards to Americans in the Allied occupation force.
An 'andon' is a traditional, wood-framed, paper-sided lamp that originally would have contained a small vessel of burning oil as a source of light. Some 'andon' were portable and could be carried from room to room, or out into the streets at night. With electrification, however, their utility faded.
"In postwar Japan, most people lived in cluttered apartments with pre-installed ceiling lights," observes Kizaki. "But the younger generation is starting to think more about design."
Kizaki has always thought that way. When he was a student, he would spend his weekends in Tokyo's fashionable west side – in Aoyama, Omotesando and Daikanyama – soaking up the new fashions and modern architecture. The clean lines and pure geometry of his products reflect his passion for structures and spaces.
The Tsukika lamp, a globe of interlocking, paper-covered triangles is his most recognizable design. "Every component comes from another artisan: the wood from northern Japan, the 'washi' paper from Shikoku," he says, referring to a large island in western Japan. "In other lamps, instead of paper we use patterned cloths hand-dyed by a craftsman here in Tokyo."
At his office, a short taxi ride from Nippori railway station, the old and the new stand side by side. The showroom (viewable by appointment) is a simple concrete box – with a void filled by natural light at its core – built to Kizaki's own plan. The classic Mini Cooper parked outside? That's his too.
Next-door is the old workshop, with sawing machines, wood presses and lamp skeletons, stacked high and waiting to be papered. The company's seven workers includes five members of the Kizaki family – among them the craftsman's wife, Toshiko, who speaks fluent English and handles international sales.
"To be a successful 'shokunin' these days, it's not enough just to make beautiful and enduring things," says Kizaki, the last traditional 'andon' maker in Tokyo. "You need to adapt to the world and use technology. You need to be a businessman."
TIPS & RESERVATION INFO
You'll need to make an appointment to visit the Miyako Andon showroom. Toshiko Kizaki, the artisan's wife, speaks fluent English and can be contacted via the website (miyako-andon.com). The location is about a 10 min walk from Uguisudani station on the Yamanote line, although arriving by taxi from Nippori is easier.
ACCESS DETAILS
4-26-10 Higashi Nippori, Arakawa-ku
---
DIRECTIONS
---