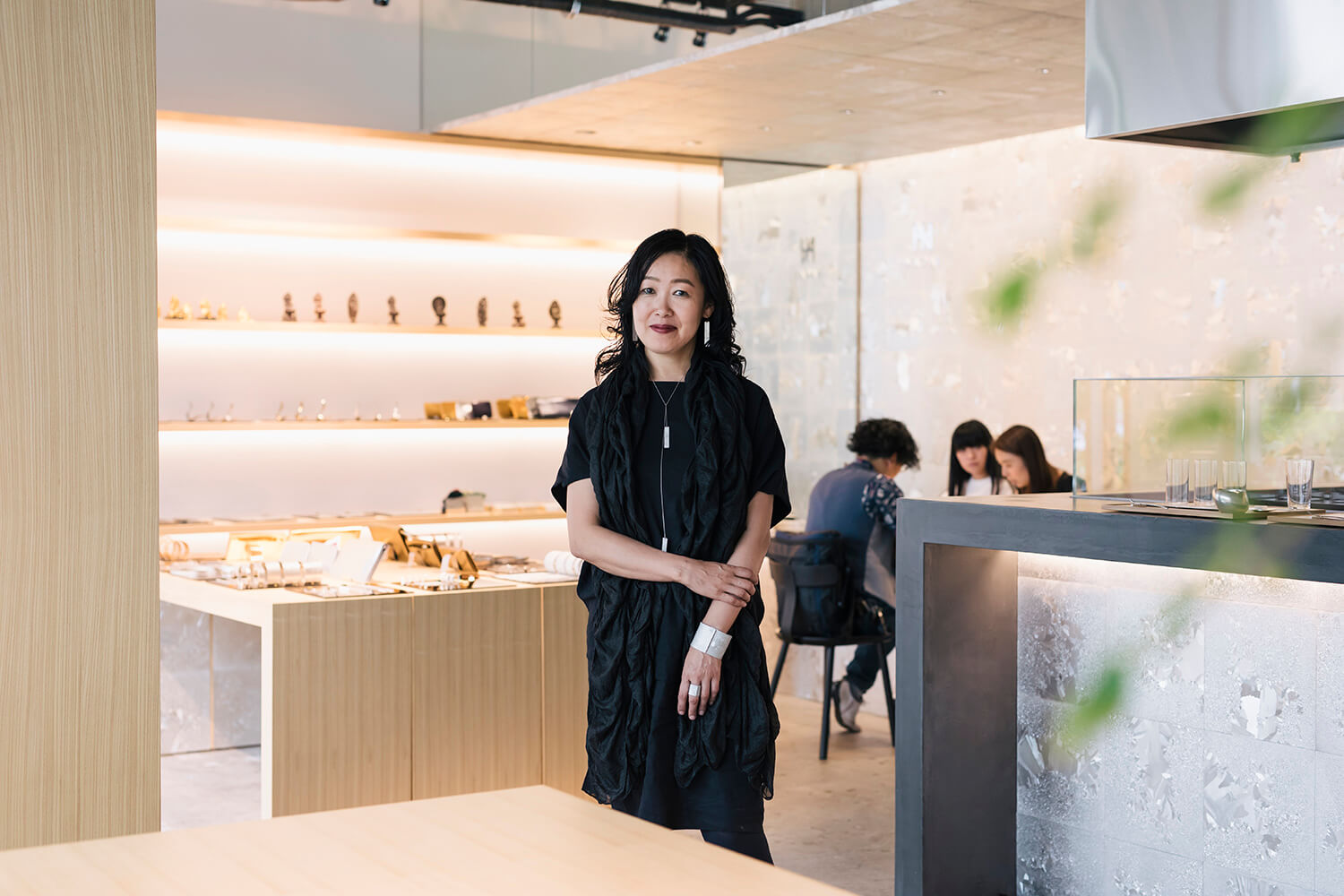 "Japan has so many factories that are among the best in the world, but nobody knows about them. I want to change that."
---
Shoko Tsurumoto

Creative director
Nagae+
With more and more young people leaving behind the countryside and its simpler professions in favour of Tokyo's skyscrapers and their associated desk jobs, many of Japan's traditional crafts are on the verge of extinction. Saving them may be a daunting task, but it's not enough to deter Shoko Tsurumoto from trying.
"There are so many cases of there being only one factory remaining that can make a certain product. And if that one factory goes out of business or if one person dies, so will a part of Japanese cultural heritage," Tsurumoto says. "I think this is our last chance—while these traditional crafts still exist, I want to use my brand to help support people's livelihoods and our shared culture, rather than letting it die out. I think if we can create a market for the products, young people will become interested in learning these crafts."
Tsurumoto uses her art and design background to dream up products that can help to move traditional Japanese craftsmanship into the future. The parent company of the brand that she helms, Nagae+, has a background producing Buddhist statues and ceremonial objects from tin, which are made at a factory in Toyama prefecture. She has leveraged this know-how to create simple yet beautiful accessories and tableware with a modern aesthetic.
At the brand's bright, welcoming flagship store near Harajuku, tables, shelves and walls alike gleam with metallic articles in contrasting textures. The smooth, shiny surface of massage tools that could easily be mistaken for objets d'art; the pure tin cuff bracelets and earrings embossed to resemble the matte surface of washi paper; the sparkling, crystallised bursts on wall tiles and trays (this particular texture, Tsurumoto says, was created thanks to a happy accident, which was then deliberately reproduced, although no two are alike).
Tin may seem an odd choice for jewelry, but its malleability makes it incredibly versatile, both in terms of texture and size. The bangles are basically just strips of metal in various widths, which can then be molded to fit the wearer's wrist. Tsurumoto says they will eventually break after being bent and unbent roughly 200 times, but when that happens customers can bring them back to the store and exchange them for new ones. The old bangles will be melted down and turned into new tin products.
One of the signature items of Nagae+ is an oddly shaped sake cup, developed together with a sake sommelier. Each face of it is inspired by a different type of wine glass, and rotating it and drinking from different places along the rim produces different flavour profiles.
"We have different shapes of glasses for different varieties of wine, but for sake we usually use the same cup for every type, which doesn't always do it justice," Tsurumoto says, adding that the cup can also be used with wine, tea and coffee.
Another series of Nagae+ products is made at a glove factory in Kagawa prefecture, using leather from Himeji. In keeping with the aesthetic of the tin accessories, the surface of the leather is embossed with the texture of washi paper, and bags are available in silver, gold, antique gold, or an almost iridescent black. Even to the untrained eye, it is clear that the quality of both the leather and the final product is extremely high.
"It's such a shame," Tsurumoto says. "Japan has so many factories that are among the best in the world, but nobody knows about them. I want to change that."
TIPS & RESERVATION INFO
Some staff at Nagae+ speak enough English to answer simple questions, but for the most part the products speak for themselves. Attached to the store is a small cafe serving sake, tea and snacks (no meals) on the brand's own tableware. Both the shop and the cafe are closed Mondays and Tuesdays, and open from 12 to 7pm on other days.
ACCESS DETAILS
2-5-4 Jingumae, Shibuya-ku
---
DIRECTIONS
---