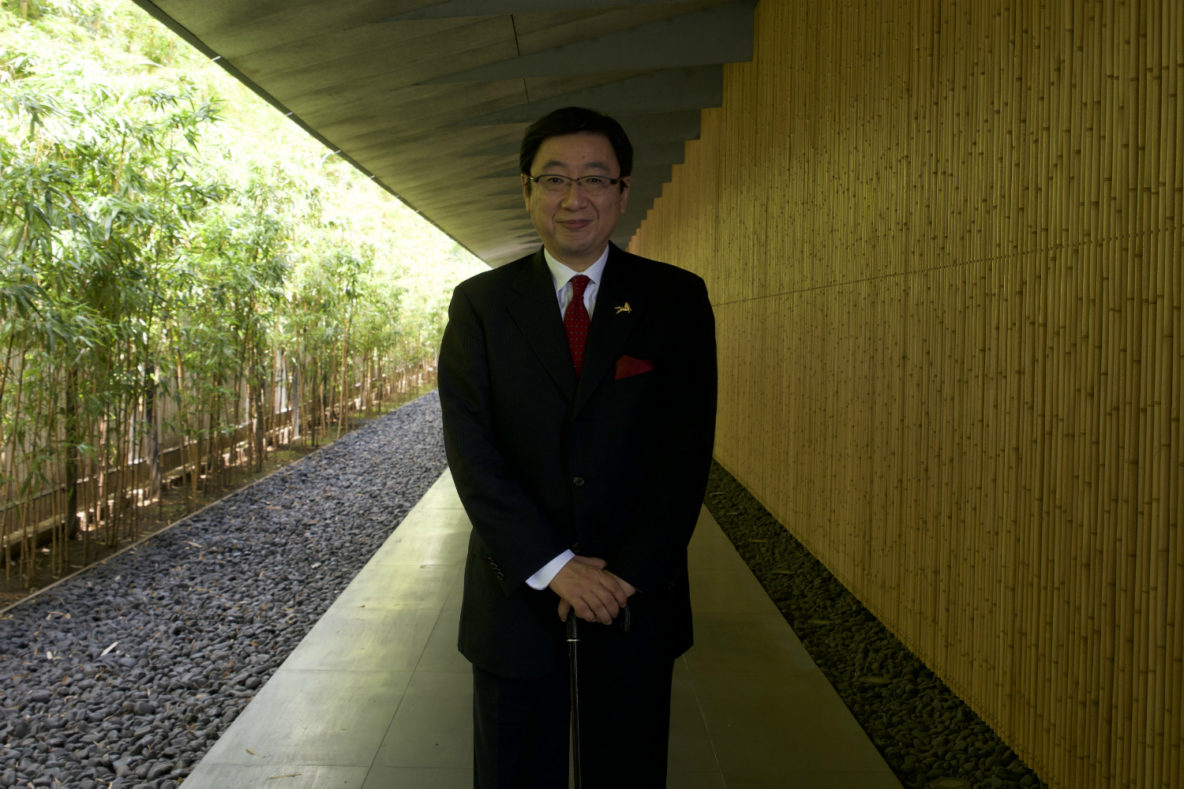 "My grandfather's motto was: 'Give back to society what society has given to you.' Now it's mine, too."
---
Koichi Nezu

Patron
Nezu Museum
Koichi Nezu looks out over the beautiful garden at the heart of the museum bearing his family name. "Japanese culture can be difficult to understand," he muses. "But everyone appreciates the beauty of a garden."
The Nezu Museum is home to a priceless collection of art from Japan and its neighbouring Asian countries. It occupies a leafy corner of valuable real estate in Aoyama and houses a collection amassed by family patriarch and railway baron Kaichiro Nezu Snr., who passed away in 1940. In accordance with his father's will, his son Kaichiro Jnr. established a museum on the site of the family home the following year and a generation later, his grandson Koichi has put his own stamp on the family legacy by overseeing its bold reconstruction under Kengo Kuma, one of Japan's foremost modern architects. "Rebuilding the museum was the biggest challenge of my life," says Nezu, who first hired Kuma to design his summer residence in Karuizawa. "But I had a smart architect. A deep thinker. He really understood my ideas."
The impressive approach to the new museum is a long walk bordered by a dry river of black stones and a wall of rustling bamboo. It transports visitors into a world set apart from the boutiques and mansions of the neighbourhood. "Kuma-san told me he'd never worked with such a persistent client," says Nezu, with a just a hint of pride. The project took almost three years, during which time architect and patron met more than 100 times.
The museum's collection contains over 7,400 objects, including Japanese pottery, lacquer furnishings, ink paintings, and calligraphy. There are also hanging scrolls, textiles, and Buddhist sculptures and sutras, as well as important Chinese bronzes and Korean ceramics. One of the best-known pieces is a painted folding screen called Irises by the 17th century Rimpa artist Ogata Korin. The screen is one of seven works in the collection that has been designated a National Treasure, along with 87 Important Cultural Properties and 94 Important Art Objects.
Nezu says his grandfather's passion for art came from a life-changing three-month trip to the United States in 1909. He was one of 100 businessmen selected to glean knowledge from successful American enterprises, which could then be used to revamp Japan's economy, flailing as it was during the aftermath of the Russo-Japanese War. "Everywhere he went he met philanthropists who proudly supported museums, schools and other institutions," says Koichi. "He was incredibly impressed by their generous thinking. He even met David Rockefeller and was invited to his home."
Upon returning home, Kaichiro Snr. accelerated his collection, intent on slowing the wave of Japanese works being exported abroad. "He wanted to keep pieces of importance in Japan," says Koichi. "That's why the collection is so large and varied. For a private collection it's very unusual."
Following in his grandfather's footsteps, Koichi is on the international advisory board of the Portland Japanese Garden in Oregon, USA, and is actively involved in plans to create an institute there to teach traditional Japanese gardening techniques. "My grandfather's motto was: 'Give back to society what society has given to you,'" says Koichi. "Now it's mine, too."
TIPS & RESERVATION INFO
Give yourself plenty of time to explore the museum, amble round the garden, and stop in at the beautiful café – though be warned the latter gets crowded at teatime. The museum is closed between exhibitions, so call ahead to check what's on – and when.
ACCESS DETAILS
---
DIRECTIONS
---