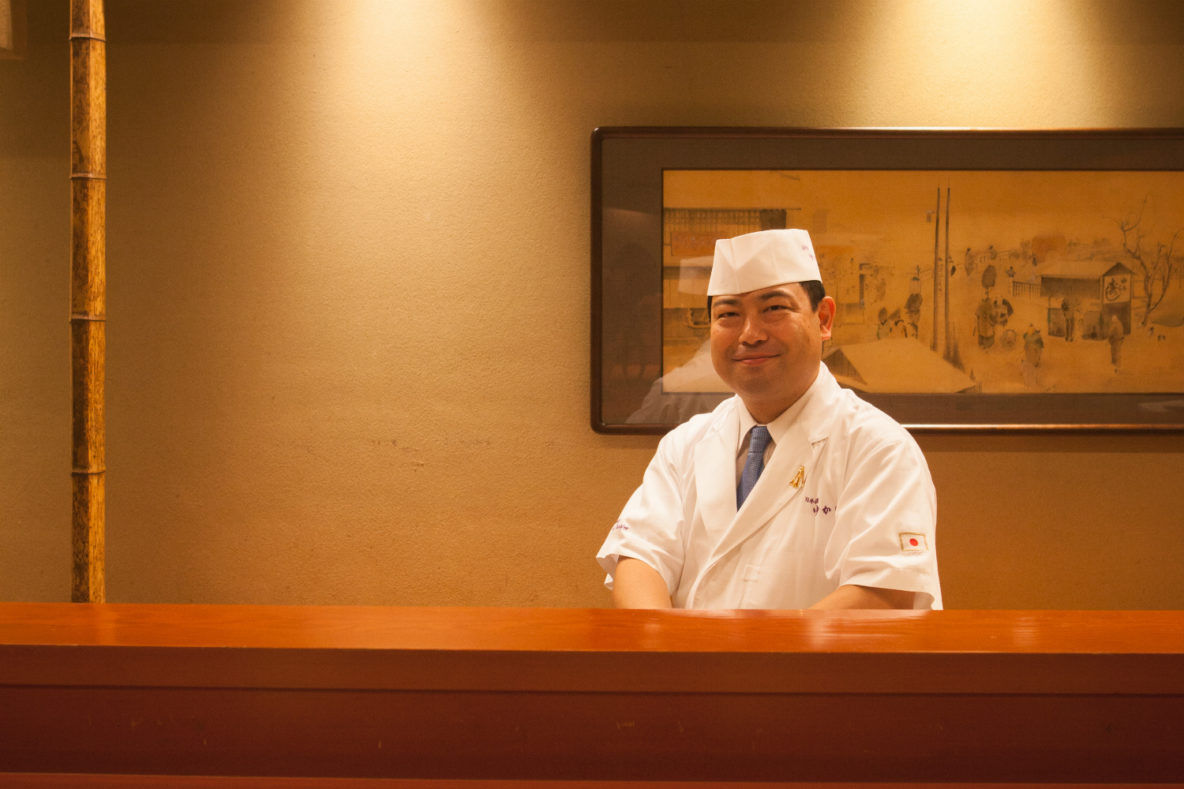 "Kaiseki has a clear understanding of ingredient, place and time. But more than that it's about hospitality, and it's about healing. After eating it, you feel well."
---
Kimio Nonaga

Chef
Nihonbashi Yukari
Just like wine makers, Japanese chefs value terroir – the sense of place communicated through the ingredients they use and the dishes they make. For Kimio Nonaga of Nihonbashi Yukari, the place he wants to share is the heart of old Tokyo – the place he calls home.
Nihonbashi is a mercantile district named after the bridge of the same name. The proverbial centre point of the capital, the bridge and those who travel over it are guarded by statues of dragon-like creatures – winged giraffes, according to folklore – and Nonaga's restaurant is located just a short walk away.
"They have a special meaning to us," he says. "They tell us to protect our heritage while also flying forwards. In Nihonbashi, we must always be a bridge between the present and the past."
Nonaga is a member of a rare tribe known as edokko, or 'child of Edo,' a term reserved only for the most authentic citizens – people whose parents and grandparents were all born and raised in the city now known as Tokyo. His grandfather founded the restaurant in 1935, naming it after his favourite kabuki play, and the young Kimio took the reins from his father at just 24. In the private rooms, waitresses in kimono serve formal kaiseki – fixed menus containing many small, artfully prepared dishes. At the counter, patrons can chat with the chef as he prepares their meals.
Like most traditions, kaiseki is governed by strict rules, and like most great chefs, Nonaga knows when to break them. There's cured prosciutto ham and made-in-Tokyo mozzarella cheese in his kitchen – hardly traditional Japanese ingredients. "The scent, texture and taste of the cheese are just a little bit different from Italian mozzarella, because it comes from our own climate," he says. "But I guess that's why it goes so well with my cooking."
The most important rule, however, can never be broken: kaiseki must follow the rhythms of nature – not merely the obvious four seasons, but its 24 micro seasons, fleeting moments during which some ingredients are available for just a few short weeks each year. Baby bamboo shoots take centre stage in early March, but just two weeks later edible cherry leaves are in bloom and appear, salted, on the plate. The valuable matsutake mushrooms prized in early autumn are quickly replaced by glorious orange persimmons – hollowed out and re-stuffed with a mixture of their own fruit and seasoned tofu.
Given Nonaga's breeding, his preference for local produce is no surprise: the seafood comes from nearby waters, the pork from farms on the edge of the city. Some of the vegetables are even grown on the restaurant's roof, right there in Nihonbashi. "Kaiseki has a clear understanding of ingredient, place and time," Nonaga explains. "But more than that it's about hospitality, and it's about healing. After eating it, you feel well."
TIPS & RESERVATION INFO
Nihonbashi Yukari serves a beautiful lunchtime bento box that's a great value, time-efficient way to sample its kaiseki (course menu) cuisine. Reservations are definitely worthwhile, especially in the evening. Eating at the counter has less formality than the private rooms.
ACCESS DETAILS
---
DIRECTIONS
---