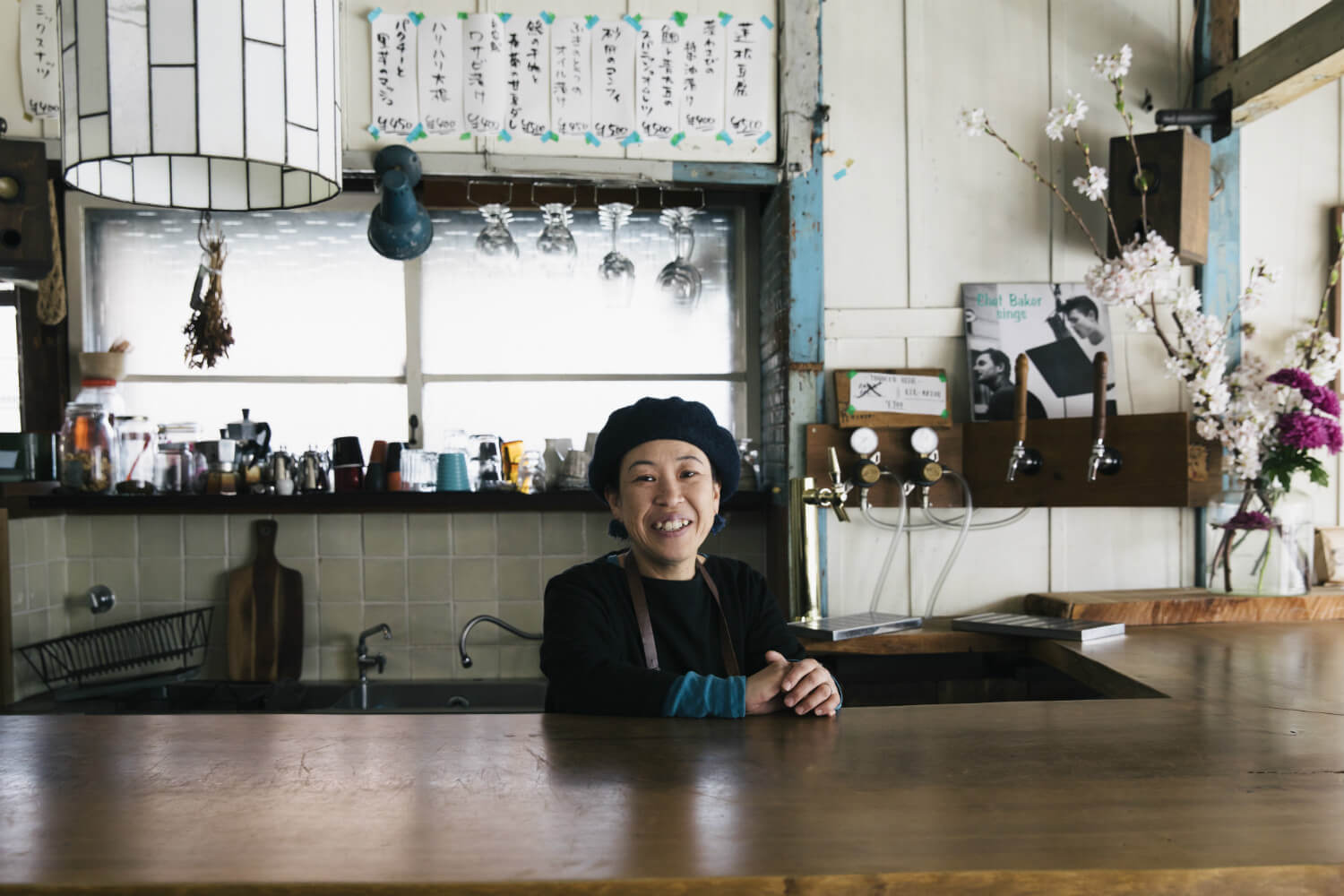 "I don't need words to see if someone likes my cooking. It shows on their faces."
---
Ikuyo Segi

Proprietress
Oichiichi
A safe distance from the crowds around Kamakura station, past the daily farmer's market, Ikuyo Segi serves lovingly prepared set lunches in her cosy Oichiichi restaurant. Iku-chan, as all the regulars call her, started her career in fashion but got tired of the industry's ever-changing whims and realised that what she really wanted to do was to cook. "My father passed away around that time, and I guess that got me thinking about my future," she says.
Iku-chan serves classics of Japanese home cooking with brown rice, miso soup (made with her own homemade miso), and three to four side dishes. There are always two different main dishes to choose from (fried tuna and cauliflower fritters or oyster gratin, for example) and usually one of these is meat free. Everything is carefully served on beautiful ceramics—some of which Iku-chan has repaired herself using the Japanese art of kintsugi—in an unhurried manner that makes customers feel right at home.
For someone running such a small restaurant, Iku-chan is surprisingly not very talkative. "I am actually not very good at communication," she says. "Maybe that's another reason I chose to work with food. I don't need words to see if someone likes my cooking. It shows on their faces!" Through her cooking and her ever-present smile, she creates a warm and unpretentious atmosphere of quiet hospitality at the intimate, ten-seat counter.
Most of the fruit and vegetables used at Oichiichi are sourced locally, either from the farmers market or from friends. Meat comes from the small butcher shop just five doors down. "The butcher is such a nice man and the meat is always delicious. He also often introduces me to people who need catering, so how could I get my pork and chicken anywhere else?" Iku-chan laughs.
Originally from Mie prefecture, Iku-chan has been cooking for more than 20 years in different restaurants around Tokyo and Kamakura. She opened Oichiichi with her husband Satoru, a Kamakura native, in 2012.
"We did most of the interior ourselves, but also got help from a lot of people who would walk by and pop their heads in to see what we were up to," she says. "One passerby helped us paint some of the walls and another one did all the kitchen tiling for us." The crooked windows, exposed beams and painted old wooden walls all add to the charm of the restaurant.
Besides lunch, Iku-chan also does takeaway bento boxes and private catering, mostly by word of mouth. In the evening, Chun, as Satoru is known by his friends, turns Oichiichi into a favourite local hangout. He takes pride in serving an eclectic selection of sake and shochu, as well as draft beer from the nearby Yorocco brewery. He doesn't really cook, but Iku-chan always prepares a series of small snacks he can serve the regulars with their cold mugs of beer.
"It's funny, but the lunch customers and evening customers are totally different," Iku-chan explains. But no doubt, they share a liking to the genuinely friendly service, real food and drinks at this unique little pocket of Kamakura hygge.
TIPS & RESERVATION INFO
Very little English is spoken at Oichiichi, but everyone is welcome and reservations usually aren't necessary. Daily lunch sets cost just 1,080 yen and are served from 12pm. Iku-chan is happy to accommodate special requests if she can. Chun usually starts pulling beers from around 7pm in the evening. The restaurant is closed on Sundays and Mondays.
ACCESS DETAILS
Omachi 1-3-21, Kamakura
---
DIRECTIONS
---