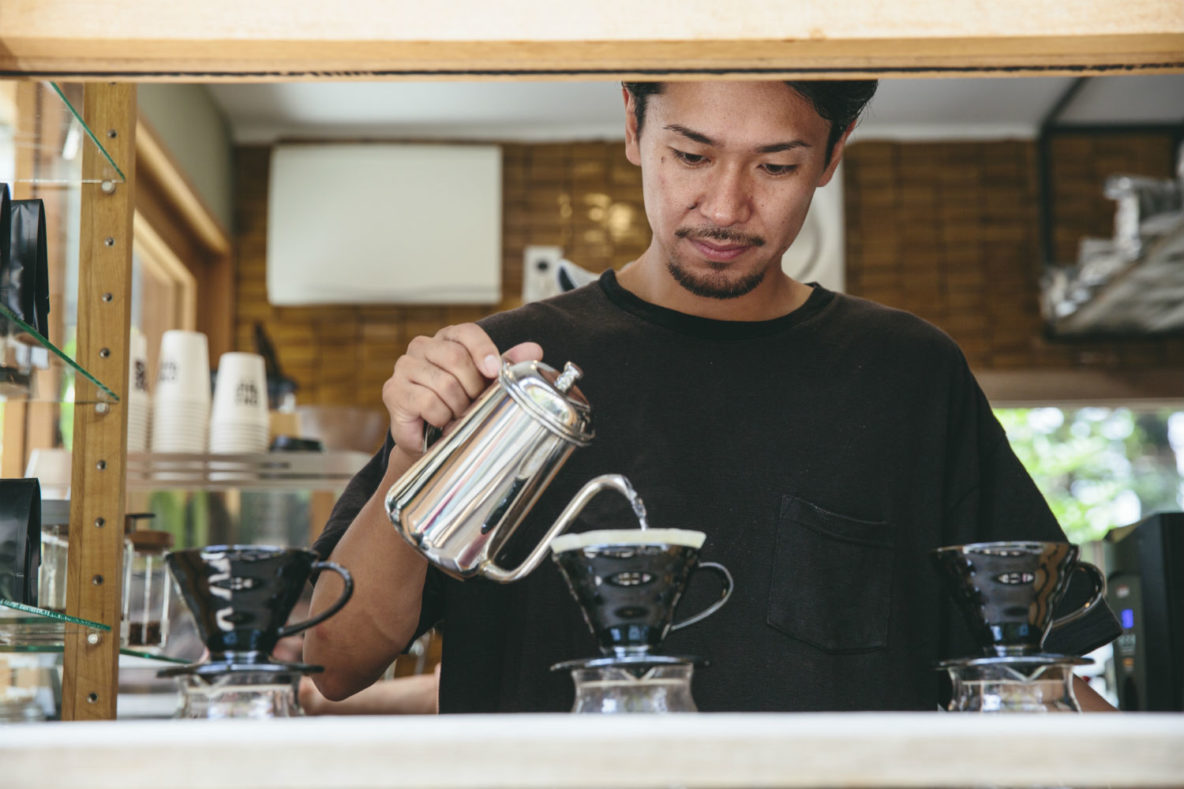 "I wanted to make a place where people can meet and it can be the start of something."
---
Atsushi Sakao

Head barista
Onibus Coffee
Atsushi Sakao began his life, he admits, with blinkered view of the world. Growing up in rural Chiba prefecture, southeast of Tokyo, he never met a non-Japanese person until high school. A fleeting encounter with some Australian hitchhikers left a deep impression, inspiring him to embark, some years later, on his first overseas adventure, backpacking across Asia and Australia.
"Wherever I went, I saw people going to the same cafe every morning, drinking coffee while chatting with the staff, receiving energy from that and then starting work. It was a great thing in my eyes," Sakao says. "That kind of cafe culture hadn't come to Japan yet, so after returning, I moved to Tokyo and began working in a coffee shop."
In March 2011, a massive earthquake devastated Japan's Tohoku region. Sakao dropped everything and headed north to help with the recovery with a group of volunteers. "As we worked, we heard the people's stories of death and loss. They said we only get one life, so make it count," he recalls.
It was the push he needed. Sakao opened his first Onibus Coffee a year later in a small wooden house he and his father, a carpenter, built together in Okusawa, a residential suburb in west Tokyo. The name is the Portuguese word for a public bus, and conveys his desire to foster a sense of community.
"Cafes are like a starting point where you can meet people and exchange information," Sakao says. "I wanted to make a place where people can meet and it can be the start of something."
The Okusawa site still exists, but his main Onibus shop is now located in Nakameguro, nestled between a park and a railway line. On a typical morning, trains rumble past and children squeal with laughter in the playground as Sakao's baristas brew up black drips and lattes for workers heading into the city, early-rising coffee tourists, and runners back from exercising along the nearby river. The smell of beans roasting onsite fills the space and wafts out into the surrounding area.
"As coffee makers, naturally we make our beverages with as much care and attention as we can," he says. "We also want to make sure as many aspects of our business as possible share our values of traceability and sustainability."
By January 2018, Sakao was operating four sites: the two Onibus shops, a coffee stand in Shibuya called About Life, and another, Ratio &C, inside a smart bicycle store in Gaienmae. Each location shares the culture of warm hospitality and respect that Sakao has cultivated and applies to all his relationships, from the producers who grow his beans to the artisans who make his cups and spoons.
"Our team, our customers, and our producers – there are three groups that make up the Onibus family," says Sakao. "If I can improve the lives of all three, I'll be happy."
TIPS & RESERVATION INFO
The area around Nakameguro station is packed with narrow alleys and quirky shops to explore. Once you've had your caffeine fix, be sure to check out the nearby Traveler's Factory for unique stationery products. If you're hungry, Tokyo Dosanjin—about a 15-minute walk away—has delicious soba noodles. Both are also featured in this app.
ACCESS DETAILS
---
DIRECTIONS
---