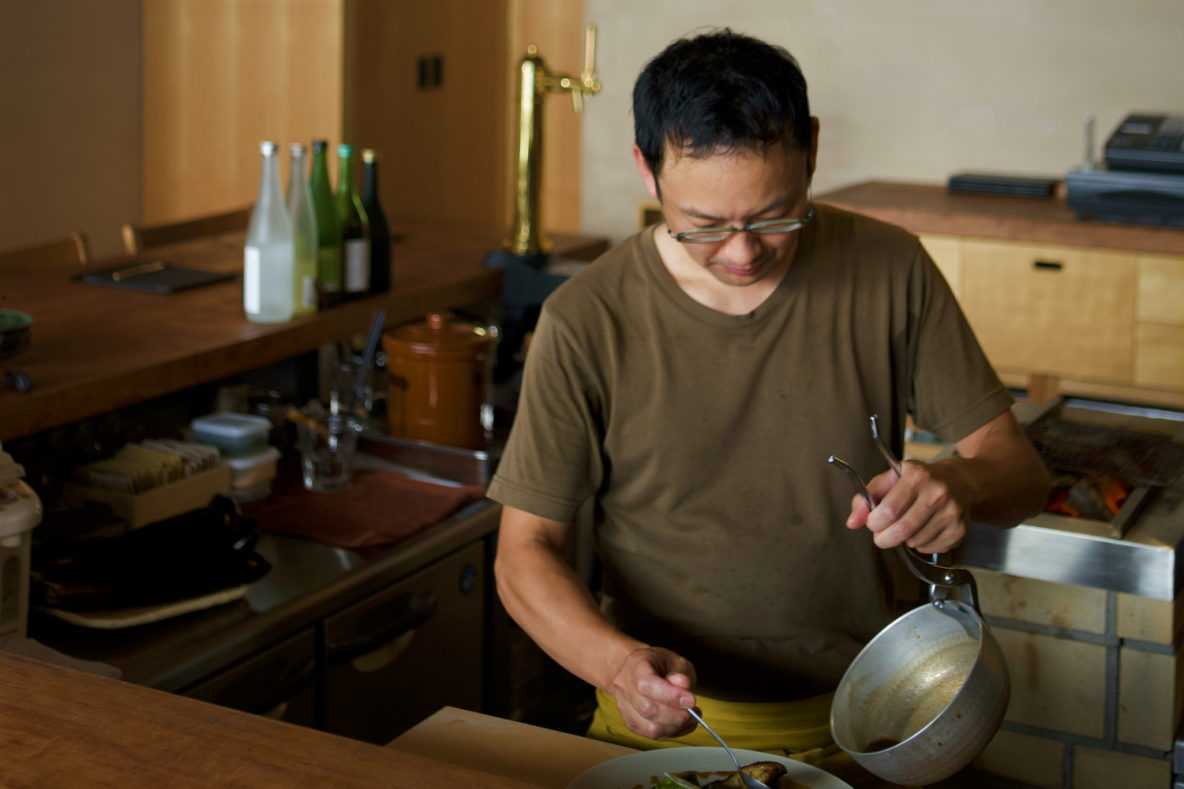 "I want a meal here to be the most comforting part of the day."
---
Kuniatsu Kondo

Chef
Owan
When Kuniatsu Kondo decided to open his own restaurant, he spent months looking for the perfect name. But he had it, he discovered, in his own hands. "The moment you pick up your owan – that's the sense I wanted to replicate," he explains, gently handling, as if to guess its weight, a lacquered wood bowl of the sort most commonly used for miso soup. "Because I want a meal here to be the most comforting part of the day."
Serving eclectic Japanese tapas-style food, Owan is most accurately classed as an izakaya – although most restaurants in the category lack its finesse. "The food is designed to showcase the nihonshu," explains Kondo, referring to the alcohol better known outside Japan as sake. "Fresh-flavoured unpasteurised namazake to go with simple vegetables in the warmer months, and deeper, richer types when it gets colder to pair with dishes like hotpot."
Kondo has worked in restaurants ever since he moved to Tokyo as a fresh-faced 19-year-old. He opened the first Owan in Ikejiri, a youthful suburb west of Shibuya a decade later. A second, near Yoyogi Park, came a decade after that. "Ten-year cycles seem to be my rhythm," he says.
From the chopsticks held by his patrons to the uniforms worn by the staff, good design is integral to Kondo's vision. Customers sit along a clean wooden counter surrounding an open kitchen. It's all simple, elegant and functional. The menus, hand-written each month by a renowned calligrapher, are artworks in themselves – customers occasionally ask to keep them as souvenirs, and Kondo is happy to oblige when he can. "I think the writing even looks delicious," he says. "It makes you feel hungry and it deserves to be appreciated."
Heading the kitchen in Ikejiri, Kondo has given his most trusted apprentice free reign in Yoyogi, allowing their two menus to diverge within the same plain.
The former location is known for sashimi that includes basashi (horsemeat), while the latter specialises in small home-style dishes known as obanzai. At both the meal will begin with a little bowl of homemade tofu and end with green tea and a bite-sized dessert – chocolate, perhaps – served with the compliments of the chef.
"Chocolate isn't a Japanese thing, so I taught myself how to make it," says Kondo. A self-confessed perfectionist, he also studied flower arranging to make sure the restaurant's ikebana were up to scratch. "I was always redoing the florist's work, so I figured I should just do it myself."
Kondo enjoys experimenting. His menu often includes non-traditional dishes such as Chinese dumplings or even cheese fondue with dipping vegetables. His staples, however, are local and simple: grilled ayu river fish, onigiri rice balls flecked with seaweed and sesame seeds, and quail eggs smoked in wood from a cherry blossom tree.
There is also a monthly broth-based dish – a crescendo of taste and fragrance as the meal draws towards a close – served in the eponymous owan. Cradling the bowl with two hands, sipping the warm soup from its smooth lacquered rim, this is the life-affirming moment Kondo treasures – and that his restaurant is truly all about.
TIPS & RESERVATION INFO
Reservations are recommended at Owan, which is only open in the evenings. The Yoyogi shop is closed on Wednesdays, while the Ikejiri one is shut on Sundays. The exquisite menu contains no English, so if in doubt, order omakase – what the chef recommends.
ACCESS DETAILS
---
DIRECTIONS
---