Sakurai Japanese Tea Experience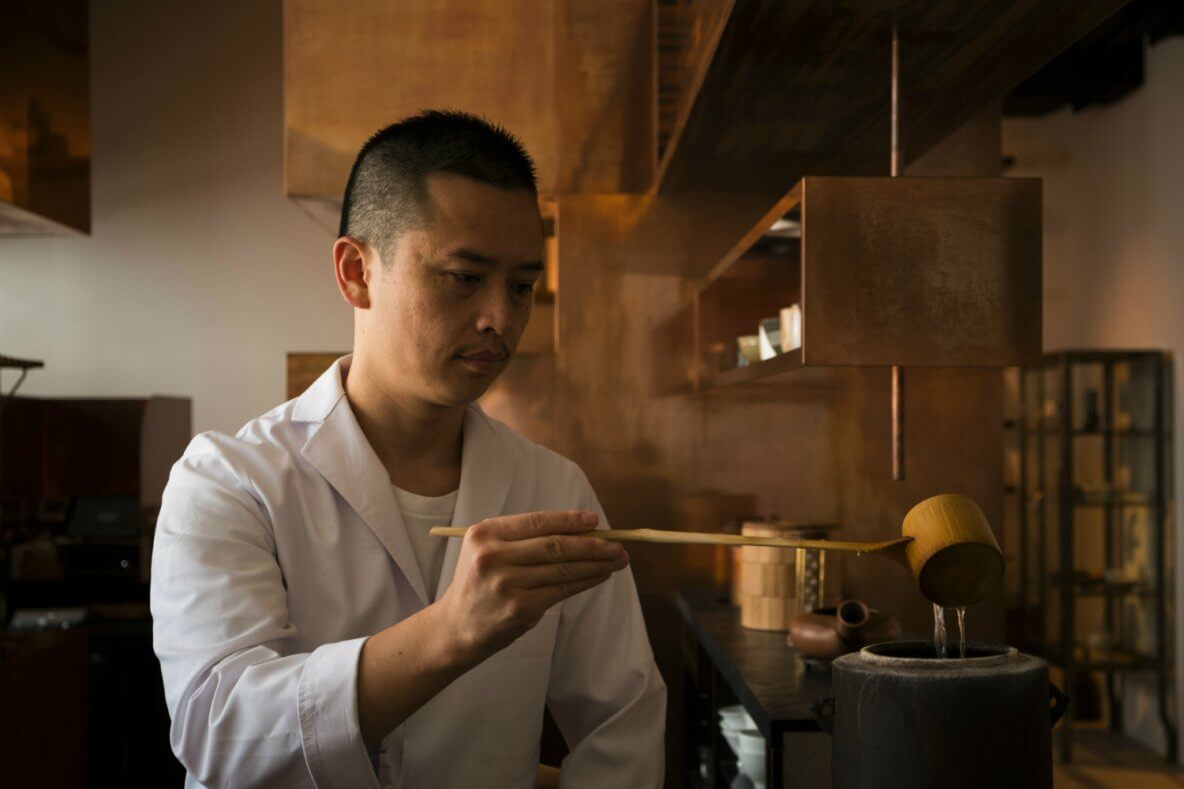 "So many young Japanese have never even tasted a properly prepared cup of tea. I want to change that."
---
Shinya Sakurai

Tea master
Sakurai Japanese Tea Experience
Dressed in a spotless white coat, Shinya Sakurai looks every inch the doctor as he slowly measures, heats and pours water into an array of receptacles on the worktop.
The object of his intense concentration, however, is not a science experiment, nor are his actions unfolding in a laboratory. Sakurai is, in fact, preparing what is likely one of Tokyo's finest cups of Japanese tea in a contemporary teahouse.
There are perhaps few people who know more about the intricacies, nuances and rituals of Japanese tea than 37-year-old Sakurai, who has devoted the past 14 years of his life to all things tea.
It was in 2014 that the mixologist-turned-tea guru opened Sakurai Japanese Tea Experience, first in a space in Tokyo's Nishi-Azabu neighbourhood, before moving two years later to its current fifth-floor home in Aoyama's Spiral Building.
His goal is simple: in a culture saturated with craft coffee, he aims to reconnect generations of younger Japanese with the increasingly neglected world of tea.
"I want to offer people a new way of enjoying Japanese tea," he explains. "Today, there are so many different teas you can buy in plastic bottles and so many young Japanese have never even tasted a properly prepared cup of tea. I want to change that."
The experience begins the moment customers cross the threshold. The small but perfectly formed space, created by Tokyo design firm Simplicity, is a serene and minimal enclave of clean-lined natural materials, from dark woods to warm copper, complemented by a wall of windows framing an urban skyline.
On the menu are around 30 teas sourced from across Japan and loosely divided into three categories: straight, blended (with seasonal ingredients ranging from persimmon to yuzu), or roasted on site by Sakurai in the corner of the tearoom.
Explaining the unique qualities of Japanese tea, he says: "Most teas are heated by fire when they are being made, but Japanese tea is made using steam. This makes it a very pure type of tea."
Using an impressive 40 litres a day of hot spring water from southern Kagoshima, Sakurai performs his contemporary take on tea ceremony at an eight-seat counter.
And he is meticulous in his preparations. "You have to be very precise," he says. "Even the slightest change in temperature to the water can change the flavour entirely. For sencha green tea, for example, you must use a lower temperature of water—if it's too hot, it becomes bitter."
Also on the menu are pretty, bite-sized Japanese sweets (from chestnut yokan jelly to flavour-bursting walnuts and dates in fermented butter),
segueing smoothly into tea-inspired cocktails after dark (a refreshing fusion of sencha tea and gin is a typical highlight).
Sakurai's tea-themed tools and accessories are no less eye-catching, from handcrafted tin tea caddies and traditional bamboo ladles to delicately minimal ceramics from Simplicity's product line S[es].
"The whole setting is very important," explains Sakurai. "In order to enjoy tea, the atmosphere has to be just right."
Best of all? It's healthy according to Sakurai, who admits it's no coincidence he resembles a modern-day tea doctor. "Green tea is very good for you—it's full of antioxidants, vitamins, polyphenols, catechins. It can prevent serious illness and is often used in traditional Chinese medicine. That's why this space is designed to look not only like a bar counter, but also a pharmacy."
TIPS & RESERVATION INFO
Minami Aoyama is a chic shopping area that also has some wonderful cafes and restaurants. From the Spiral building, take a right and head to Omotesando avenue, where you will find the upscale casual fashions of Visvim. Get a caffeine boost at Koffee Mameya, hidden in the back streets off of Omotesando. Both shops are also featured in this app.
ACCESS DETAILS
---
DIRECTIONS
---