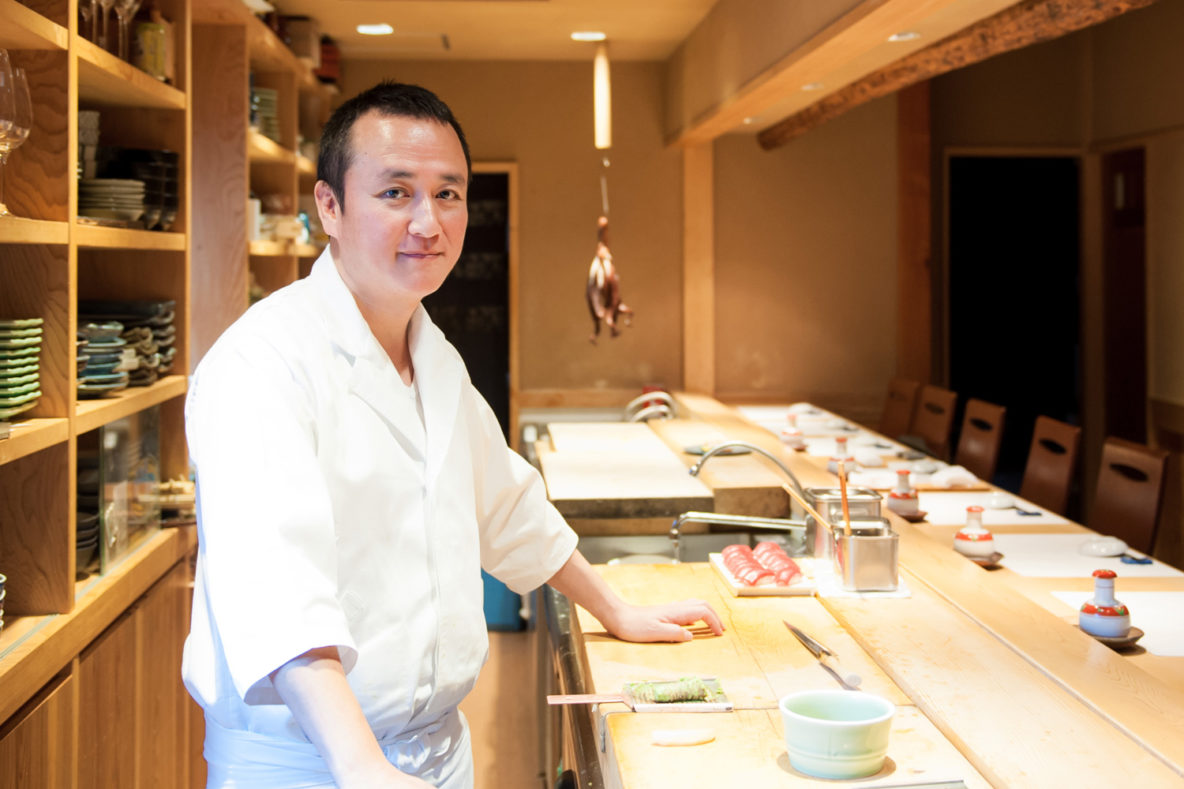 "I go to the market every morning, because I need to see the quality with my own eyes."
---
Daisuke Shimazaki

Chef
Sushi Yuu
Daisuke Shimazaki cradles in his hands two giant shrimps, just boiled and ready to serve. "Yesterday they were swimming in the ocean," he says, his voice hushed, poised to reveal a secret. "Fresh from northern Japan. The best in the world… maybe."
That phrase is heard frequently at Sushi Yuu, Shimazaki's family-run restaurant. His sea urchin and his fatty tuna are also "the best in the world… maybe" – although his confident tone of voice infers that there is, in fact, no 'maybe' about it.
Shimazaki's late father, Shojiro, opened Sushi Yuu in 1972 in a distant suburb, later moving his shop to central Tokyo. His wife – Shimazaki's mother – still helps from behind the scenes, bottling her annual batch of plum wine, or helping to pickle the 'gari' ginger so adored by regulars.
The son was initially reluctant to follow in his father's footsteps. The family's restaurant was close to the bars and nightclubs of Roppongi – a neon-lit playground for high-rolling businessmen. Young Daisuke wanted a life on the other side of the counter.
"But it turned out I was a terrible businessman," he says. Within a year, he was in the kitchen, watching his father work. "He rarely spoke – it was a case of look and learn. That was the way back then."
Shimazaki knows that a chef is only as good as his ingredients. To get his hands on the best fish, he depends on a network of traders, each of them a specialist – in tuna, squid, or sea urchin. He visits them at the fish market every morning. "If there's something special coming in, they'll call to give me a head's up," he says. "But I still need to see things with my own eyes."
Shimazaki's sushi reflects his personality: it is uncomplicated and generous. His preparations are simple, his cuts are large, and his rice has bite. A giant Hokkaido oyster is his recommended starter when they are in season. Always on the menu is his father's signature 'himono' –mackerel, rigorously salted, dried in the open air, and grilled until its buttery juices begin to ooze. In place of dessert, expect a slice of 'tamagoyaki' omelette – sweet, and with a hint of citrus.
Shimazaki balances his dedication to his craft with other passions outside the kitchen – fast cars, fine whiskeys, and the occasional round of golf. A confident English speaker, he converses with his customers from all over the world as dexterously as he creates their meals.
"If people want to stay here talking and drinking until the small hours, they're very welcome," he says. And with only one sitting per evening, at Sushi Yuu there is no need to watch the clock.
TIPS & RESERVATION INFO
Sushi Yuu serves a light lunch at midday. For the full 'omakase' experience go in the evening. Reservations are needed, but thanks to the restaurant's large counter aren't too hard to get. They can also be made on Facebook.
ACCESS DETAILS
---
DIRECTIONS
---