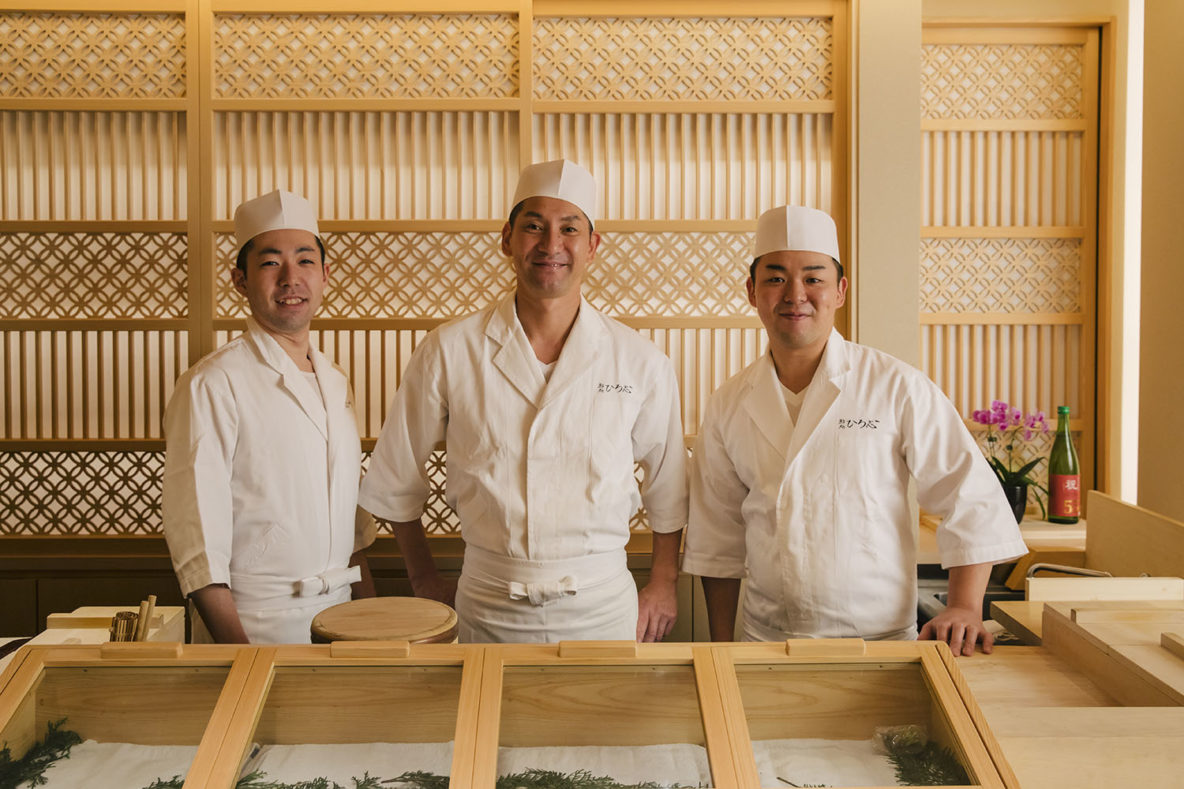 "Since customers are all different ages and come from different backgrounds, I try to make sure their meal suits them."
---
Hiroshi Komatsu

Chef
Sushidokoro Hiroshi
When it comes to high-end sushi in Tokyo, the widely accepted wisdom is to always get the omakase, meaning to let the chef serve you a selection of the day's best and freshest cuts of fish and seafood. But while Hiroshi Komatsu prepares just as mouth-watering an omakase as any other top sushi chef, he also wants his customers to eat and drink what they like, forgetting about rules and convention.
"Today's style of serving sushi doesn't allow customers to eat in a way that suits them. A lot of places only offer courses, and it's common for sushi chefs to just watch customers as they eat the course at their own pace," Komatsu says. "I think this is good, but for me, since customers are all different ages and come from different backgrounds, I try to make sure their meal suits them."
An example of this is when an older customer comes in, who Komatsu notices is struggling to finish the course partway through. In this case he'll make adjustments like reducing the amount of rice he uses, so that the customer still gets a chance to taste each topping.
"Customers are not all the same, and the fact that we're always right in front of them—we're not bringing food out from the back—means we're able to meet the needs of each individual customer," he says. "And I think that's the most important thing for a sushi restaurant."
Komatsu learned the art of sushi under his grandfather, who runs a popular restaurant in Tokyo's Azabu district. He worked there for 10 years, then spent an additional 13 heading a second branch. But from the beginning, his intention was always to strike out on his own once he was ready.
"I wanted to do things in my own way," he says. "There are certain rules and customs that I didn't want to follow."
Among these customs is the one that dictates that only men can be sushi chefs. While Komatsu has yet to hire a woman, he doesn't see any reason not to. He's more interested in applicants' personalities than he is in their gender or nationality.
When he finally decided to open Sushidokoro Hiroshi in 2017, Komatsu enlisted his older brother, an interior designer, to help with the construction of the restaurant. What resulted is one of Tokyo's most beautiful sushi bars, with lots of tasteful blonde wood and intricate sliding doors concealing the cabinets where ceramic dishes—some made by customers from around the world—are kept.
If the design of the restaurant isn't enough to make customers feel immediately welcome, Komatsu's warm and friendly demeanor will surely put them at ease. He's quick with a grin, and happy to explain his ingredients or even engage in small talk, if that is what the customer wants.
"Some people just want to eat their meal quietly, while others want to ask questions about everything they eat," he says. "You have to read the customer. The art and technique of conversation is very important."
TIPS & RESERVATION INFO
Chef Komatsu and his staff don't speak English, so have a Japanese speaker make your booking and bring an interpreter if you want to be able to ask questions about your meal. The restaurant is closed Mondays, and with only 10 seats at the counter and one small private room for up to four people, reservations are recommended.
ACCESS DETAILS
2-12-6-103 Nishi Ogikubo Kita, Suginami-ku
---
DIRECTIONS
---