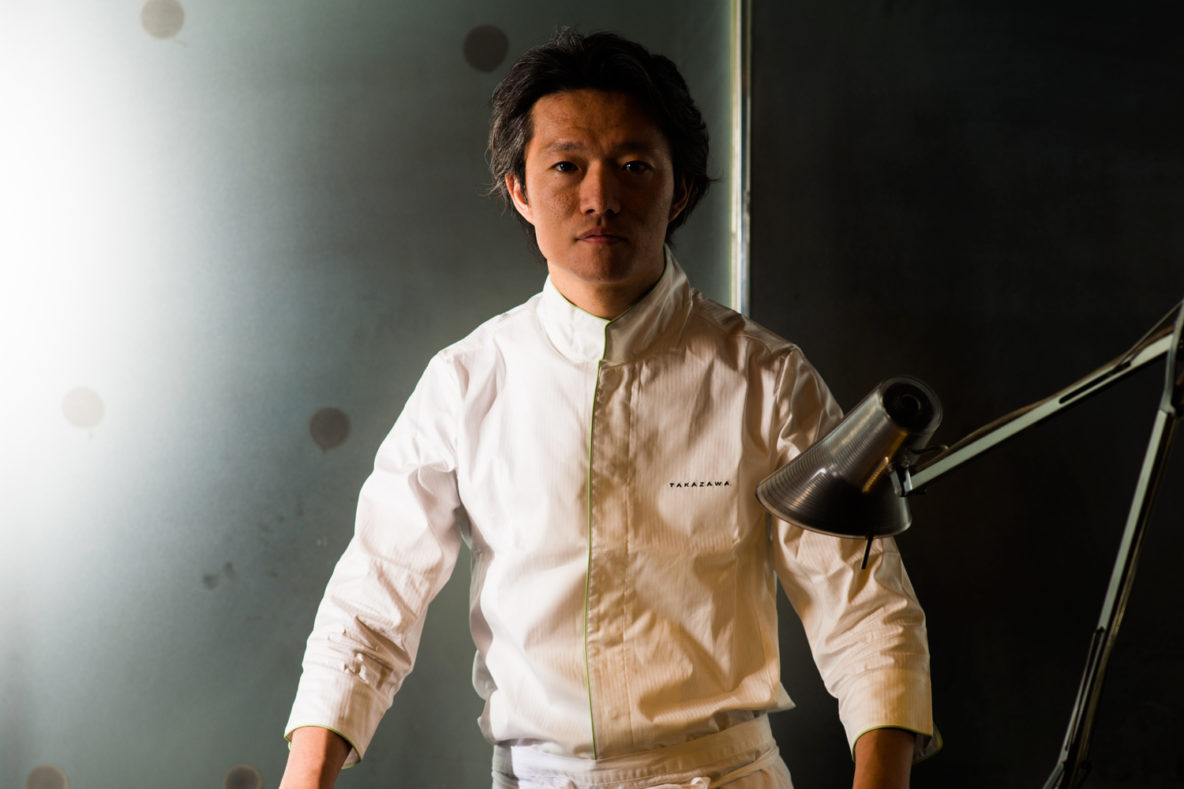 "I thought of myself as a hidden power with a connection to nature."
---
Yoshiaki Takazawa

Chef
Takazawa
It takes Yoshiaki Takazawa 10 hours to make his signature ratatouille, which he asks his diners to consume in a single bite. "Ratatouille is something usually made by throwing everything together into a pot," the chef says. "But in my version, each of the 15 ingredients is prepared separately, and then assembled at the end."
The dish, a multi-coloured checkerboard terrine balanced on the end of a platinum spoon that's twisted like a serpent, is the only one the chef guarantees will be served each evening. It has been a constant on his menu since he and his wife Akiko opened their restaurant, then known as Aronia de Takazawa, in 2005.
"The aronia is a small berry that is not well known but is really powerful, with stronger antioxidant properties than blueberries," Takazawa explains. "That's how I thought of myself when I was getting started: a hidden power with a connection to nature."
Takazawa's style of cooking blends intense seasonality – the bedrock of all Japanese cuisine – with imaginative presentations more familiar to European molecular gastronomy. Some have called it Japanese-French cuisine, but the chef begs to differ. "There were French and Spanish influences at first," he says. "But what I really want to do is express Japanese culture. That's why I use Japanese ingredients and pair dishes with Japanese wines. But having said that, this isn't strictly Japanese cuisine. It's just mine."
Despite years of training at a famous Tokyo hotel, the chef has never courted publicity, choosing a discreet backstreet location in Akasaka for his business. An obscure door opens on to a narrow staircase that leads up to the intimate dining room. There is space for just three tables and 10 chairs, which take just one sitting per evening. No patron is ever more than a few metres from the chef as he works behind his smooth metal show counter, and none is denied the delightful Akiko's attentive service. Takazawa says he designed the experience to be like the Japanese tea ceremony because "it's my way of presenting our hospitality."
More than that though, Takazawa is a showcase for Japanese culture – its farmers and artisans, its seasons and sensibilities. But it also highlights the chef's particular sense of humour, through dishes such as Sweet & Sour Prawn, a riff on ebi chilli (spicy stir-fry shrimp) that's a staple of cheap-and-cheerful Chinese restaurants in Japan. In Takazawa's version, an elegant kuruma prawn coated in delicate tomato jus comes surrounded by the deconstructed flavours of ebi chilli, all for patrons to assemble in their mouths. And his Dinosaur's Egg from Miyazaki on the south eastern coast of Kyushu, is in fact a dessert: the shell made using white chocolate, turmeric and chilli; the egg using meringue and mango from Miyazaki; and the footprints formed of wasabi, giving Takazawa's Japanese accent to a flavour combination that was inspired by a trip to Mexico.
Indeed, the chef travels constantly to food events and private functions around the globe. When he's away, the restaurant is closed – adding to the challenge of getting a reservation. And this is a restaurant everyone wants to eat at, meaning that no longer does he need humbly prefix his name with that of an obscure berry. Now the chef's restaurant is simply Takazawa.
TIPS & RESERVATION INFO
Reservations are essential and inquiries should be made at least eight weeks ahead. The chef's wife speaks excellent English and her email address is on the restaurant's website. Takazawa's entrance is a little hidden, on a narrow street at the back of the Sanyo Akasaka Building.
ACCESS DETAILS
2F, 3-5-2 Akasaka, Minato-ku
---
DIRECTIONS
---