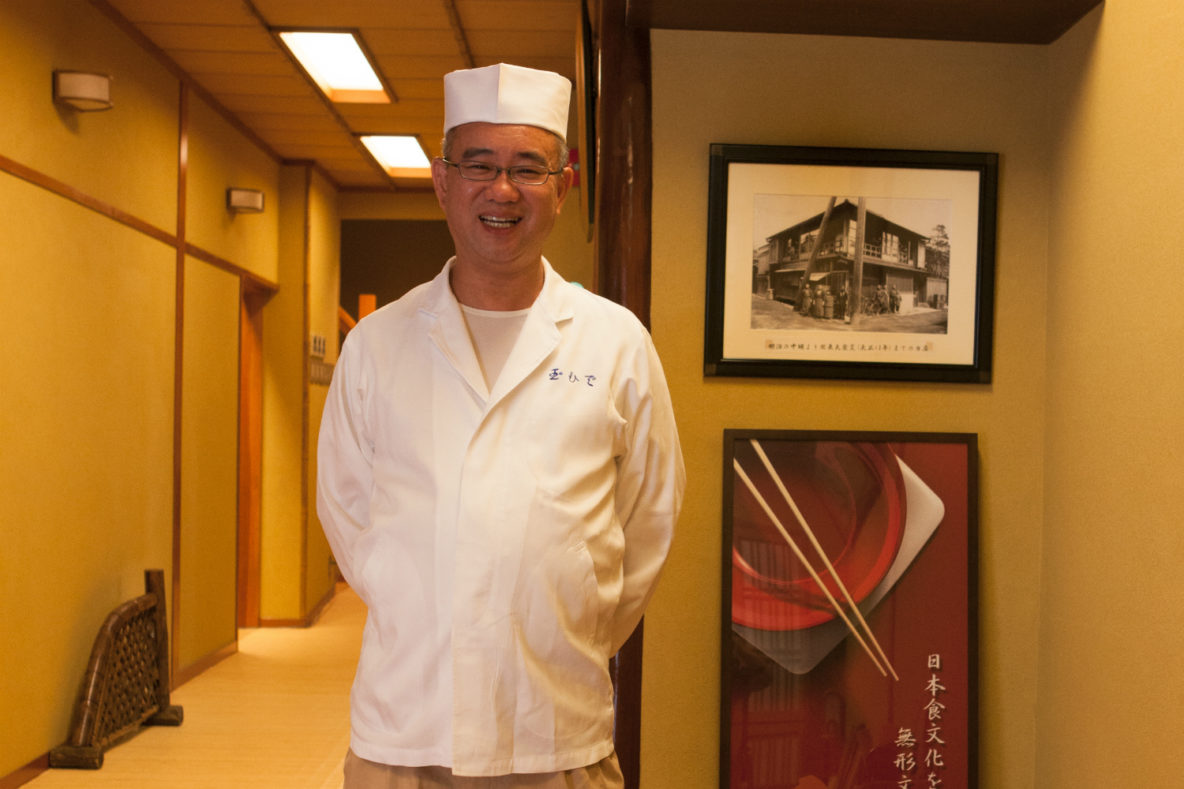 "Tamahide is the only restaurant in Tokyo – and one of only a handful in the country – to specialise in Japanese chicken cuisine."
---
Kounosuke Yamada

Eighth-generation chef
Tamahide
Oyakodon, Japan's favourite comfort dish, may also be its most appropriately named. 'Mother and child rice bowl', as the name literally translates, combines bite-sized chunks of chicken, with eggs cooked lightly in sweet soy sauce until they just begin to set. This is served over a generous bowl of steaming white rice.
Tamahide is the storied home of oyakodon. But Kounosuke Yamada, its bespectacled eighth-generation chef, says his family's restaurant is about more than just one dish. Tamahide is the only restaurant in Tokyo – and one of only a handful in the country – to specialise in Japanese chicken cuisine.
The most important ingredient is Shamo, a dark-feathered breed of bird praised for its lean, gamey meat. According to Yamada, Shamo ranks alongside the best breeds of chicken in the world, on a par with French Poulet de Bresse.
The restaurant began trading in 1760, processing chicken for noble families in the city then known as Edo. A dish called Shamo nabe (hotpot) was its original specialty: a version of stew-like sukiyaki made with chicken instead of beef, along with noodles, leeks and tofu, all seasoned with soy sauce and honmirin, a syrup made from sweet rice rich with umami.
Oyakodon got its start by happenstance during Tamahide's fifth generation. A thrifty customer was reluctant to waste some leftover chicken. The quick-thinking wife of the chef suggested he throw it into the seasoned sukiyaki pot with a couple of raw eggs. The result was an instant hit.
At the time, Japan's rice-eating culture deemed it unseemly to soil rice by covering it with other food; only the lower classes would do that. For its first 90 years, the dish as we know it today was served only for delivery to merchants in the local Ningyocho area, never on the premises – Tamahide had an image to maintain after all. Over time, however, donburi dishes (bowls of rice with toppings) became popular among other classes, and Tamahide could sell its oyako donburi with pride.
Tamahide has already been in business for more than 250 years. Now the ninth-generation chef, Kunio, is preparing to take over from his father in serving the poultry pilgrims who travel here from all over Japan.
People eating alone have no choice but to line up and wait for the donburi. But Chef Yamada suggests parties of two or more try the set menu, for which reservations are accepted. This starts with Shamo chicken prepared in two different ways, and ends with the signature oyakodon, presented in a golden lacquered bowl.
Eating oyakodon from a bowl resembling a golden egg seems appropriate at Tamahide. And not only because of the restaurant's shining success. The bowl is also symbolic of the precious bonds this accidental dish has helped to nurture. Parent to child, from generation to generation.
TIPS & RESERVATION INFO
Some patient queuing is usually required of customers for the ground-floor casual dining room at Tamahide, and as there's no shade, come armed with a hat or parasol in summer. Reservations for a course lunch in the upper dining room are possible, but no English is spoken so have our Concierge service or that at your hotel to arrange this for you.
ACCESS DETAILS
---
DIRECTIONS
---