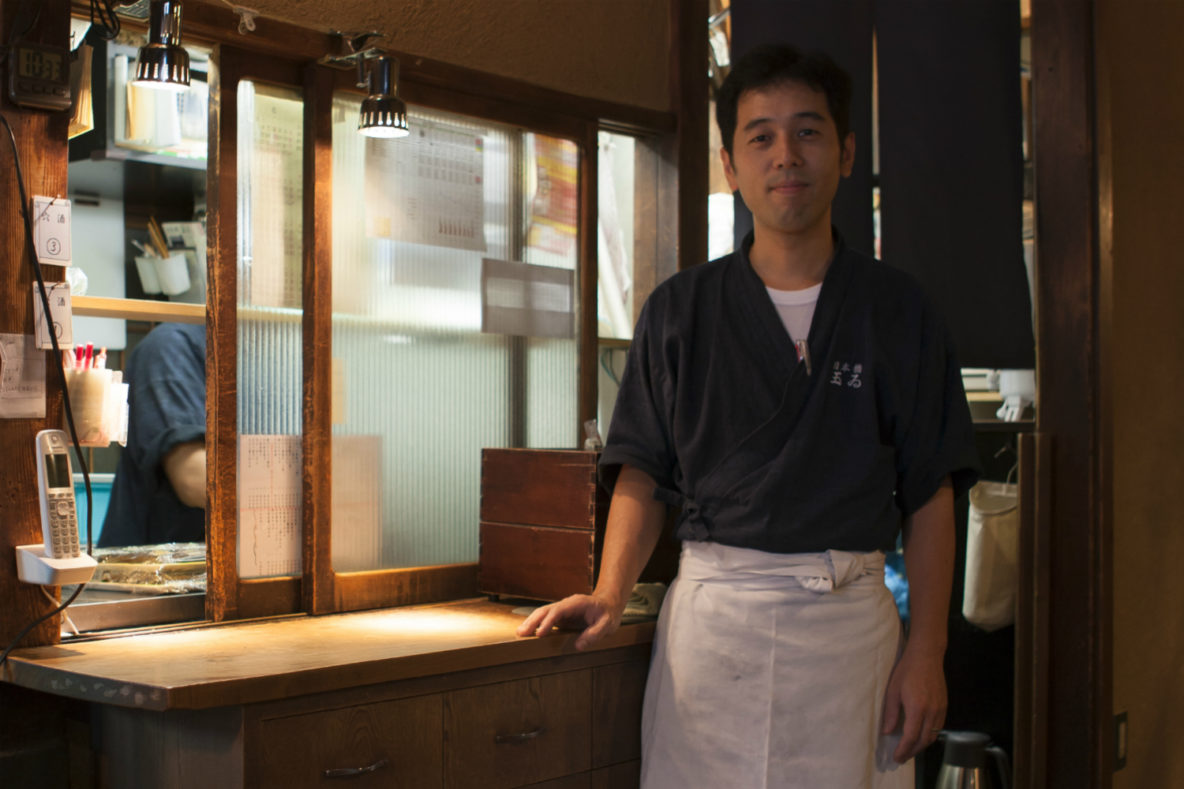 "Eating anago makes you smarter. It's also chock-full of vitamins and minerals. And it even improves your eyesight."
---
Yuji Sato

Chef
Tamai
"Eating anago makes you smarter," says chef Yuji Sato, tapping his temple with one finger. "It's also chock-full of vitamins and minerals. And it even improves your eyesight."
Sato's admiration for anago – or conger eel – makes sense considering that his restaurant Tamai is, he says, the only remaining specialist in it in Tokyo. The saltwater creatures once thrived in the waters of Tokyo Bay, making them commonly found in the capital's cuisine, and Sato still sources his eels locally during the summer. By wintertime, however, the water is too cold and they come from southern Japan.
"We only use wild eels – never farmed," says Sato, a frank-talking golf fanatic who spends most weekends playing rounds with his customers. "Supply is our number one concern." The filleting process for anago is similar to that for the freshwater eel unagi, beginning with a nail through the eel's head to keep it still. After that, however, anago is simpler to cook, thanks to its thinner skin and leaner flesh.
By far the most commonly ordered dish is the hako meshi – a lacquer box filled with a bed of rice that nestles two slithers of anago, one grilled and one boiled, along with a selection of condiments. But Sato encourages adventurous patrons to try other items from the menu too, because in his words: "the sea eel has many different faces." In winter he recommends tempura, which highlights its sweet, light flesh. August to October, when local anago are in season, is the time for pure, simple sashimi.
Sato, who trained as a sushi chef, was born to the east of the city. After taking over Tamai, he fell in love with his new neighbourhood in the heart of old Tokyo. Despite its location behind the famous Takashimaya department store in Nihonbashi, Tamai feels it has managed to slither free of the tightening grip of modernisation. Most other old buildings in this historic quarter have long since been squeezed out by giant steel and concrete offices. But Tamai's shop – a former liquor store – is all charm, and in a comforting display of neighbourly values, still shares its kitchen with a sake bar around the corner. "Technically this is a business district, but it's a place without hierarchy," says Sato. "People still help each other out and ask how you are or where you've been."
In a nod to the provenance of the building, the perfect way to end a meal at Tamai is with a cup of warm anagozake, alcohol that (of course) contains a salted, dried and roasted surprise. It pairs perfectly with hone-sembei, the bones of the eel extracted during filleting and then deep fried to make a crunchy calcium-rich snack. "And there you have it," says Sato, "anago is even good for your body – it strengthens your bones."
TIPS & RESERVATION INFO
Reservations aren't a prerequisite for partaking in a meal at Tamai, but in summer, when eel is in high demand, the restaurant is sure to be busy.
ACCESS DETAILS
---
DIRECTIONS
---