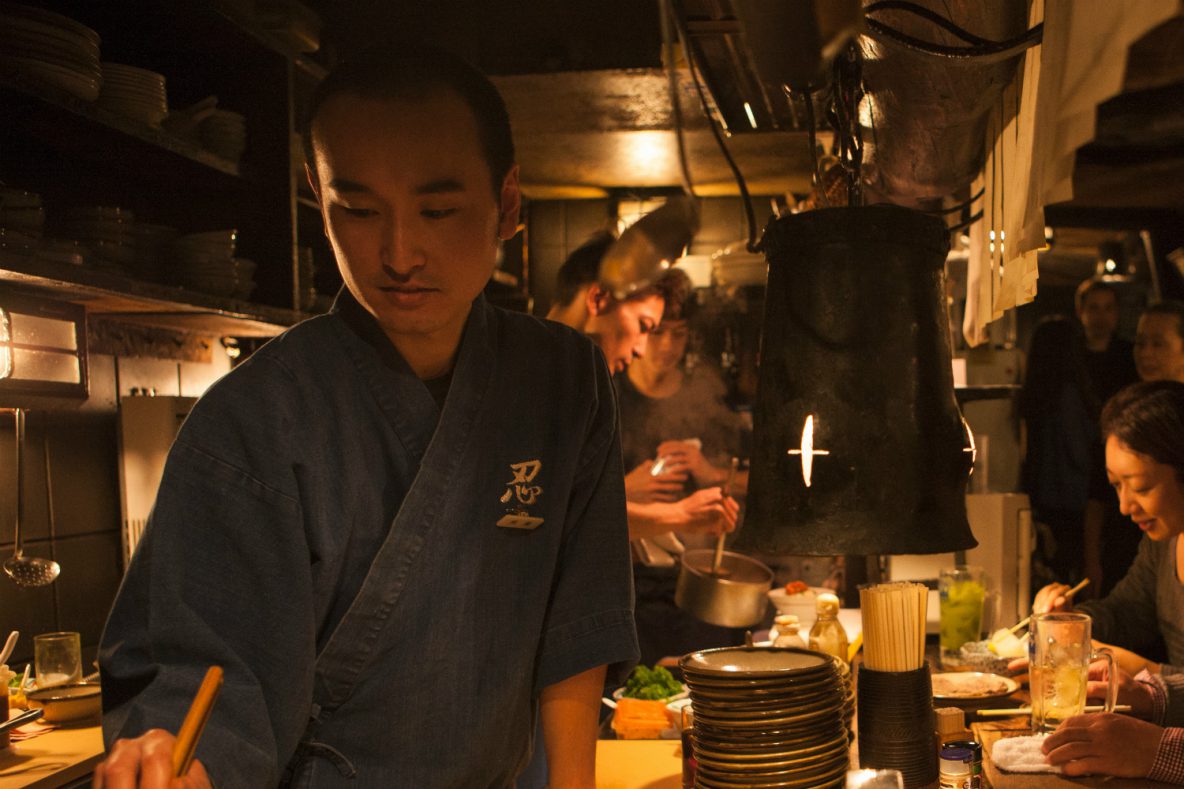 "We provide speedy service, and our patrons enjoy the food."
---
Shinobu Uesugi

Proprietress
Tanyaki Shinobu
Every evening, when most other restaurant owners are waiting anxiously for their first customer, Shinobu Uesugi is already hard at work taking orders, passing out plates, and pouring cold beers. Soon after 6pm, Tanyaki Shinobu, her specialist beef-tongue restaurant, is full. It's been this way ever since Uesugi opened her restaurant in 1979. "For the first two or three months, we didn't even have a sign out front. People from the neighbourhood just dropped in," she recalls.
Although grilled beef tongue (tanyaki) features on the menus of many Japanese restaurants, even in Tokyo's diversified dining scene, few would dare to make it their specialty. The menu at Shinobu includes eight beef tongue dishes – grilled, boiled and stewed. The tongue stew at Shinobu is simmered for 10 many hours, starting the night before it's served, until the meat is so tender it's practically falling apart.
Uesugi's husband, Tokujiro Uesugi, opened his first restaurant the young couple were still in their early twenties. They served western food like pizza and steak in Kabukicho, an area of Shinjuku that later developed a notorious reputation. As the neighbourhood went downhill, the Uesugis decided it was time for a change. Moving to the business district of Yotsuya, local 'salarymen' became the couple's core clientele. Many of them come back at least once a week, and Uesugi and a handful of ladies in pinafores serve them with the rough familiarity of favourite aunties.
"I added some vegetable dishes to prevent the regulars getting bored of tongue," Uesugi says. "But people who come here often know they can trust us, and just ask us to serve whatever we recommend."
The home-cooked style of the cuisine fits the rustic interior, for which the wooden posts and beams came from dismantled storehouses that were reassembled using a traditional form of carpentry employing no nails or screws. To accessorise with this structure, the tables and stools are made from logs and slices of tree trunks.
On weekends, the suits and ties of the salarymen are gone, replaced by a younger and trendier crowd of smartphone-enabled foodies. Old-fashioned dishes like tanyaki are making a comeback. And Uesugi's maternal hospitality never goes out of fashion. "These days, people find us online and trek here from all over the place," she says. "It makes me happy to see all these young faces."
Looking back over almost four decades of restaurant work, Uesugi isn't shy about explaining her decision to settle on such a specific cuisine: "I had thought about opening a yakitori restaurant. But that means starting work early in the morning to cut all that chicken and skewer it. With this, you just have to season it, cook it, and serve it," she says. "We provide speedy service, and our patrons enjoy the food. Everybody's happy!"
TIPS & RESERVATION INFO
Reservations are accepted and advisable on weekends – no English is spoken so ask your concierge or our members Concierge service to book for you. Walk-ins are also fine, but be aware at that peak times they may incur a little wait.
ACCESS DETAILS
16 Saneicho, Shinjuku-ku
---
DIRECTIONS
---