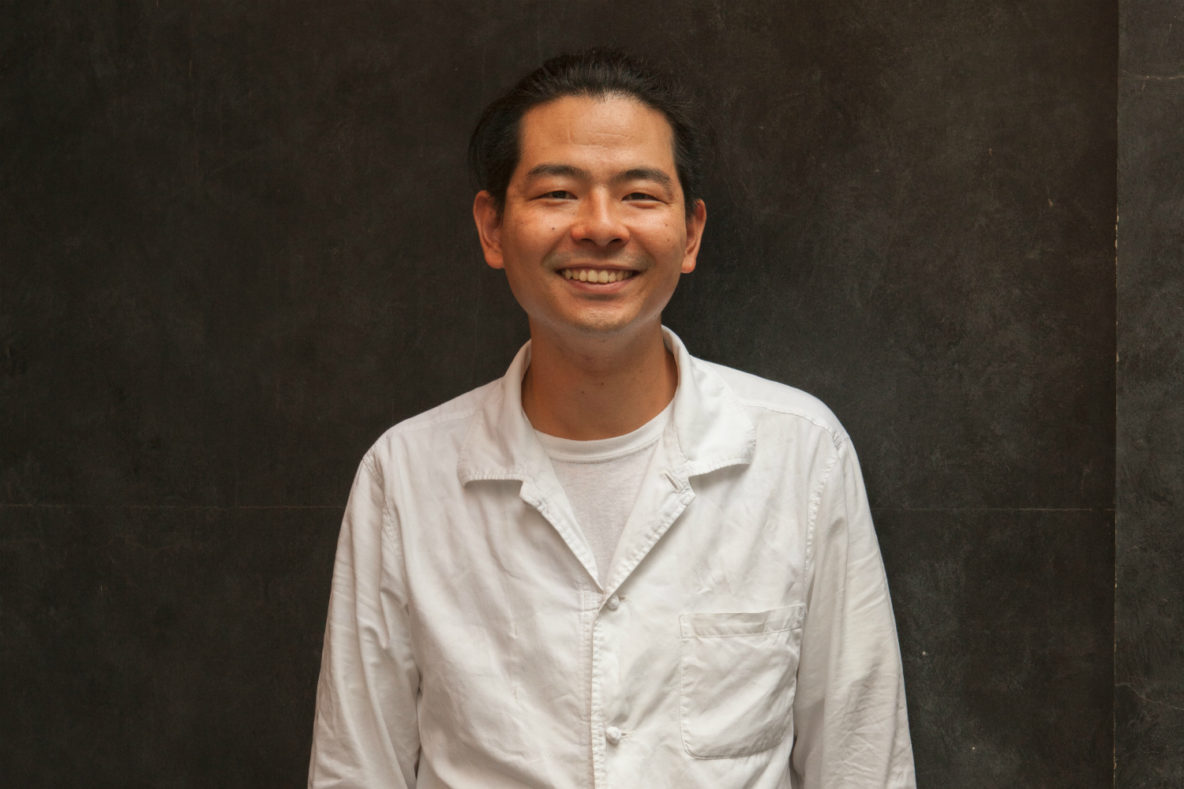 "Everyone goes the extra mile these days. Average just isn't good enough."
---
Hiroshi Nagahama

Chef and manager
Tokyo Dosanjin
Sliding open the door to Dosanjin might reveal, with a turn of the head to the right and a peek through a narrow window, Hiroshi Nagahama at work making soba noodles. It's a painstaking process that he goes through every day, and he makes it look deceptively simple.
"Everyone goes the extra mile these days. Average just isn't good enough," says Nagahama, who also manages the restaurant. "A lot of businessmen have quit their jobs and opened soba noodle restaurants. Those semi-pros really raise the bar for all of us, because finally they are doing something they're passionate about."
Dosanjin, a beautiful shop by the river in Naka-Meguro, is the first Tokyo outpost of a small chain of restaurants based in the Kansai region surrounding Osaka. The restaurants' founder, Eiji Watanabe, started making soba for a living in his forties after becoming tired of his job in fashion.
Where most soba restaurants are designed for speed – some even forgoing seats – Dosanjin is crafted for pleasure. There are comfy chairs placed for a view of the serene garden, and subtle decorative ceramics by the master potter Yukio Kinoshita, who also helped design the restaurant. Kinoshita, who passed away in 2013, used 'Dosanjin' as his artist name.
The restaurant offers a choice of regular noodles or the chunkier inakasoba, and long before his patrons kick back, Nagahama is working hard to make them. In both, the key ingredient is buckwheat (soba), whose flour many restaurants buy in bulk. But not so Dosanjin, which contracts a farm near the Japan Sea coast to provide whole seeds that are smaller and greener than most.
Right there in the shop, the seeds are ground into buckwheat flour for up to nine hours overnight, before being mixed with water and just five per cent of regular wheat flour. Once kneaded, the dough is rolled into a large rectangle a couple of millimetres thick. This is folded, neat as a kimono, and then sliced into strips at military speed with a huge square-blade knife. The perfectly formed noodles take just 30 seconds to cook.
Soba noodles are traditionally eaten hot in a bowl of steaming broth or cold in the summer months, dipped in a simple sauce with wasabi and chopped spring onions. In one of its popular dishes, Dosanjin again gently defies convention, placing them in broth topped with slices of sudachi, a sour Japanese citrus fruit.
In return for – and to manage – all the ways he exquisitely flouts the rules, Nagahama makes just one simple request of his customers: patience, please.
"It can take some getting used to, the pace of things here. People are used to soba being fast food," he says. "But I only cook two portions at a time. To make more than that, I'd have to stir them with chopsticks, and there's a chance the noodles could break. And we couldn't have that."
TIPS & RESERVATION INFO
Reservations are recommended, especially in the evenings. Little English is spoken, but an English menu is available. The 'sudachi soba' is only available during certain times of the year.
ACCESS DETAILS
---
DIRECTIONS
---