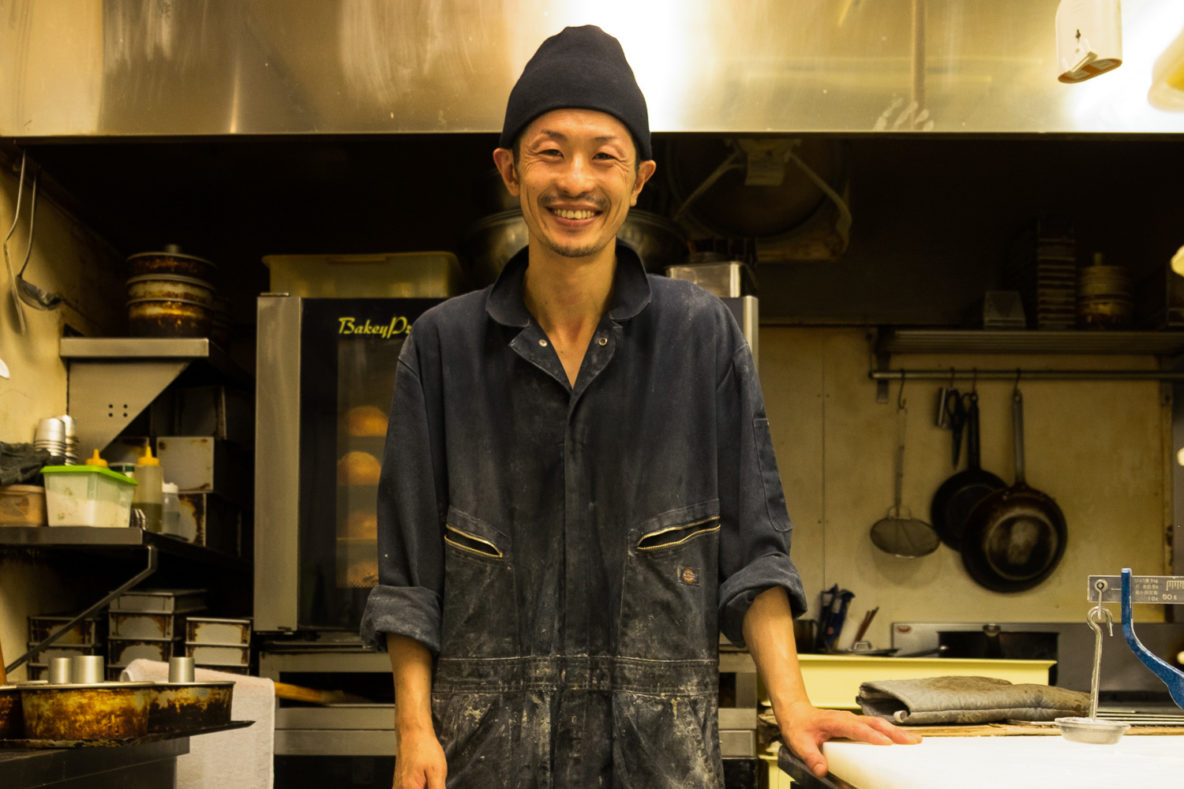 "When I'm not at work baking, I'm at home reading books about baking."
---
Shinji Tanaka

Chef
Tolo Pan Tokyo
A tray of oven-crisp croissants emerges from the tiny kitchen at Shinji Tanaka's bakery, Tolo Pan Tokyo.
The chef holds them high above his head as he inches behind his coworkers, who stand shoulder-to-shoulder slicing loaves, packaging buns, and ringing up the till. He weaves through the half-dozen customers who have squeezed into the shop – greeting them and apologising as he goes – and sets the croissants out for sale. Within minutes they are purchased, packaged, and out the door.
Tolo Pan – 'pan' is Japanese for bread – occupies narrow premises on the main shopping street in the Higashiyama neighbourhood close to Ikejiri-ohashi train station, one stop west of Shibuya.
"When all five bakers are in the kitchen, we have to work precisely and without thinking," says Tanaka, a lithe man with an earnest smile. "We're like parts of a machine, all operating as one."
Tanaka arrives on his bicycle when only the fishmonger and the tofu maker have their shutters raised. Comrades of the dawn, they say good morning to one another without fail. Gradually his team arrives until the kitchen is at full capacity, producing loaves and pastries, bagels and baguettes, and 'curry bread' – a modern classic of Japanese baking that cocoons a dollop of curry inside a ball of savory breaded pastry.
During a typical day, Tanaka will handle up to 13 different types of flour and produce about one hundred different breads and pastries. The subtle complexities of a job in which every ounce and every minute makes a difference are what he loves.
"Take the weather, for example," he explains. "Because the seasons in Japan are so different – cold and crisp in winter, but hot and muggy in summer – we need to adjust the balance of ingredients constantly to maintain the quality."
Tolo's signature white bread, Higashiyama Pan, uses soymilk and tofu, creating a texture he describes with the onomatopoeic word 'mochi-mochi', meaning soft and moist. The wholegrain Complet loaf is injected with clarified butter to nurture a lingering richness when it rises.
Two doors further along the same street, cooks at a Tolo-branded café use the bakery's bread to make chunky BLTs, croque monsieurs and roast beef sandwiches. The signature 'katsu-sando' inserts a succulent chunk of breaded, fried pork between two slices of whole wheat bread with onion and fig relish and sliced cabbage.
Flour-smattered denim jumpsuits and colourful wooly hats are the baking team's eye-catching uniforms, chosen by Tanaka's business partner, an entrepreneur from the fashion industry who takes care of marketing, accounting, and other back-office chores of which the chef, in single-minded pursuit of his craft, is glad to be free.
"When I'm not at work baking, I'm at home reading books about baking," says Tanaka, who closes his shop most Tuesdays to give his coworkers a well-earned break. "If was only me, I'd be happy working seven days a week."
TIPS & RESERVATION INFO
The first bake, which goes on sale at 7:30am, is mostly grab-and-go items for commuters. The loaves come out a little later. The sandwich shop opens at 11:30am, for eat-in or takeaway. Both are closed on Tuesdays.
ACCESS DETAILS
---
DIRECTIONS
---