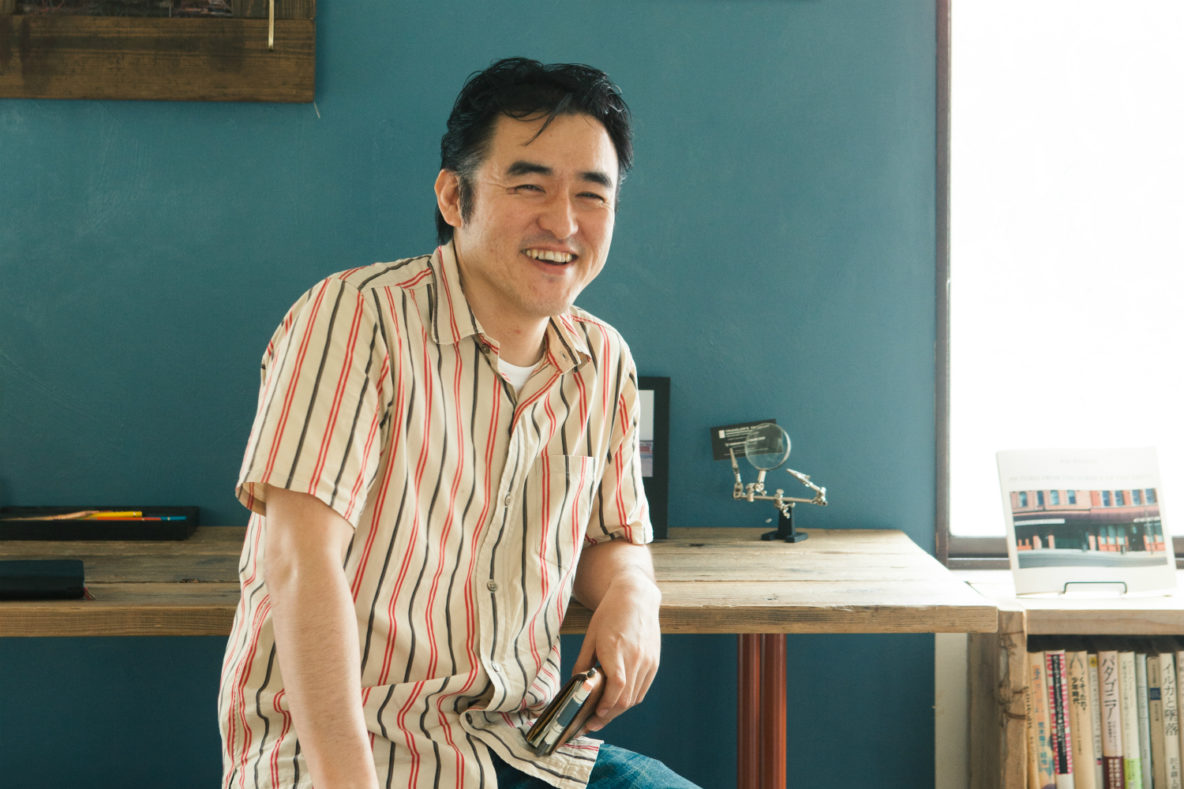 "The idea is that the trip to the store should be a journey in itself."
---
Atsuhiko Iijima

Producer
Traveler's Factory
Not so long ago, Japanese people loved to travel. So much so, that tourists from Japan became parodied the world over for their snap-happy camerawork and breathless travel schedules. But hard economic times have more recently curtailed many consumers' taste for adventure. Instead, they make their own travel fantasies closer to home, with the help of entrepreneurs like Atsuhiko Iijima and his Traveler's Factory.
In 2005, Iijima was overseeing production for a line of stickers at a stationery company. It was a job, but not a vocation. "Work was work, and the things I enjoy – books, motorcycle touring, coffee, rock music – these were separate," he says. "I wondered if there was a way I could blend the things I loved with the work I was doing."
He teamed up with a colleague to enter a contest to create a concept for a tall, slim notebook. The result had a leather cover and a variety of smooth filler paper that is equally at home in a Harley driver's leather satchel as in a fashionista's It Bag.
Iijima wanted his notebook to convey a passion for discovery to those who bought it, and he needed his shop to do the same. After a year of searching for the right location, he found a former box factory only a few hundred metres – albeit with plenty of twists and turns – from Nakameguro Station.
"The idea is that the trip to the store should be a journey in itself. And then the space I found, I guess that represents the ethos of customising something original, while letting its flavour become richer with time," Iijima says, referring to the building's original patterned window glass and preserved vertiginous staircase, which juxtapose its modern light fixtures.
Traveler's Factory, as he called his shop, is a place as much for dreaming of destinations. Curated international stationery finds – vintage postcards from Russia and rolls of old British bus tickets – sit beside collaborations with storied travel icons like Braniff Airlines and Hong Kong's Star Ferry. On the upper floor, Iijima has turned the storage loft of the original factory into a sunny, intimate space to read, drink a cup of the store's coffee custom-roasted, and customise their Traveler's Notebooks.
"One woman decorated hers with stickers of the Eiffel Tower and glued lace to the front, a guy stitched a rawhide pen strap into his cover, and another painted a skull on his," says Iijima.
So why exactly does this notebook strike such a chord? Iijima thinks it's about the act of making it one's own. "To decorate it, you have to really think about what appeals to you," he says. "You end up wanting to explore the things you like more deeply."
TIPS & RESERVATION INFO
Traveler's Factory can be tricky to track down, so here are directions: from Naka-Meguro Station, walk northeast on Yamate Dori before taking the second left and then the second right. The shop will be a little way down on your right.
ACCESS DETAILS
---
DIRECTIONS
---