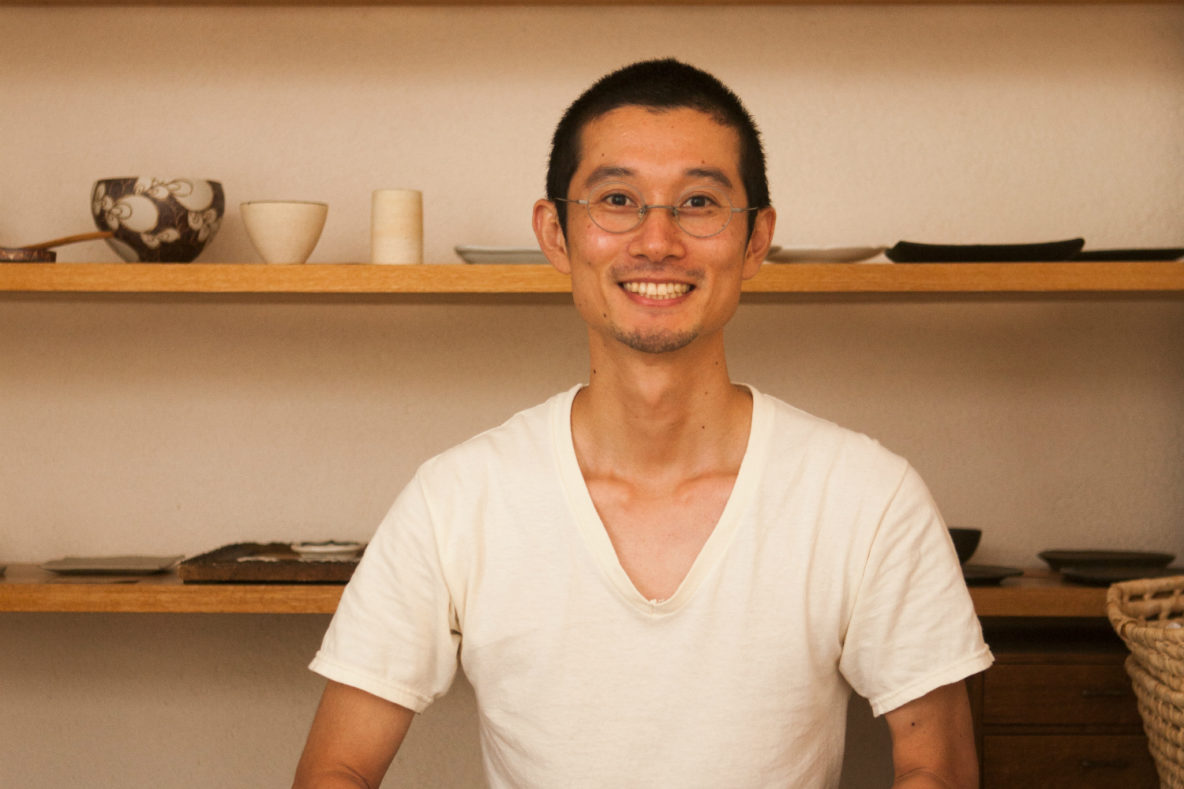 "I could never be a ceramics artist myself. I don't have that sort of patience"
---
Kenshin Sato

Shopkeeper
Utsuwa Kenshin
Most people lucky enough to have a single-minded passion are born that way. They make a natural decision to dedicate their lives to food, fashion or design. However, for Kenshin Sato, owner of a beautiful Japanese ceramics shop so bijou it must be the world's smallest, the tale of becoming an expert curator in his field is one of serendipity.
"When I graduated from school I had no idea what I wanted to do," says Sato. "I was flicking through the job ads and found one that sounded promising. It was walking distance from home and I didn't need to wear a suit. I applied, and got the job." The then-22-year-old began working for a company that designed table settings for photo shoots. Over the next decade, he came into contact with ceramicists from all over Japan, and his vocation found him.
After several years working at a ceramics shop, Sato had the knowledge and the network to set up on his own. All he needed was an affordable space in a good location. Again, fate stepped in. "There was a ceramics shop here before me and I knew the owner. I was visiting one day, and I told him: 'I want to open my own shop.' He replied, 'Well, I want to move mine.' So I took over the space, just like that."
From the beginning, Sato knew he wanted to focus on emerging talent. And with a size of just 3.5 tsubo in Japanese terms (less than 12 square metres, or 130 square feet), he only has space for the very best. Most of the artists he works with are in their twenties or thirties, producing pieces that combine timeless wabisabi (elegant simplicity) with hints of youthful rebellion. They include the playful-yet-melancholy works of Kazuhiro Katase, whose bold shapes and colours are softened with an unnerving sense of decay; Chie Kobayashi, whose ethereal white bowls look as if they might blow away in the wind; and the rugged aquamarine cups of Asato Ikeda, reminiscent of a calm ocean dangerously awakened.
"I could never be a ceramics artist myself. I don't have that sort of patience!" says Sato, in a confession of sorts from a man who at first appears serene yet self-confident. "But this is the next best thing."
Private buyers are Sato's main customers, although he recently found himself on the radar of some of Tokyo's most remarkable restaurants, including Den, whose chef shares Sato's taste for classy irreverence.
Sato works alone – and likes it that way – so because space is limited he often holds special exhibitions at other locations, during which he usually closes the little shop. His ambitious side wants to take the next step and move to a larger showroom. But something is holding him back.
"I go back and forth," he says. "It would be nice to show bigger pieces and more artists, but things would also be a lot more complicated." So for now, Utsuwa Kenshin stays small. Until fate comes up with something bigger.
TIPS & RESERVATION INFO
Utsuwa Kenshin has a tendency to close sporadically as the owner holds exhibitions at other locations. It's always wise to check before you set out, to avoid disappointment.
ACCESS DETAILS
2-3-4 Shibuya, Shibuya-ku
---
DIRECTIONS
---