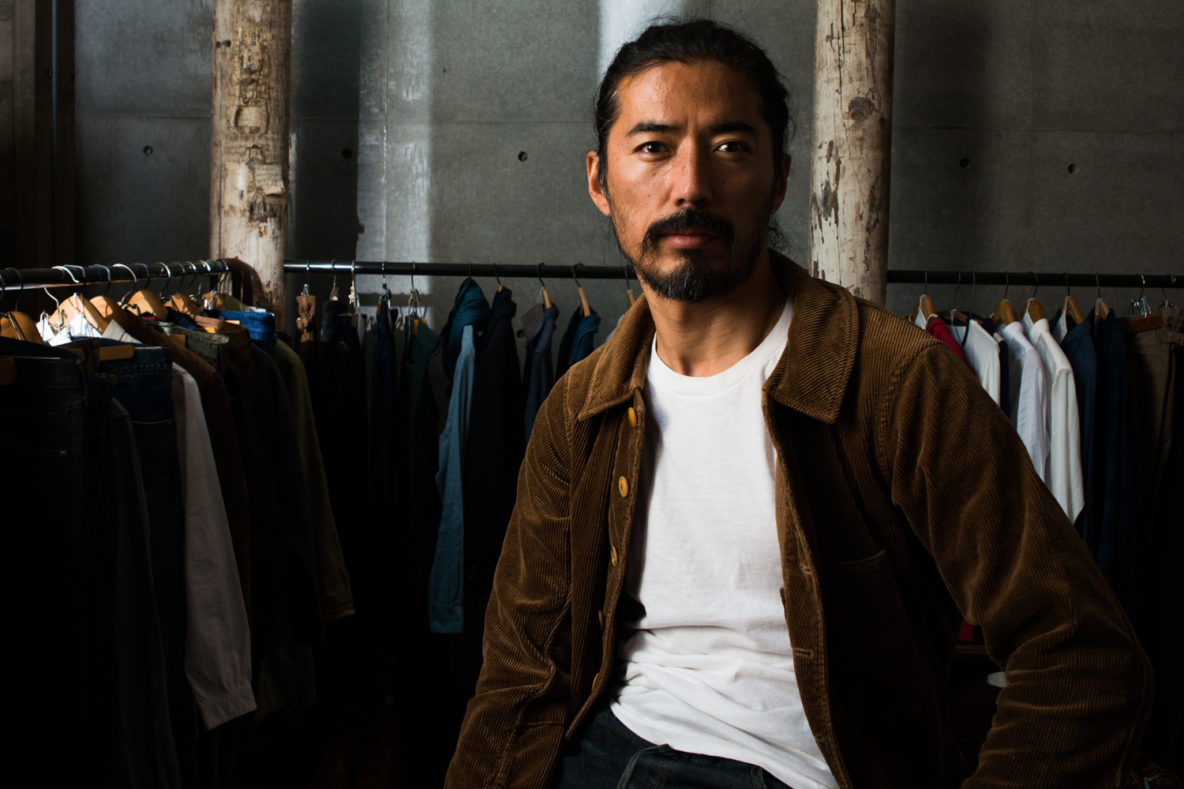 "To make good things, I have to start at the beginning — at the origin — with the raw materials. I cannot just add a logo to something that already exists."
---
Hiroki Nakamura

Designer
Visvim
Hiroki Nakamura flicks through back catalogues of his old collections as if they are personal photo albums: Native American patterns he found on a trip to the United States; colour palettes from the monasteries of Tibet; rare dyes from a remote island in southern Japan.
"This business has literally been a journey for me," says Nakamura, the founder and creative director of Visvim, a brand that has earned a deserved reputation for quality, durability, and authenticity. In its creation, Nakamura has taken inspiration from all over the world – places he's visited, people he's met, and fabrics he's held between his fingers.
"To make good things, I have to start at the beginning – at the origin – with the raw materials. I cannot just add a logo to something that already exists."
The beginning for Visvim was 2000, when Nakamura quit his job working for an international snowboarding brand to make things of his own. The turn of the millennium was domestic Japanese fashion's heyday, with hundreds of independent labels born in just a small swatch of Tokyo between Harajuku and Shibuya.
"It was an exciting time," Nakamura recalls. "Before that, it was always some businessman bringing an existing idea over from Europe or America. But we were part of a strong, home-grown movement that started in Harajuku."
For the first few years, Nakamura focused on shoes, which reflected his love of functional products. Visvim quickly became famous for its long-lasting, hand-sewn sneakers, and the brand grew organically to include denim, bags and womenswear.
Nakamura's Visvim store is called Free International Laboratory – or F.I.L. – a nod to his relentless, nomadic search for authentic inspiration. When he decided to create designs inspired by the boots of indigenous tribes in Lapland, for example, he visited a Sami village three hours by snowmobile from the nearest town in Norway. Another project involved taking handmade yarn that was naturally dyed by artisans in Japan to a Navajo reservation in New Mexico to be woven into cloth.
In every collection, there are things that remain limited editions simply because of the way they are produced. One such product was a bag made from grapevine hand-woven by women in Showamura, a remote village in Fukushima Prefecture, northeast Japan. Unlike factory production designed to churn out lines of identical products, each grapevine bag is made by a single person and is totally unique.
That is not to say that Nakamura shuns modern manufacturing – on the contrary many Visvim products are mass-produced to meet demand. And besides, Nakamura is passionate about innovation. He describes the waterproof synthetic material Gore-Tex, as "the perfect textile," (although, of course, the Gore-Tex in a Visvim jacket is first dyed by a Japanese craftsman using traditional indigo techniques).
"The real work is actually done by bacteria, so the dye job is never completely perfect," Nakamura explains. "But it's incredible. It gives what is the ultimate modern product something of a history."
TIPS & RESERVATION INFO
This one's a little confusing: Visvim is the brand, while the name of the store is in fact F.I.L. Tokyo. The latter is down the left side of the Oriental Bazaar, just off Omotesando. A second, newer Visvim store is in the Gyre Building right on Omotesando.
ACCESS DETAILS
---
DIRECTIONS
---