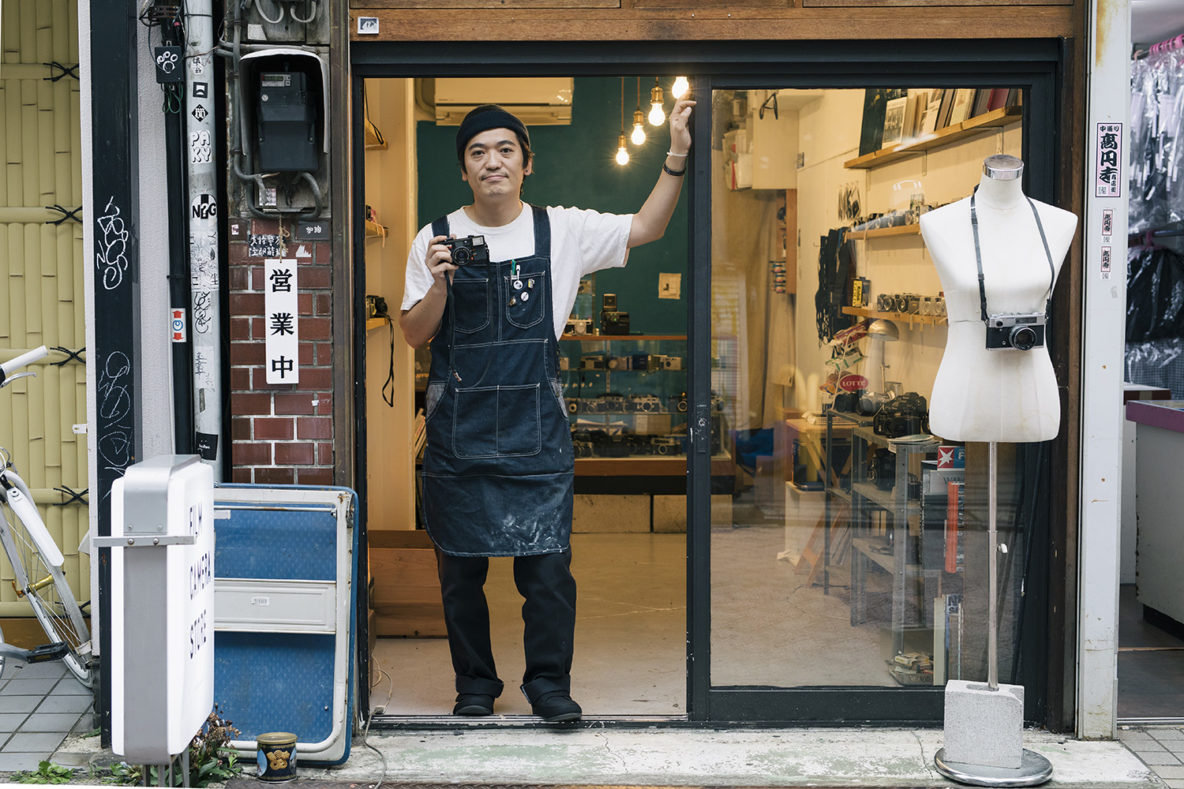 "Photographs should bear stories."
---
Hironori Kodama

Owner and photographer
Void Lens
A stripped-down, headless mannequin with a vintage camera as its chest piece lures photography enthusiasts and passersby alike into the quaint but treasure-filled shop that is Void Lens. Originally a camera repair shop, owner Hironori Kodama seized the opportunity to convert it into a secondhand film camera store after visitors kept asking if the cameras on display were for sale.
Nestled amidst the hip and cozy alleyways of Koenji, the shop is hard to miss. Kodama mans the store himself and heartwarmingly welcomes all customers with his engaging stories—from basic photography tips and camera recommendations that suit the customer's lifestyle, to his personal photography adventures in different countries. Many of the latter center around his love for Hong Kong, where he and his trusty cameras continue to make history.
"People should know about what is happening in Hong Kong. It has impacted my life a lot, and I try to do my part through recording what I witness," he says. "That's what photography is to me."
Film photography is a subculture and a way of life, and people who are interested in trying it are often easily intimidated because of its small niche, even in the thickly saturated photography community of Tokyo. Kodama plays a big role in inspiring visitors to Void Lens and instilling in them a certain value: that photography is a powerful tool that can move the world.
What makes Void Lens a must-visit is that aside from being a store, it is also a haven where people can meet and connect with strangers. The shop hosts photography exhibitions from time to time, but it's Kodama himself that keeps people coming back. Through his charisma, he has built a home turf that transcends the "hipness" of using analog cameras. Chairs and tables aren't needed to ignite passions and to keep others burning. Just a small roomful of people brimming with ideas and experiences, and surrounded by old cameras is enough.
"Everyone is welcome," Kodama says. "I like knowing where my customers are from and I enjoy exchanging life stories with them. Our common love for photography comes as a bonus."
Aside from being the proprietor of Void Lens, Kodama himself is also a photographer. He started by taking pictures of his action figures during his college days, then successfully escalated into street photography, and eventually found his calling in documentary photography on socially relevant issues. His ongoing work about Hong Kong has garnered attention both in Hong Kong and Japan, and he plans on continuing it in the years to come.
"To me, photographs should not just be pleasing to the eyes. They should have a plot, a meaning—they should bear stories," Kodama says.
TIPS & RESERVATION INFO
Koenji is not an area to visit in the morning, as most shops open late. Void Lens is no exception, opening from 1pm to 8pm each day. It's located just a five-minute walk from the north exit of Koenji station, and is not difficult to find. If you're looking for a particular film camera, try contacting Kodama first to enquire on availability.
Koenji is a great local Tokyo neighborhood to explore for an afternoon and then hang out in at night, especially for those interested in vintage clothing and live music.
ACCESS DETAILS
3-2-12 Koenji Kita, Suginami-ku
---
DIRECTIONS
---