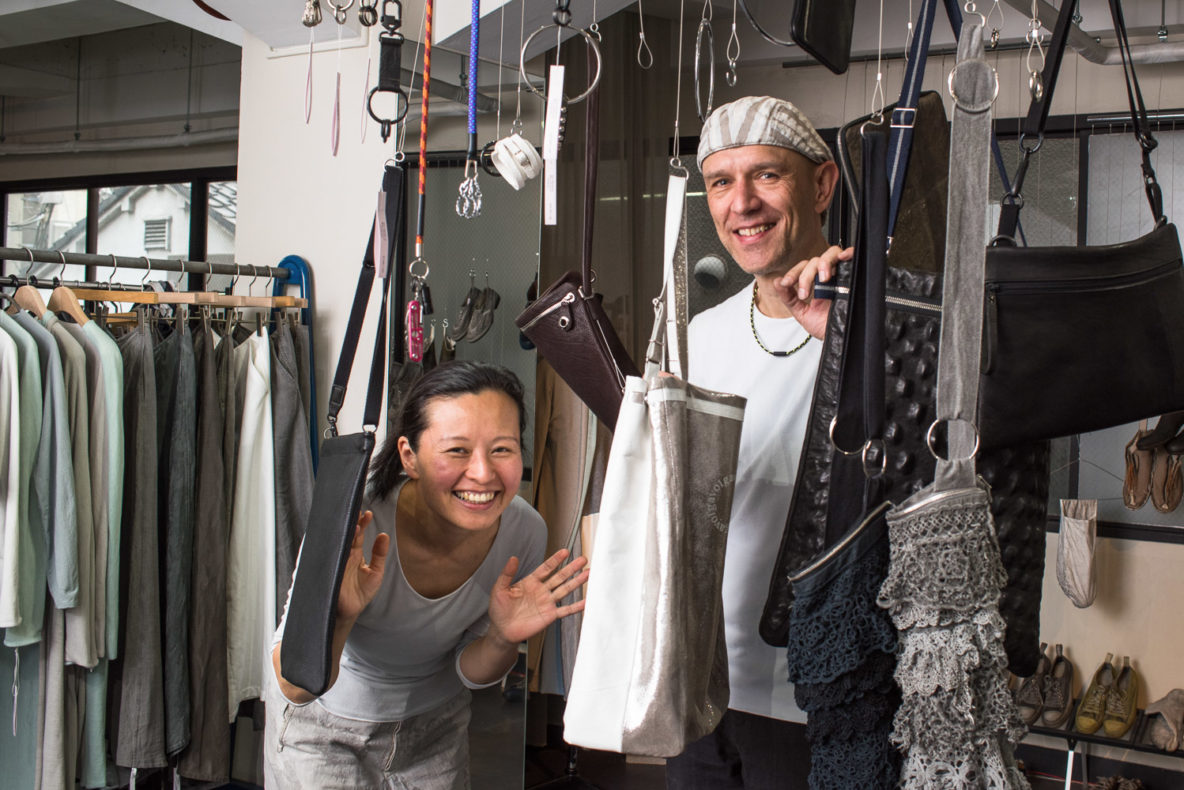 "We prefer to give every piece of clothing the attention it deserves."
---
Shiori Kurushima and Mikhail Panteleev

Designers
Volga Volga
Long before their lives became intertwined as partners and co-creators, the international couple behind Tokyo-based fashion brand Volga Volga were already enjoying parallel adventures.
Shiori Kurushima, from Japan, was in Paris making haute couture for the Japanese designer Hanae Mori; and Mikhail Panteleev, from Russia, was doing similar work in Tokyo for Yohji Yamamoto. If it were destiny that they would meet, however, the appointment would have to wait.
"My French friend knew Mikhail and wanted to set us up," Kurushima says. "But he couldn't speak my language, and I couldn't speak his, so it took time for us to come together."
Kurushima and Panteleev were establishing themselves as talented, dedicated fashion designers. In their respective ateliers on opposite sides of the world, they were the ones who would volunteer for extra tasks, often working alone late into the night, cutting patterns or stitching garments.
"I wanted to learn everything," Kurushima recalls of her time working as a 'premiere main', a coveted position in charge of hand-sewing entire couture pieces. "The other girls probably thought I was the stereotypical Japanese workaholic."
The brand the couple launched together in 2000 is a union of his designs and her technical skills. In their construction, the garments feel effortless, while in their style they are expressive. From afar, the clean lines and muted colours appear minimalist. But up close, the details and textures evoke a deeper emotion rippling below the surface, like a shout underwater.
In Moscow in the 1990s, Panteleev held one of the first-ever fashion shows inside the Kremlin. The spectacle was an impressive way to launch his career, but these days he avoids such productions.
"When you're putting on a show you don't have time to finish anything properly," he says. "At this point in our careers, we prefer to give every piece of clothing the attention it deserves."
In Volga Volga's studio – up a narrow staircase inside an old converted office building in the Bakurocho neighbourhood – sewing tables line one wall, rolls of fabric are stacked at the back, and a show space in the middle is where buyers and walk-in customers can view the collection.
In Bakurocho – an area of old Tokyo known colloquially as shitamachi, or the 'low city' – they have discovered a sense of kinship with the people, reputed to be unpretentious, hardworking, and loyal. Volga Volga's shoes often incorporate buttons, ribbons, or buckles made by local artisans with a shared commitment to timeless craftsmanship.
"Some of our customers are still using the same garments we made for them 15 years ago," she says. "When it needs mending, they know they can bring it here, and we'll give it a another lifespan."
Living together in 'shitamachi', Kurushima and Panteleev can follow their own rhythm, commuting to work by bicycle, enjoying a slow lunch at the café next door, and – as has always been their way – working late into the night making beautiful clothes. Only now, the atelier is theirs.
TIPS & RESERVATION INFO
The atelier is located upstairs above an art gallery and a jewelry shop. Opening hours are 11am to 7pm, Mon to Sat. Call in advance if you need an English speaker to be there when you visit.
The surrounding neighbourhood is a great one to explore, full of small galleries, shops and cafes. Kumu, also on PMP, is one place to visit nearby.
ACCESS DETAILS
---
DIRECTIONS
---